Michigan Fans Wish That Chris Webber and Jalen Rose Would Just Get Along
In college basketball history, few teams resonate years afterward quite like the University of Michigan's Fab Five. The squad saw three massive NBA careers arise from its roster: Juwan Howard, Chris Webber, and Jalen Rose. Two of the players on that team — Webber and Rose — have had a significant beef with each other for years. So what's the story behind their struggle?
Jalen Rose and Chris Webber's basketball careers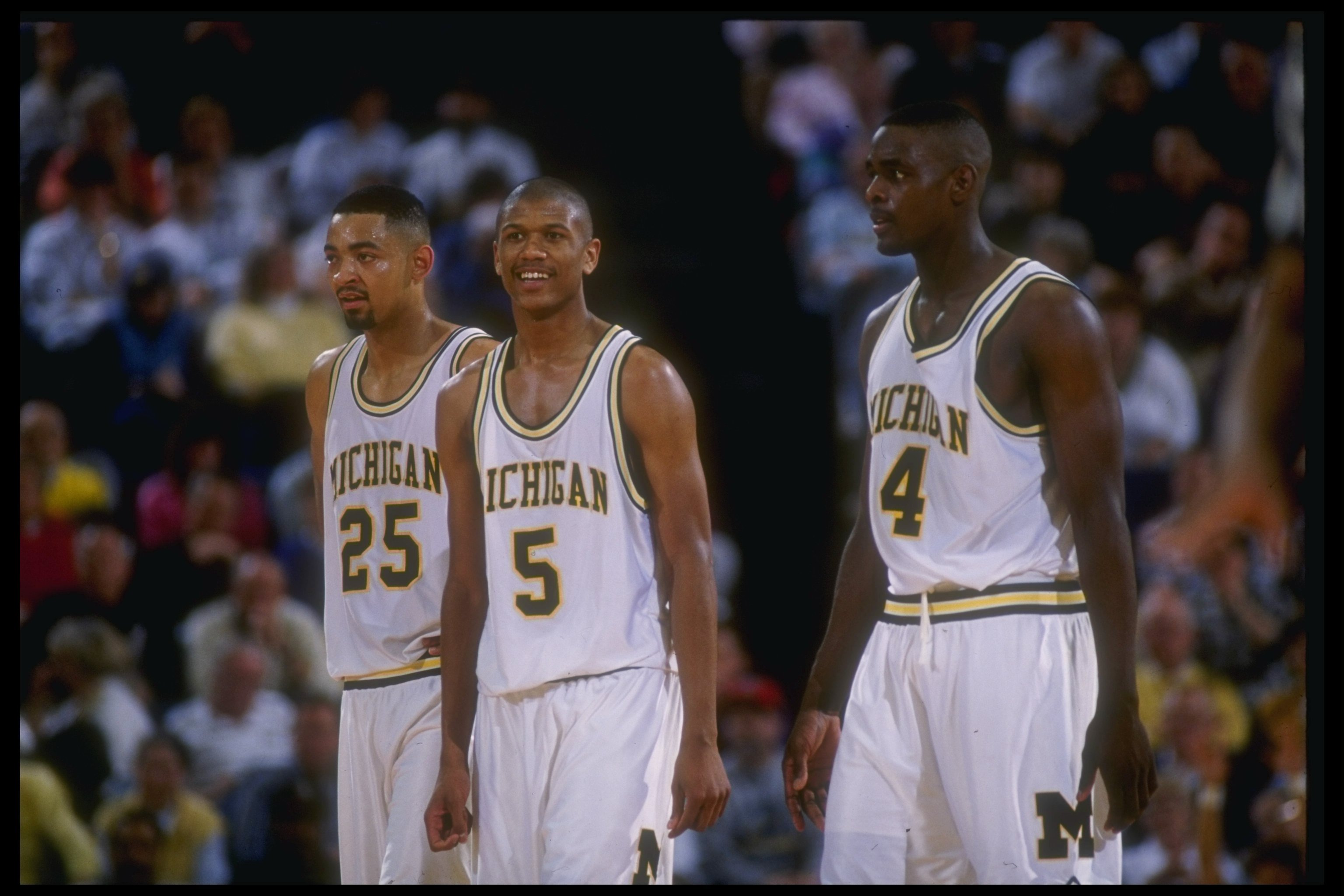 RELATED: Kevin Durant Reconnected With His Father After Being Abandoned by Him
Webber and Rose both played with the University of Michigan as part of the school's famed "Fab Five." Following their collegiate careers, both went on to have long careers in the NBA. Webber bounced around the league a bit before he found the right fit. He played for the Golden State Warriors and Washington Bullets before settling in with the Sacramento Kings. It was in the Kings' Princeton-style offense where Webber thrived.
As a big man with excellent passing capability, he fit right in with the Kings and their collection of effective cutting guards and shooters. Alongside center Vlade Divac, they nearly topped the Shaq and Kobe-era Lakers, ultimately losing to them in the 2002 Western Conference Finals in seven games. Webber battled injury issues later in his career, but was able to hang on for quite some time. 
As far as Rose was concerned, it took him a while longer to establish himself as an elite player. In the late '90s/early 2000s, he and Reggie Miller led the Pacers to an NBA Finals appearance. He kept them as one of the league's top contenders for several years. 
Rose and Webber's longstanding beef
You'd think that two former college teammates would be friends later in their careers, or at the very least on good terms. That isn't the case for these two, unfortunately. Rose produced a documentary on the controversial Fab Five for ESPN. When Dan Patrick asked Webber about his thoughts, Huffington Post reported he wasn't thrilled with the piece: 
"My thing is it's always been about us five. And so when one guy has a million highlights of himself as if he was the leading scorer when like all the stories are like embellished, it's just a little hard for me. But I think it was entertaining, there was a lot of truth in it. And I think it was definitely good, it was OK. Yeah, it was good."
Rose responded with some comments of his own that referenced Webber's phantom timeout during the championship game and his shady history with the university:
"One dude traveled then called timeout. One dude lied to grand jury and hasn't apologized. One dude tried to circumvent the documentary to HBO. One dude ignored multiple requests from everyone involved after agreeing to participate."
Where Webber and Rose stand with each other today
At this time it doesn't appear that Webber and Rose are any closer to resolving their conflict. It's a shame, because both have become successful in their post-basketball careers. Webber is an analyst for Turner Sports, though he's gotten plenty of criticism for his work. USA Today called him the "worst announcer." 
Rose, on the other hand, is thriving as an analyst for ESPN. He's evolved into one of the leading voices in the sports since joining broadcasting. He played an integral role in the development of 30 for 30 and their documentaries and appears on NBA pre- and post-game shows as well for the network. 
Again, it's too bad that Webber and Rose can't get past their beef. But it's hard to kill old rivalries, and this one doesn't look like it's going away any time soon. Some cuts run too deep.