Jim Harbaugh's Latest Comments Should Officially Shut the Door on an NFL Reunion: 'I'd Do This Job for Free'
This year, the Michigan Wolverines have been one of the most surprising teams in college football. From unranked during the preseason to a Big Ten title and a spot in the College Football Playoff, head coach Jim Harbaugh continues to show why he's one of the best coaches around.
As Michigan prepares to face Georgia in the Orange Bowl on New Year's Eve, Harbaugh might have put an end to any potential NFL job openings with his most recent comments.
Michigan HC Jim Harbaugh has reportedly been linked to the NFL
Daniel Jeremiah and Bucky Brooks touched on Harbaugh's potential return to the NFL in a recent episode of the Move The Sticks podcast.
Also, TV and radio personality Paul Finebaum mentioned that Harbaugh might consider going to the NFL if Michigan wins the National Championship (h/t Isaac Trotter of 247Sports).
"With a national championship, I do think Jim Harbaugh would be primed for the NFL. I've always felt like he's better in the NFL. Having said that after his best season as a college coach, but a lot of us have forgotten how good he was with the (San Francisco) 49ers … I think he's better suited for that game. It would be a Disney movie, the fact that Jim Harbaugh, the man that everyone wrote off, no one more than me, wins the national championship and then marches off to the (Chicago) Bears or wherever he decides. But I would not rule it out."

Paul Finebaum on Jim Harbaugh
Well, that certainly would be a story. Picture this: The Wolverines win the national title, and then Harbaugh dashes to coach the Chicago Bears or Las Vegas Raiders.
That would be strange for many reasons, but Harbaugh's latest comments might put this entire argument to bed.
Jim Harbaugh's recent comments could hint that he won't be leaving Michigan anytime soon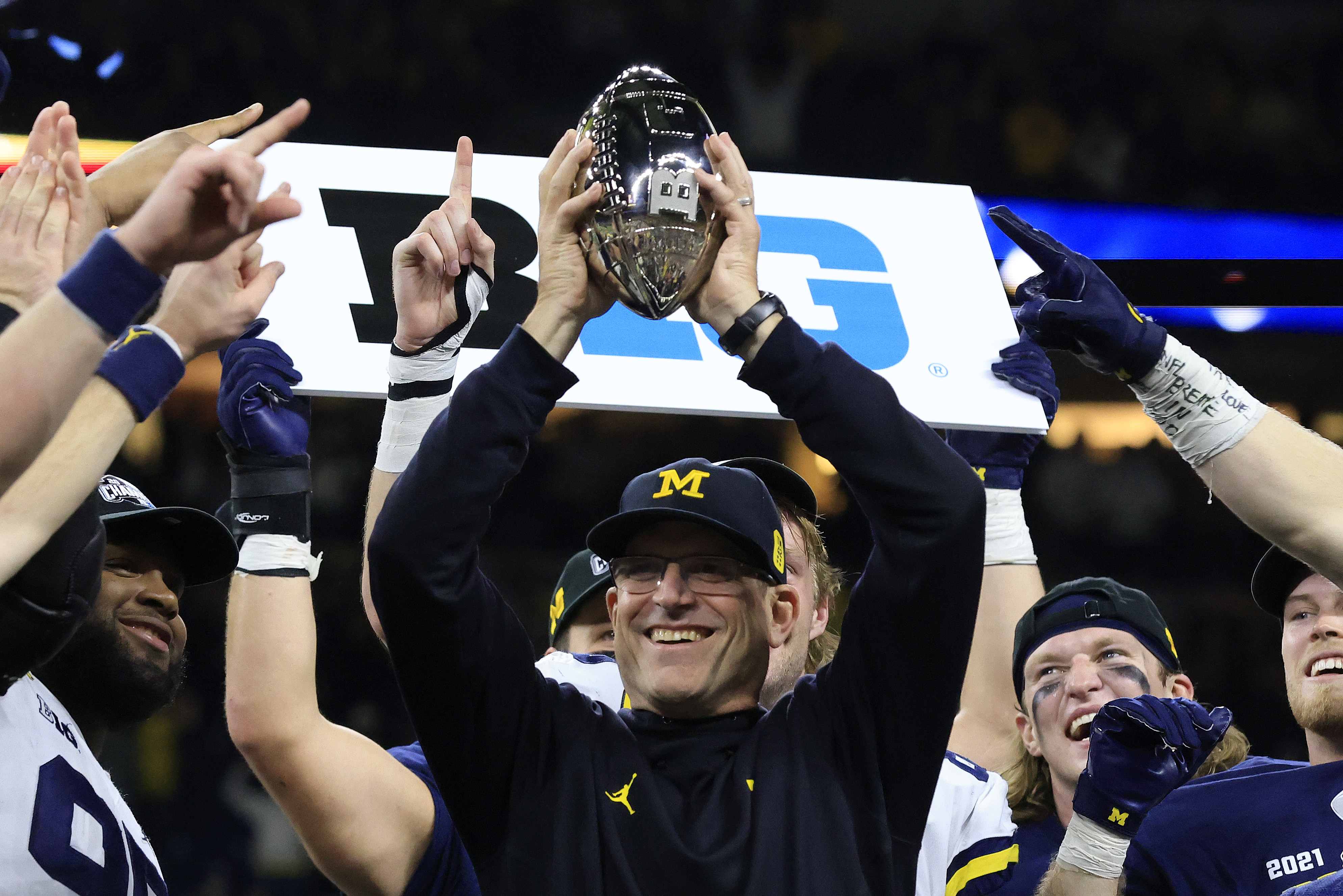 The question is, will Harbaugh really leave Michigan to go back to the NFL?
He has one of the best jobs in the country in Ann Arbor. After a subpar 2-4 year in the COVID-19 shortened 2020 season, the Wolverines came roaring back to shock the world and capture the Big Ten title.
Now, Harbaugh is only making $4 million this season, but he chose to take a pay cut. Sure, he'll get a ton of money if he decides to go to the NFL.
However, Harbaugh issues some interesting comments which hint that an NFL reunion is unlikely (h/t Chris Balas of The Wolverine).
"You asked me before about [money]. I'd do it for free. I would do this job for free. I just love it."

Jim Harbaugh on taking a pay cut
Notice that Harbaugh mentioned he would do this job for free. Does he mean Michigan? Does he mean coaching football in general?
Well, the Wolverines head coach had more to say.
"Whether it's the first day, first game … for me, it's been great. I enjoy the heck out of it. There's no downside. I'm just really honored to be the coach here [at Michigan]."

Jim Harbaugh
"Honored" to be at Michigan. Harbaugh also said it's "just money" and "no big deal."
Those are powerful words from Harbaugh, and if he would do that job for free, do you think he wants to go back to the NFL?
It's pretty unlikely, especially after voluntarily taking a pay cut and "betting on himself."
The former 49ers head coach has cemented his legacy in college football after setting an unprecedented record
Harbaugh's name is etched in history after Michigan earned a spot in the College Football Playoff. He is now the first head coach to lead a team to the CFP and the NFL Playoffs.
When he was the head coach for the San Francisco 49ers, Harbaugh led them to the Super Bowl before losing to his brother, John, and the Baltimore Ravens in a thrilling game.
After taking the Michigan job in 2015, Harbaugh has worked wonders with the Wolverines and now has them on the biggest stage in college football.
Of course, the money he will likely make at the NFL level is exemplary, although he will undoubtedly be in line for a raise after the season he has provided in Michigan.
All in all, Harbaugh seems pretty content in Ann Arbor, and it looks more and more like he will stick around for a bit longer.