Michigan State-Oregon: What to Watch For and Why It Matters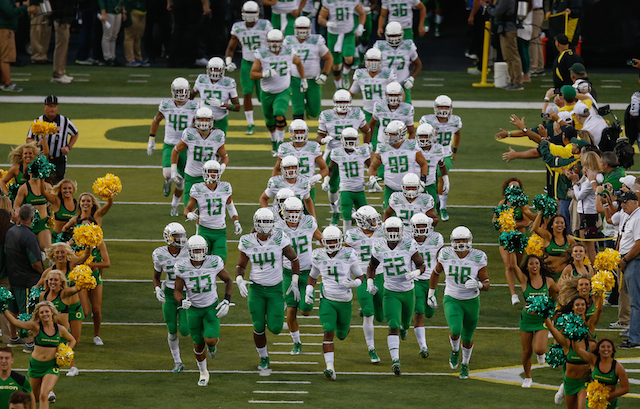 No. 7 Michigan State visits No. 3 Oregon on Saturday (6:30 p.m. Eastern, Fox) in one of the biggest games of the college football season, even though we're still in the first week of September. The Spartans and Ducks have the opportunity to take a giant step toward their national title dreams on an enormous stage, and while the loser isn't eliminated from the playoff picture by any means, the result of Saturday's game in Eugene will undoubtedly have ramifications on the bracket to be unveiled three months from now.
Both programs have enjoyed a great deal of recent success, with Michigan State having won more games than any other Big Ten team since 2010 and Oregon looking for a fifth straight season with at least 11 victories. The Spartans enter Saturday's showdown riding an 11-game winning streak, while the Ducks are nearly impossible to beat at home, boasting the fourth-best home winning percentage in the country since 1997 at .845.
Here are six storylines worth keeping an eye during this weekend's matchup — the first non-conference meeting of top-10 teams — at Autzen Stadium.
Déjà vu?
Michigan State enters the game as a double-digit underdog, but don't let that fool you. The last time the Spartans made a cross-country trip out West to take on a favored Pac-12 team, the result was one Michigan State fans will treasure forever: a 24-20 Rose Bowl upset win over Stanford.
"Big football game on national TV. I think we embrace those situations," MSU coach Mark Dantonio said. "We've played in big games before, so that's not new to us."
He added: "If you look at our football program right now from where we've come in 2007, it was about trying to get to those moments where you have an opportunity to play across the nation and it has a sort of prominence to it or prestige to it at this point. We'll look forward to that opportunity."
"Our confidence is very high," Spartans running back Nick Hill said. "We're ranked in the Top 10 and we're going against a team that's ranked in the Top 10."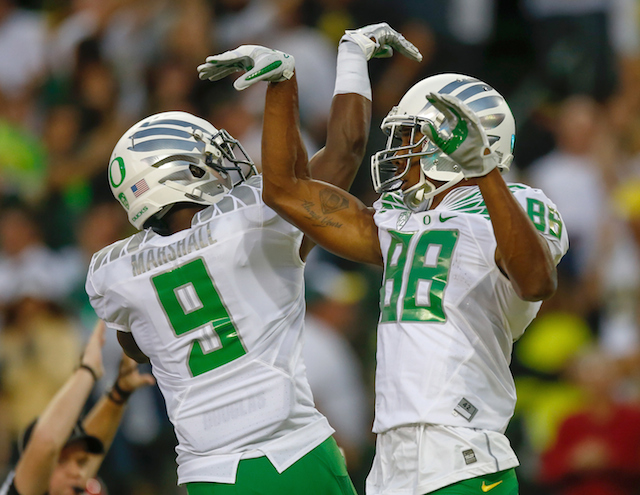 Contrast in styles
The Ducks are known for speed and flash. The Spartans' reputation is all about being tough and solid. Which will win out Saturday?
"There's no question they want to pound it and be physical in every phase: offense, defense, and special teams," Oregon coach Mark Helfrich said of his Week 2 opponent.
Michigan State has drawn many comparisons to Stanford, a program Oregon has struggled against recently. (USA Today's Paul Myerberg pointed out that Ducks QB Marcus Mariota entered the season 0-2 against the Cardinal and 23-1 against all other teams combined.) Will the Spartans be able to control the ball enough — à la Stanford — to keep Oregon's quick-strike offense, which features a backfield stuffed with three players on the Maxwell Award watch list, from doing significant damage?
"Big play ability is what you see with Oregon," Dantonio said Tuesday during a press conference. So the question remains: Which team's attack will dictate the pace of the game?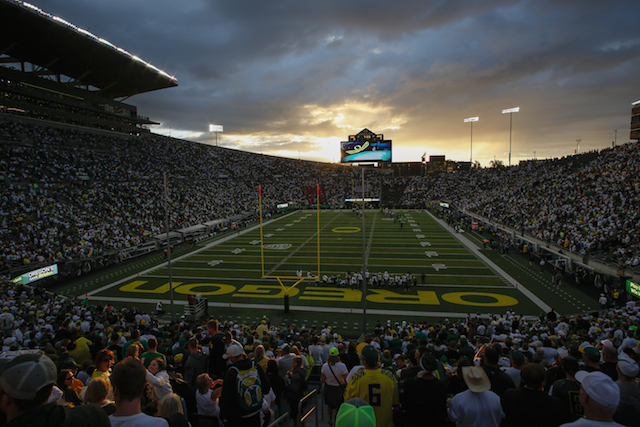 The heat
Temperatures for the 98th straight sold-out game at Autzen Stadium are expected to be in the mid to high 90s for what will be a 3:30 p.m. local time kickoff. Whichever team does a better job of handling the miserable heat index will likely come out on top, and while both teams will say they're ready, it's hard to predict how a near triple-digit climate will impact the players.
"We're prepared for the heat," Oregon lineman Jake Pisarcik said. "When it gets down to game time, we're not going to be worried about the heat, we're going to be worrying about taking care of business."
We shall see.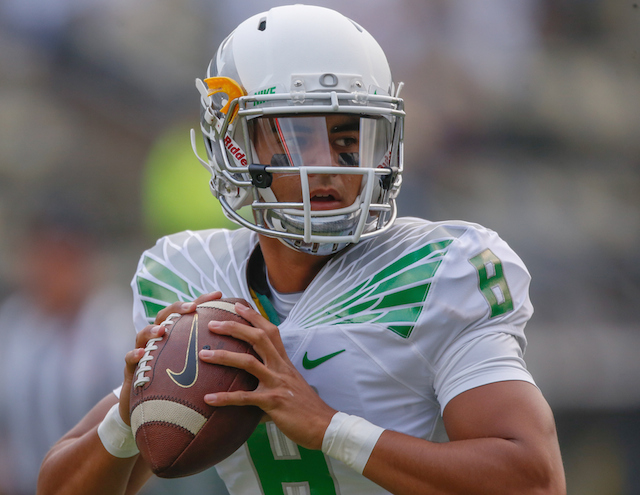 Star quarterbacks
Michigan State's Connor Cook and Oregon's Mariota are proven upperclassmen leading powerful offenses, and expect both players to potentially be factors in the Heisman race down the road. In his Week 1 start, Cook threw three touchdown passes in the first eleven-and-a-half minutes of the game! (Hope the fans in Spartan Stadium didn't arrive late.) Mariota boasts the second-longest streak in the country with a touchdown pass in each of his last 27 games – and he's only ever played in 27 games. His Ducks amassed 466 yards of offense last Saturday before halftime. (More than half of the FBS teams in the country failed to reach that total for their entire 60-minute opening game.)
When the dust settles Saturday night in the Pacific Northwest, the inevitable "star watch" quarterback comparison graphic on your television should tell a lot about how Michigan State-Oregon played out.
Who steps up at crunch time
While Cook, Mariota, and their respective teams have risen to the occasion in big moments many times before, a game of this magnitude falling so early in the season adds a wrinkle to the "experienced veteran" narrative.
Both quarterbacks were on the sidelines wearing baseball caps by the time the marching band halftime shows finished last week, with the result long since decided against FCS foes South Dakota and Jacksonville State, respectively. And since college football doesn't really have a preseason to speak of, the first meaningful second-half snaps either quarterback sees — all right, the first second-half snaps, period — will come in one of the most important games of the year. (Although, to be fair, Michigan State defensive coordinator Pat Narduzzi is on record saying, "We hope every game gets bigger after this one.")
Pay attention to how crunch time unfolds: The players who best execute their responsibilities down the stretch in the fourth quarter, assuming the outcome still hangs in the balance, will be the ones who head to Week 3 undefeated.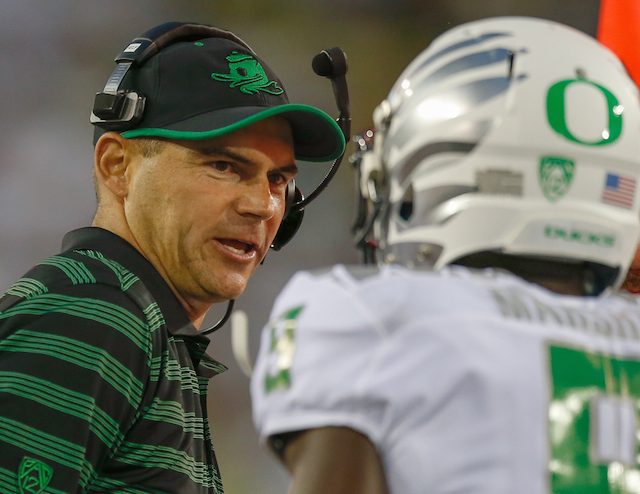 Playoff implications (for the teams and their conferences)
It's the first year of the College Football Playoff, and with no one knowing exactly what criteria the selection committee will use to pick the best four teams in the land, a No. 3 vs. No. 7 game that would be important in any season seems even more critically so. Beating a quality non-conference opponent — for that matter, being willing to schedule a non-conference quality opponent — should get the committee's attention and put the winner of Michigan State-Oregon on the fast track to a playoff berth.
Of course, the coaches are going to stick to a "one game at a time" mantra: "No matter how this works out, there's a lot of ball to be played, for the winner as well as the loser," said Helfrich. "Does it factor in the long term? Absolutely. But so does Game 3 through 12 … plus the championship … plus everything else that goes on."
Coach-speak aside, this is a high-risk, high-reward game for both teams. And make no mistake, it has implications beyond just the programs in Eugene and East Lansing. The number of teams the Big Ten and Pac-12 conferences end up seeing in the end-of-the-season bracket could very well hinge on what happens Saturday night. A lopsided result not only hurts the loser's chances of making up enough ground over the rest of the season to get back into the playoff discussion, but could tilt the committee's favor toward other power leagues.
With the SEC widely expected to grab one or two of the four playoff berths, there is no margin for error. Hypothetically, could a 12-1 Big Ten champion Michigan State team get passed up because of a blowout loss at Oregon? Is there a scenario in which the Ducks could slip up against MSU, coast to a Pac-12 title, and then find themselves playing in a comparatively second-rate bowl?
Neither team — and neither conference — wants to find out.