Mike Budenholzer Deserves Credit for Navigating the Bucks' Constant Lineup Turmoil
It's hard to go back-to-back in the NBA. Just ask Mike Budenholzer and the Milwaukee Bucks.
Budenholzer, now in his fourth season as head coach, hasn't had an easy go-around this year. Even with Giannis Antetokounmpo playing at an MVP level, the Bucks have had to work extremely hard for their 42-26 record.
The 2021-22 season has been tough for everyone, especially the Bucks. So as the season enters its final few weeks, it's time to give Coach Bud his due and explain just how impressive he's been.
The Milwaukee Bucks have never been at full strength
After winning its first title in 50 years, Milwaukee already knew it was in for a difficult challenge this season. However, even the defending champs couldn't expect to face the adversity they'd wind up dealing with.
No player has come close to playing in all 68 of Milwaukee's games. In fact, only Bobby Portis (59) has missed fewer than 10 contests. That means franchise stalwarts like Antetokounmpo (57) and Khris Middleton (56) have missed double-digit games.
In total, the Bucks have nearly 250 games missed by injured (or sick) players according to ManGamesLost.com. That includes large absences by a pair of former starters, Donte DiVincenzo and Brook Lopez.
DiVincenzo tore a ligament in his ankle last postseason and returned to the court on Christmas, playing a total of 17 games before getting traded to the Sacramento Kings. Meanwhile, Lopez has been sidelined for all but one game this season due to back surgery.
Mike Budenholzer has brilliantly handled the constant lineup changes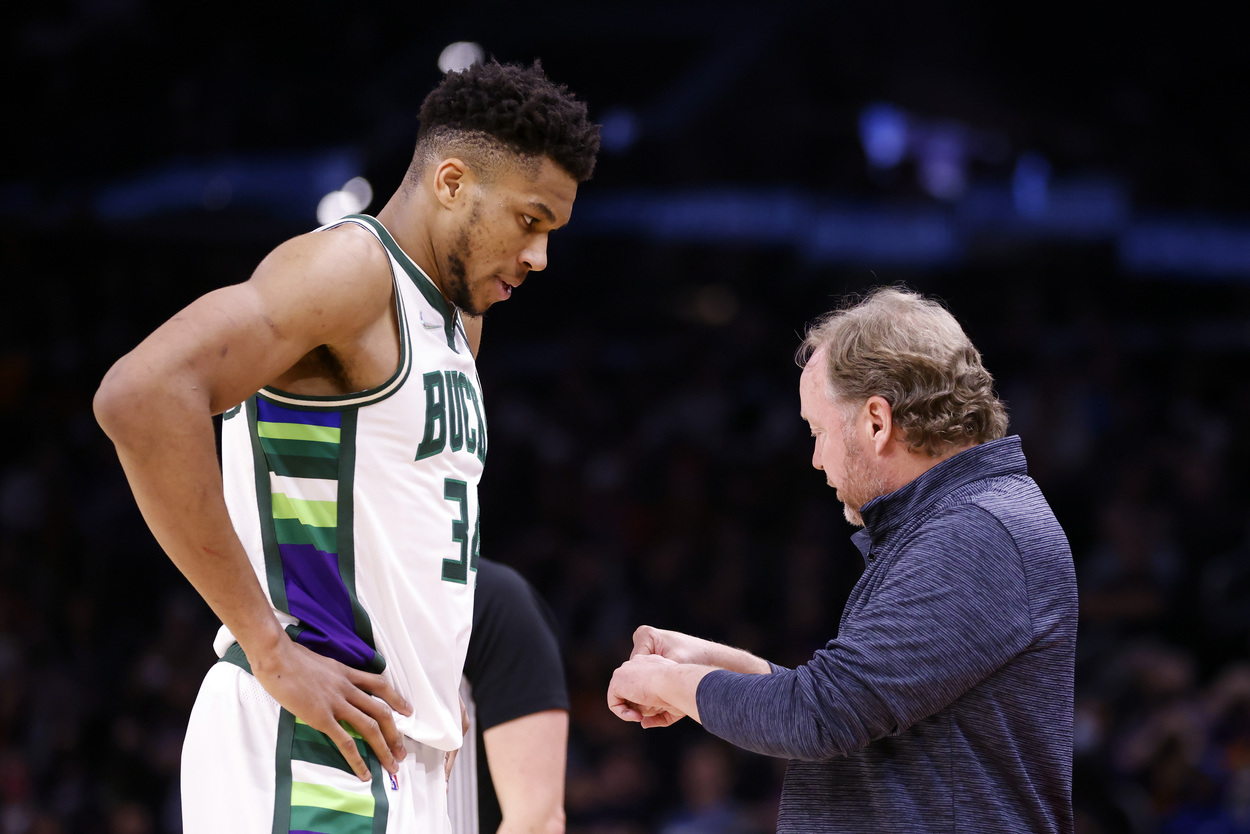 A coach's job is to construct lineups throughout the game that give their team the best chance to win. Budenholzer knows all about that, as he's been forced to put more lineups on the court than any other team in basketball.
And it's not particularly close.
According to NBA.com, Budenholzer's Bucks have taken the court with a whopping 801 different lineup combinations. For perspective, the Brooklyn Nets are second in the NBA with 674 five-man combos. That means Milwaukee has well over 100 more lineups than the next-highest team in the sport.
Budenholzer has had one lineup at his disposal that has seen more than 54 minutes of action. Milwaukee's most popular quintet consists of Giannis, Middleton, Portis, Jrue Holiday, and Grayson Allen. Yet at 311 minutes, there are 13 other lineups across the league with more playing time. That includes the NBA-best Phoenix Suns, who have had their starting five together for 625 minutes.
While the 52-year-old coach clearly has a top lineup to depend on, he's had 800 others he's been forced to use at one point or another. Not to mention, the Bucks have sent 28 players out on the court this season. For reference, the Orlando Magic lead the league in man games lost but have only played 20 guys in 2021-22.
But despite constantly crafting new rotations and forcing his players to mesh with new teammates frequently, Bud has the Bucks in sole control of second place in the East. As of Sunday, they're just 2.5 games back of the top-seed Miami Heat.
There's a reason Budenholzer is a two-time Coach of the Year winner. And although he's facing some stiff competition, it's easy to make a case for a third award.
Budenholzer could be getting some key players back soon
It's not as if Budenholzer couldn't handle the adversity thrown his way. But the veteran coach should be relieved to have some familiar faces back very soon.
According to Marc Spears of ESPN, both Lopez and guard George Hill could return as soon as this upcoming week. Lopez, as mentioned earlier, has been out since opening night but has practiced for the last couple of weeks. Meanwhile, Hill has been battling a neck injury that's kept him sidelined since Jan. 28.
Pat Connaughton could also be back in the near future. The 29-year-old was one of Budenholzer's more durable players until he fractured his ring finger on Feb. 10 and underwent surgery. However, Adrian Wojnarowski of ESPN reported at the time of the surgery that Connaughton was expected to return before the postseason.
When those three return, Bud will create a few more five-man combinations. But at least it'll be for good reasons and not strictly out of necessity.
All statistics courtesy of Basketball Reference.
RELATED: The Milwaukee Bucks Are Taking a Tremendous Risk With Head Coach Mike Budenholzer's 3-Year Extension