Mike Evans Reacts to Buccaneers Signing Tom Brady While Playing Fortnite
With Tom Brady leaving the New England Patriots and going to the Tampa Bay Buccaneers, he will now have two great weapons in Mike Evans and Chris Godwin. Evans is one of the best wide receivers in the entire NFL and will be one of the best receivers Brady has ever played with. However, Evans has not yet said anything on social media regarding how he feels about playing with one of the greatest quarterbacks of all-time. He did give his reaction while playing Fortnite, though.
Tom Brady is leaving the Patriots after 20 seasons
For 20 seasons, Tom Brady has been with the New England Patriots. Being a sixth-round NFL draft pick out of Michigan in 2000, Brady has probably been the best sixth-round pick of all-time. Brady is a 14-time Pro Bowl honoree, a three-time first-team All-Pro selection, and a three-time NFL MVP. His 74,571 passing yards and 541 passing touchdowns are both second all-time in the NFL. His 6,377 completions are also second all-time and his 9,988 attempts are third all-time.
He did not just put up excellent stats over those 20 seasons, though. He won a lot and that is ultimately what Brady's tenure in New England will be remembered for. Brady and the Patriots went to nine Super Bowls together, winning six. They also played in 13 straight AFC Championship Games, including eight straight from 2011 to 2018. 
Brady announced he was leaving the Patriots last week. Then he and the Tampa Bay Buccaneers officially announced on Friday that he will be playing in Tampa in 2020. They ultimately agreed on a two-year, $50 million deal, according to ESPN's Adam Schefter. 
Brady teams up with Mike Evans and Chris Godwin on the Buccaneers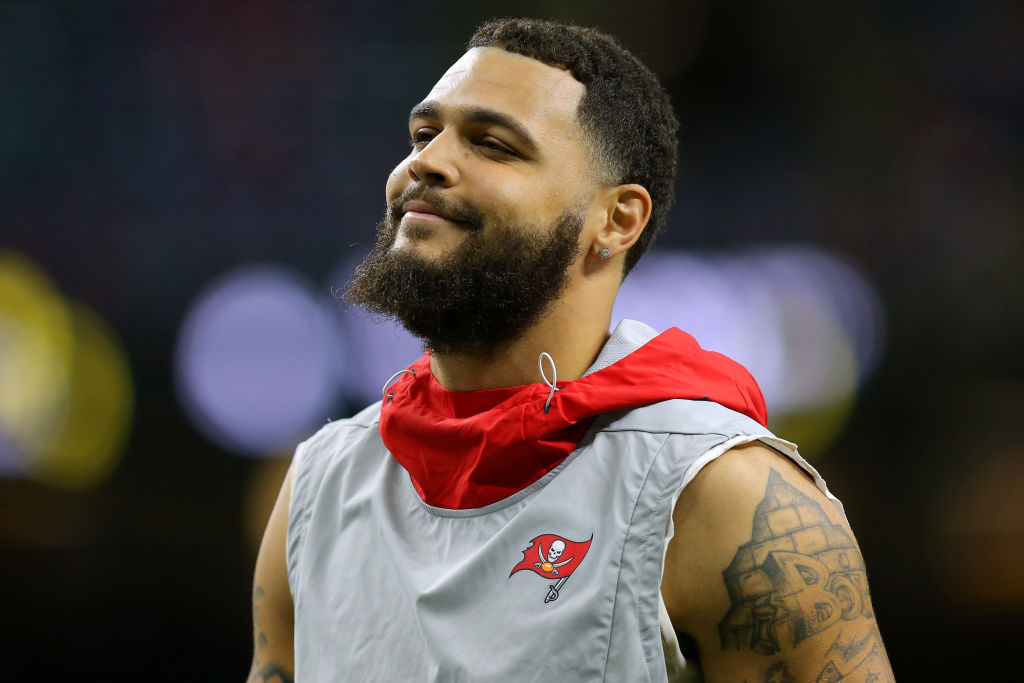 Tom Brady will play with one of the best wide receivers in the NFL on the Buccaneers in Mike Evans. Ever since his rookie season in 2014, Evans has been one of the best pass-catchers in the league as he has gained 1,000 receiving yards or more in each of his six seasons in the NFL. Additionally, he has earned three Pro Bowl selections. In 2019, Evans had 67 receptions for 1,157 yards and eight touchdowns in 13 games.
Brady will also have a talented young receiver in Chris Godwin. After catching 34 passes for 525 yards during his 2017 rookie season, Godwin caught 59 passes for 842 yards and seven touchdowns in 2018. He then earned his first Pro Bowl selection in 2019 as he caught 86 passes for 1,333 yards and nine touchdowns. 
With Brady not having many weapons on the Patriots over the years, the Buccaneers having those two guys is probably a big reason he decided to go there.
Evans seems excited to play with Brady
Several Buccaneers have said something on social media about how excited they are to play with Brady. However, Evans has not been one of them, according to the Tampa Bay Times. Evans is good friends with former Buccaneers quarterback Jameis Winston, so one could wonder if that is why.
Fear not, though. Evans did give his reaction on the Twitch live-streaming app while playing Fortnite.
"It's surreal," Evans said on the stream, according to the Tampa Bay Times. "He's about to be my quarterback, bro. I know you don't know football like that, but I've played six years in the NFL, and I haven't been to the playoffs yet. Tom Brady has won six Super Bowls."

Mike Evans
Evans even admitted that he was celebrating too saying, "I'm drinking. I've got Tom Brady, you know what I'm saying?"
Evans will be the best receiver Tom Brady has played with since Randy Moss. The first season Brady and Moss played together in 2007, the Patriots started the season 18-0 and went to the Super Bowl. Maybe Evans and Brady can somewhat replicate that in 2020.