Mike Evans Gives Savage 4-Word Response to His Madden 22 Rating
It's an annual tradition like no other: players complaining about their Madden NFL ratings. Almost everyone in the league wishes the game rated them higher; even if they received a 99, they most likely want a 100. Added to the list of players not happy about their ratings this year is Tampa Bay Buccaneers wide receiver Mike Evans, as he gave a savage response to it on Instagram.
Mike Evans received a 91 overall rating on Madden 22
With ratings recently coming out, Evans learned that he received a 91 overall on Madden NFL 22, a slight drop from his 92 overall on Madden 21.
Despite gaining over 1,000 receiving yards in every season of his career, Evans ranks below several other NFL receivers on this year's game, including the big names below.
Davante Adams: 99 overall
DeAndre Hopkins: 98 overall
Tyreek Hill: 98 overall
Stefon Diggs: 97 overall
Julio Jones: 95 overall
Michael Thomas: 94 overall
Keenan Allen: 93 overall
Amari Cooper: 92 overall
Only Jones, Thomas, and Allen failed to gain more receiving yards than Evans in 2020, and they all missed games, but Evans was on a team with an abundance of weapons. Yes, he was the Buccaneers' No. 1 receiver, but Tom Brady also had Chris Godwin, Antonio Brown, Scotty Miller, and Rob Gronkowski to throw to.
His stats were ultimately tied directly to the abundance of weapons on his team; Evans' track record of seven straight seasons with 1,000-plus receiving yards should speak for itself.
Mike Evans had a 4-word response to his Madden 22 rating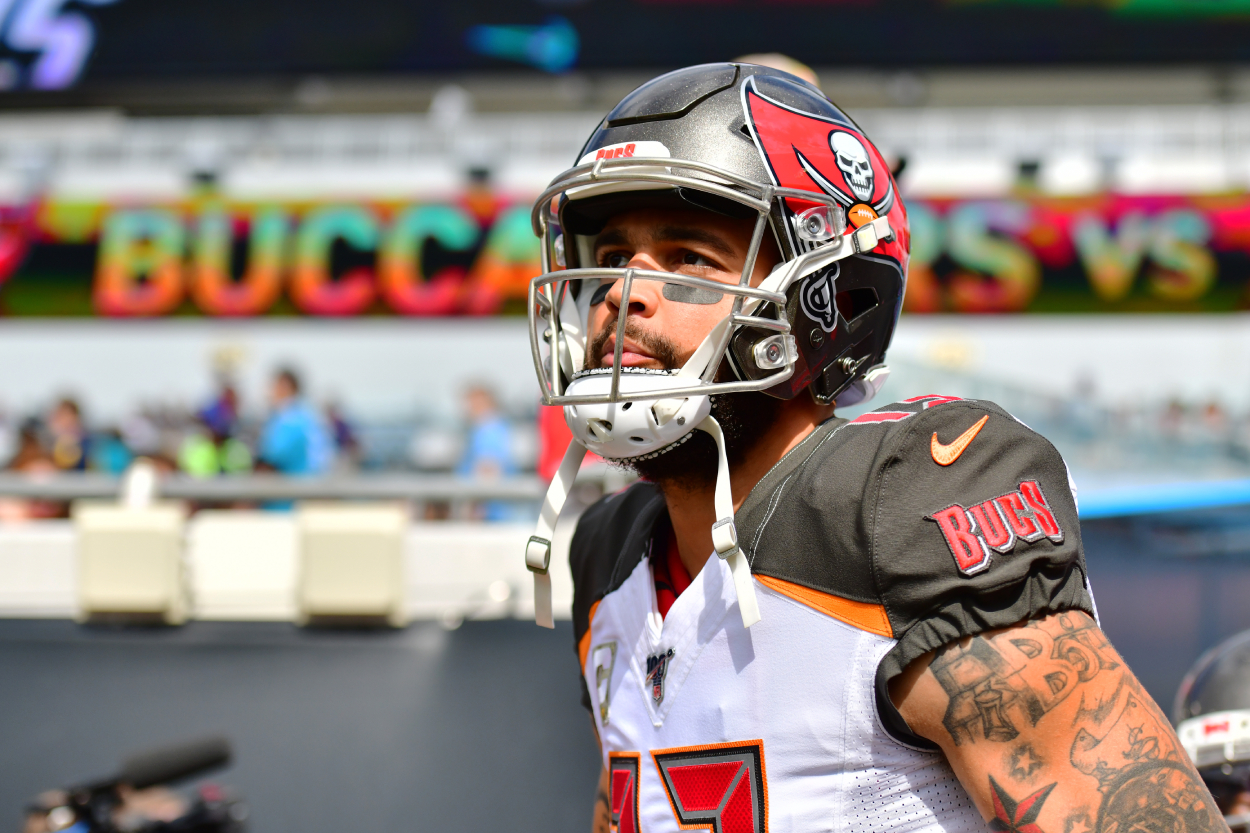 The Buccaneers' Instagram account posted a picture of Evans with his 91 overall rating this week, and there were, of course, many Bucs fans who commented, saying it was too low.
Evans didn't necessarily say that, but he, instead, took a shot at the video game itself.
"People still play Madden?"

Mike Evans via Instagram
Obviously, people still play Madden. EA, the game maker, wouldn't continue making it if people didn't. But many fans have often complained about how it looks the same every year and how they liked the older versions of the game better, so Evans' comment had a bit of truth to it.
As mentioned above, though, many people still play the game, so who are the other top players this year?
Who are the other top-rated NFL players on Madden 22?
Madden hasn't released all of the players' ratings yet, as we don't even know where Patrick Mahomes and the other top quarterbacks stand. But we still know about quite a few of the other positions.
In fact, Aaron Donald and Travis Kelce are with Davante Adams in the 99-club, while Myles Garrett has a 98 overall.
Here are some of the other top-ranked players who have received their ratings, not including the wide receivers mentioned earlier, or Donald, Kelce, and Garrett.
Christian McCaffrey, HB: 97 overall
Derrick Henry, HB: 96 overall
George Kittle, TE: 96 overall
Khalil Mack, LOLB: 96 overall
Nick Chubb, HB: 96 overall
Dalvin Cook, HB: 95 overall
Alvin Kamara, HB: 94 overall
Chandler Jones, LOLB: 94 overall
Fletcher Cox, DT: 94 overall
J.J. Watt, LE: 94 overall
T.J. Watt, LOLB: 94 overall
Cameron Jordan, LE: 93 overall
Darren Waller, TE: 93 overall
Von Miller, LOLB: 93 overall
No, their ratings don't mean a whole lot in the grand scheme of things, but when they're playing the game as themselves, they probably just want to be as hard to stop as possible. No one wants to play with someone who is just a 76 overall, right?
The only way for Evans and others to improve their ratings, though, is to have a good season in 2021. Maybe, with a big performance this upcoming year, Evans can get his rating back up to a 92 or higher.
Ratings courtesy of EA
RELATED: Tom Brady Admits to Admiring Marshawn Lynch's Infamous Media Move: 'I'll Do It Before I Retire'