Mike Evans Says Antonio Brown Possesses 1 Important Trait That He Wishes He Had to Add To His Game
Tom Brady is a lucky man. He leads a Tampa Bay Buccaneers offense, featuring several big-time playmakers, including Mike Evans and Antonio Brown.
Evans has established himself as one of the NFL's elite wide receivers. Still, he believes he could be even better than he's been. He wishes he could take one particular trait that Brown has and add it to his game.
Mike Evans is one of the most consistent receivers in the NFL
The Tampa Bay Buccaneers drafted Mike Evans with the No. 7 overall pick in the 2014 NFL Draft. He played college football at Texas A&M, where he was a consensus All-American in 2013.
Evans spent two seasons in College Station, recording 151 receptions for 2,499 yards and 17 touchdowns. His 12 touchdowns in 2013 led the SEC and ranked No. 10 in the country.
The Galveston, Texas native put up big numbers in college and continues to produce in the NFL. Evans caught 68 passes for 1,051 yards and 12 touchdowns as a rookie with the Bucs. As a result, he earned NFL All-Rookie Team honors.
Evans has proven to be a model of consistency since entering the league. He has recorded 1,000-yard campaigns in each of his seven full NFL seasons. He's also recorded double-digit touchdowns on three occasions.
His stellar performance has made quarterbacks look good over the years.
Evans says Antonio Brown never gets tired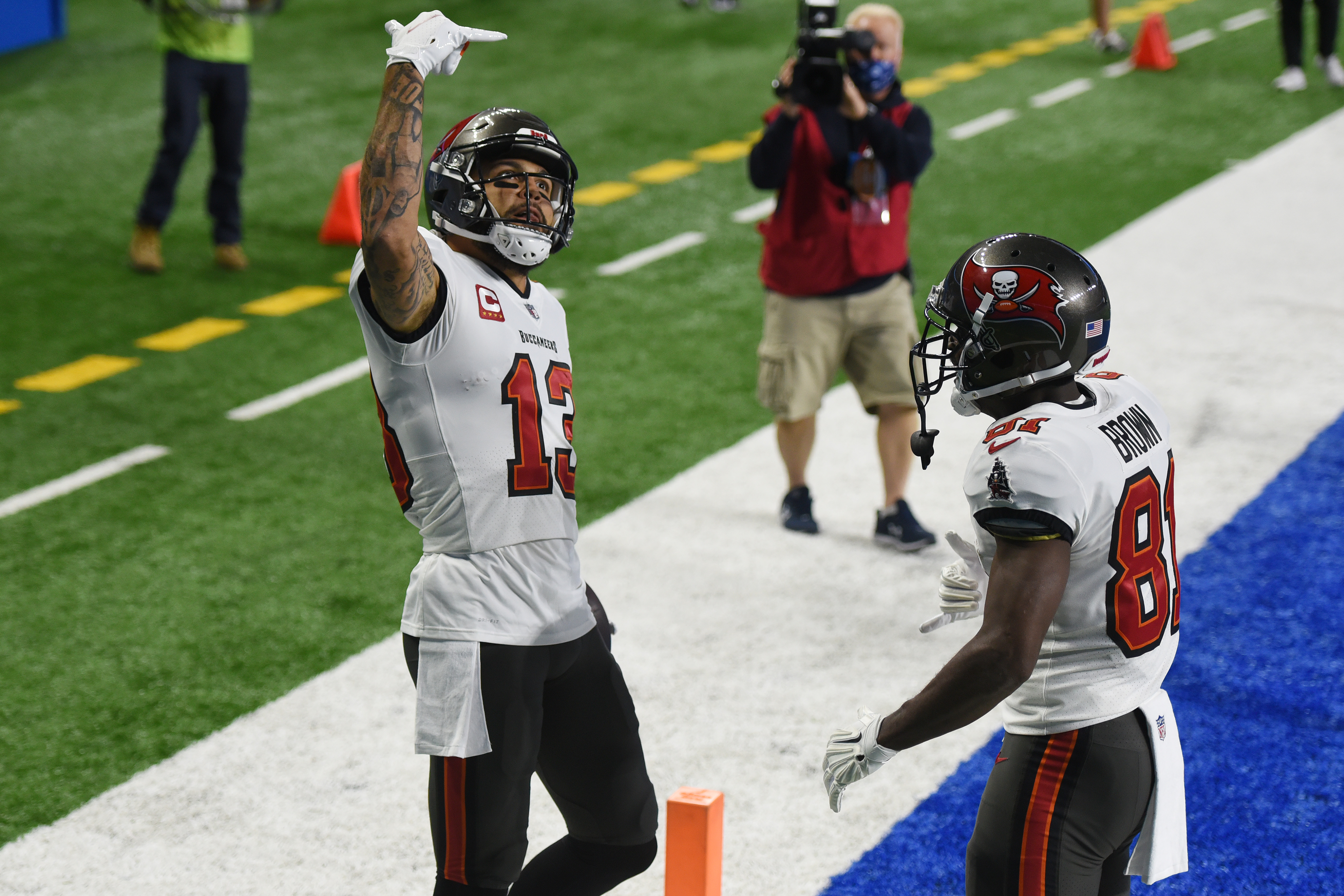 Mike Evans is a three-time Pro Bowl selection, and more nods are likely in the cards. However, he's always looking to become a better player year after year.
The 28-year-old wideout joined Pro Football Football Hall of Famer Cris Carter on his WR1 podcast. He spoke about his fellow Buccaneers wide receiver Antonio Brown. Evans has learned a lot from Brown and praised his teammates for one particular trait.
"He practices so hard," said Evans of AB. "He looks fresh, has a lot of juice. Always wants to go more. Like, he never gets tired. That's one thing I wish I could have."
Brown has been in the NFL since 2010, catching 892 passes for 11,884 yards and 80 touchdowns for his career. Even at 33 years old, the former Pittsburgh Steelers star still has his legs and the ability to perform at a high level. That speaks to his offseason workout regimen and how he takes care of his body.
Evans apparently feels that his conditioning could improve, even though he's put up monster numbers as is.
Mike Evans wants to be a Hall of Famer
Cris Carter asked Mike Evans what his goal was for the remainder of his NFL career. The Bucs receiver responded, saying he wants to be a Hall of Famer.
Evans is in his eighth season in the league and has already accomplished a lot. His individual accolades stack up with many of the other elite wideouts in similar stages of their careers.
The Texas A&M product shared that he's hungry to be great. "I want to make the most plays possible," he said. "I want to be better than I was last year."
Evans also noted that he wants to improve his yards after catch numbers. He's currently averaging 2.8 yards after the catch per reception. If he improves on that number, Evans may be unstoppable.
He's made three Pro Bowls and is a Super Bowl champion. He's an elite weapon, mainly because he excels as a downfield threat and in the red zone. It will be interesting to see how long he can continue his streak of 1,000-yard seasons.
Regardless, Mike Evans' production suggests he can be a future Hall of Famer.
Stats courtesy of Pro Football Reference
RELATED: Not Only Will Tom Brady and Mac Jones Set a Bizarre Record When TB12 Faces the Patriots For the First Time, but the Two Share an Unbelievable Connection