Mike Evans Shines Light on Antonio Brown's Infamous Mid-Game Meltdown
Antonio Brown and his mid-game meltdown against the New York Jets was the talk of the NFL world for several weeks. Despite being one of the Tampa Bay Buccaneers' top receiving threats (and a personal favorite of Tom Brady), Brown ripped off his uniform and danced off the field during a regular-season matchup at MetLife.
Brown left the NFL to explore business opportunities with Kanye West and other pop culture icons while the Buccaneers failed to get past the NFC Divisional Round, eventually leading to Brady's retirement.
It was a truly bizarre incident. However, it's also become somewhat expected of Brown at this point. There was plenty of debate over what spiked the outburst of emotion from the former Bucs WR. However, Mike Evans recently shined some much-needed light on what went down on the sideline.
Mike Evans reveals what happened with Antonio Brown prior to his outburst
When the temper tantrum first took place, everyone naturally assumed it resulted from Brown being unhappy with his number of targets. Brown has always been a me-first of player and had several incentives attached to his receiving numbers that he was trying to hit.
However, Brown quickly pushed back on this narrative. He argued he was dealing with a lower-body injury of sorts and that Buccaneers head coach Bruce Arians was forcing him to play. Brown even released a string of screenshots as "evidence" of his claim.
However, several weeks removed from the situation, we're getting some much-needed clarity. Bucs WR Mike Evans — who was on the sideline with Brown — recently revealed Brown's frustration was, in fact, due to a lack of targets.
"What I remember is we were trying to get him to come back in the game. He was saying he wanted the rock," Evans told Yahoo Sports' Matt Harmon.
"So I go back on the drive. I do my two plays. I come out. And then I see BA still trying to get him to come in the game. And they had like a falling out somehow. AB goes off … And then second, third down comes. We score on that drive. But then, on TV timeout, we see that he was doing all that stuff. Taking his pads off, doing jumping jacks…"
The Bucs (unfortunately) needed Antonio Brown during the playoffs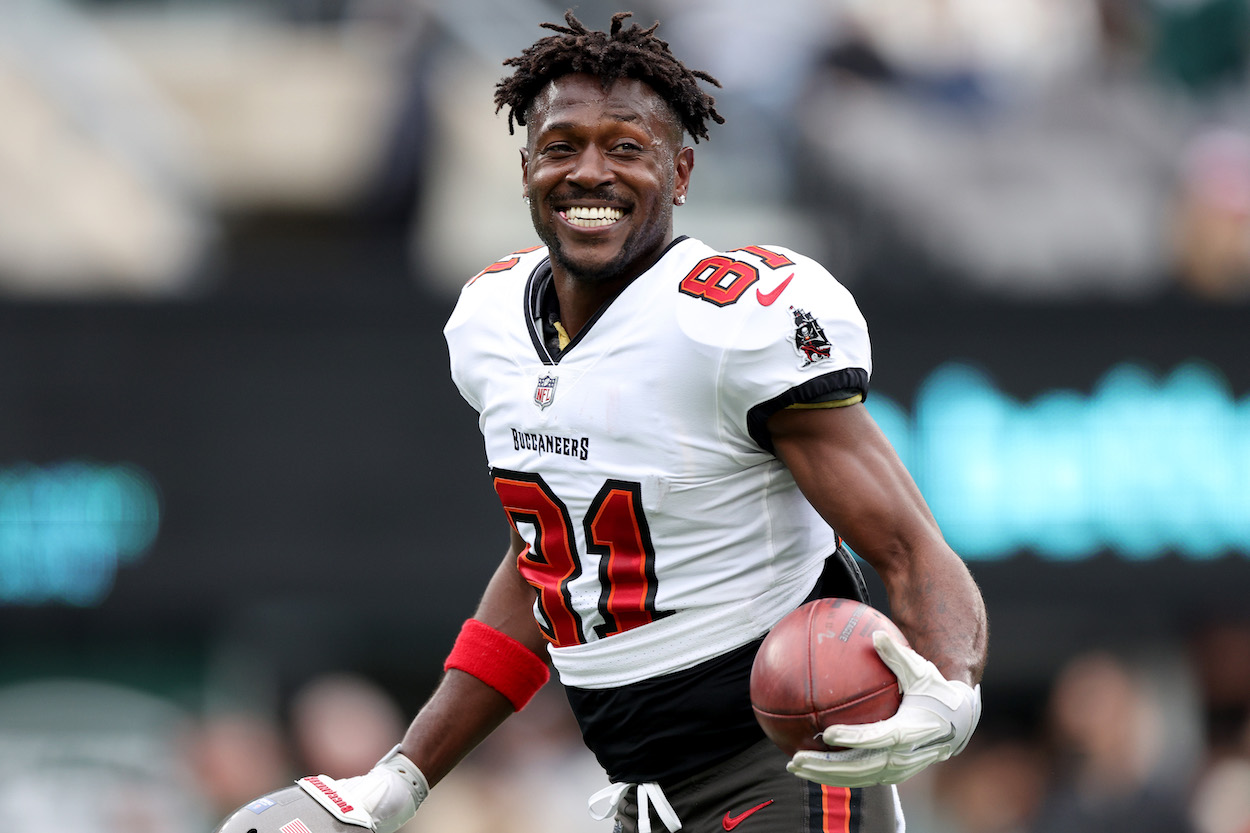 The super unfortunate part of the whole incident is that the Bucs genuinely needed Brown heading into the postseason. They were already missing star wide receiver Chris Godwin due to injury. Losing their third starting WR was ultimately too much for Brady and Co. to overcome.
Despite all his shenanigans, Evans clearly understood the importance of keeping AB on the roster. He did everything he could in the moment to try and calm him down and keep him on the field.
However, as we've seen time and time again with Brown, he's a character of his own. He'd made up his mind on leaving the field, so that's what he did.
What next for AB?
It's challenging to imagine another team taking a chance on Brown after all the controversies he's been tied up in over the years. Many viewed playing with Brady in Tampa Bay as his last shot at an NFL career.
However, in the same breath, elite receiving talent is hard to come by in the NFL, and Brown is still one of the better pass-catchers in the NFL.
Lamar Jackson reportedly has a strong relationship with Brown — there's been some small talk of AB possibly joining the Baltimore Ravens this offseason. They're certainly a franchise hurting for above-average WR play.
Either way, any team that signs Brown will be taking on a significant amount of baggage.
Like Sportscasting on Facebook. Follow us on Twitter @sportscasting19.
RELATED: Tom Brady Will Eventually Unretire, According to Antonio Brown