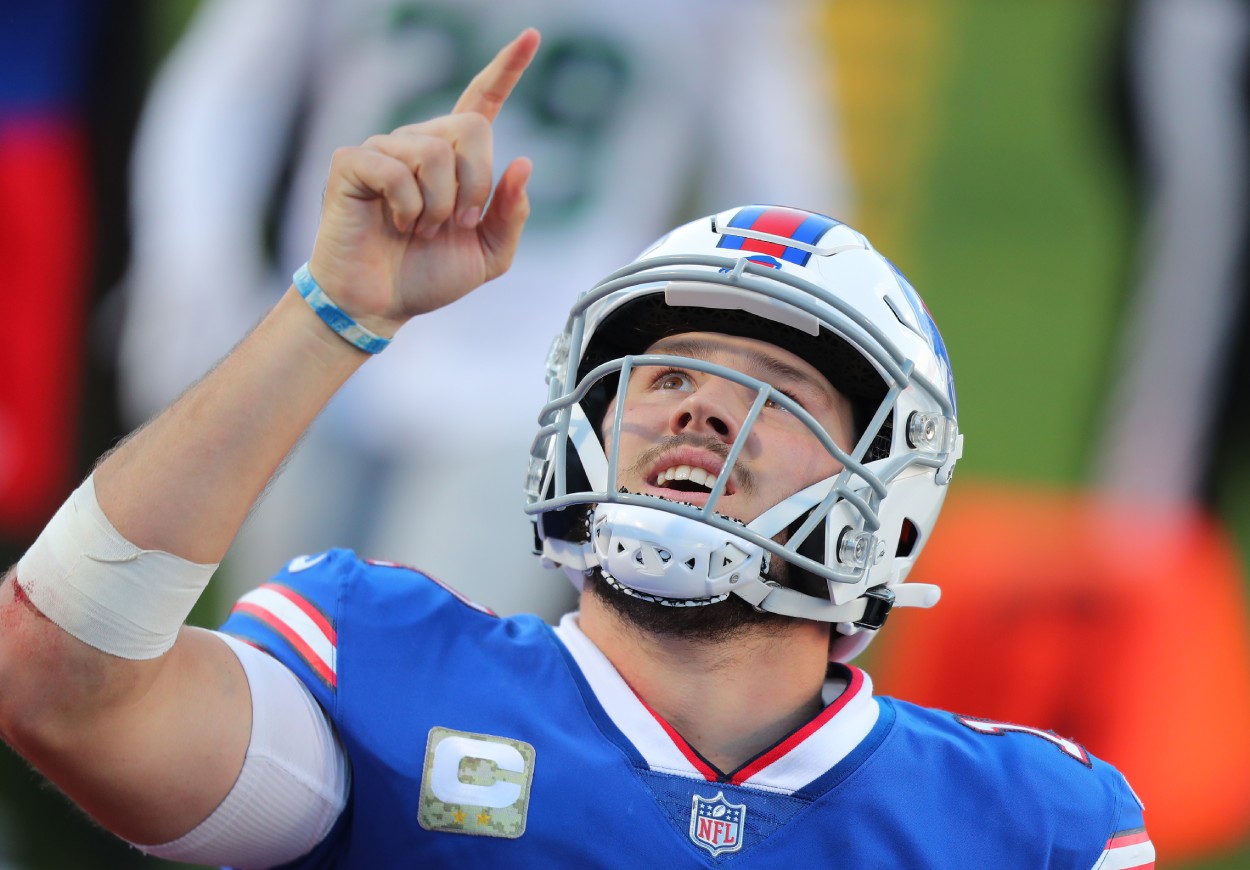 Mike Florio Believes Josh Allen Has Created the New Path to Success for the Next Crop of Young Quarterbacks
Buffalo Bills quarterback Josh Allen may have set the example for future quarterbacks to come, according to NBC Sports' Mike Florio.
Remember when football fans were ready to write off Buffalo Bills quarterback Josh Allen after an up-and-down rookie season? Mike Florio remembers.
We also remember watching Allen gradually improving over his three NFL seasons and evolving into arguably one of the league's top-10 signal-callers. Don't think that Florio, the NBC Sports analyst and founder of ProFootballTalk, hasn't noticed.
Mike Florio thinks Josh Allen can set the example for Daniel Jones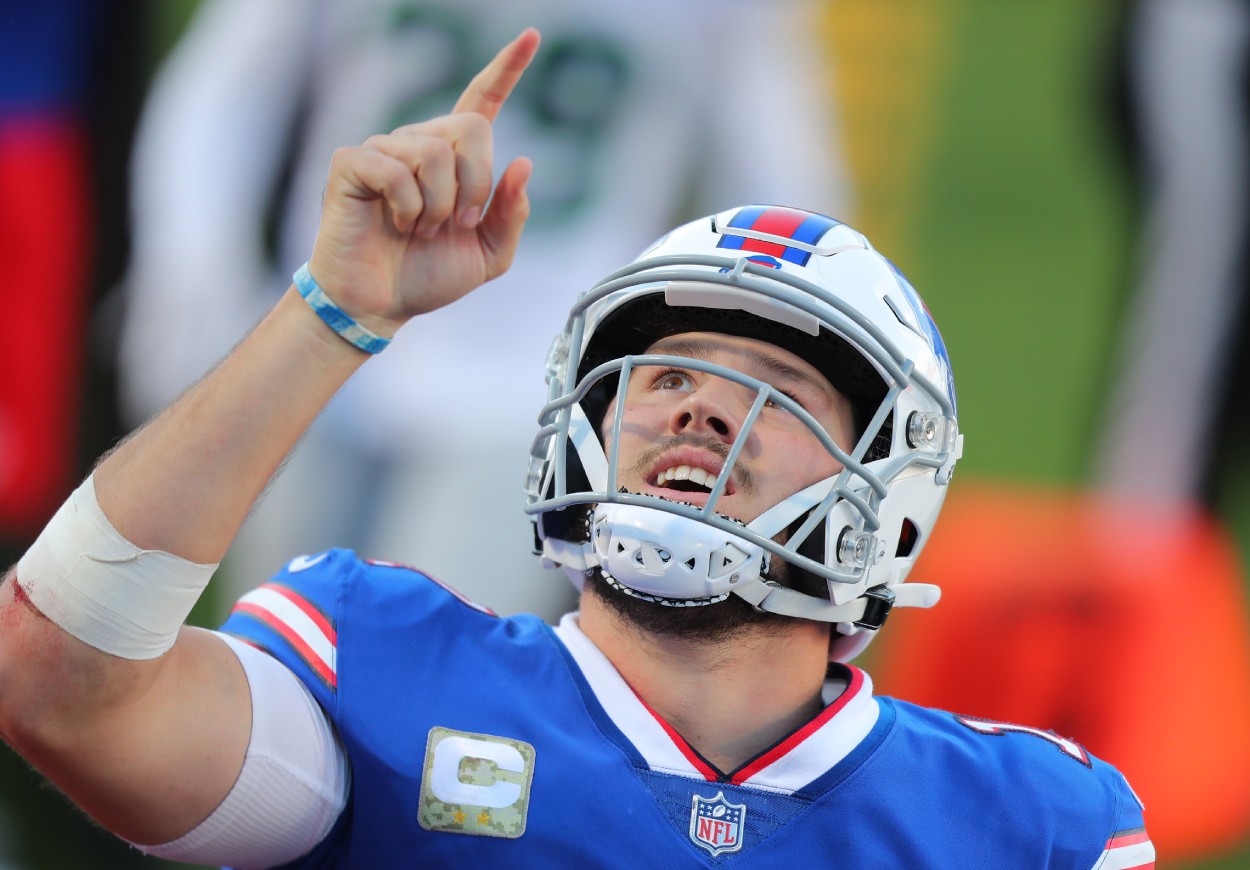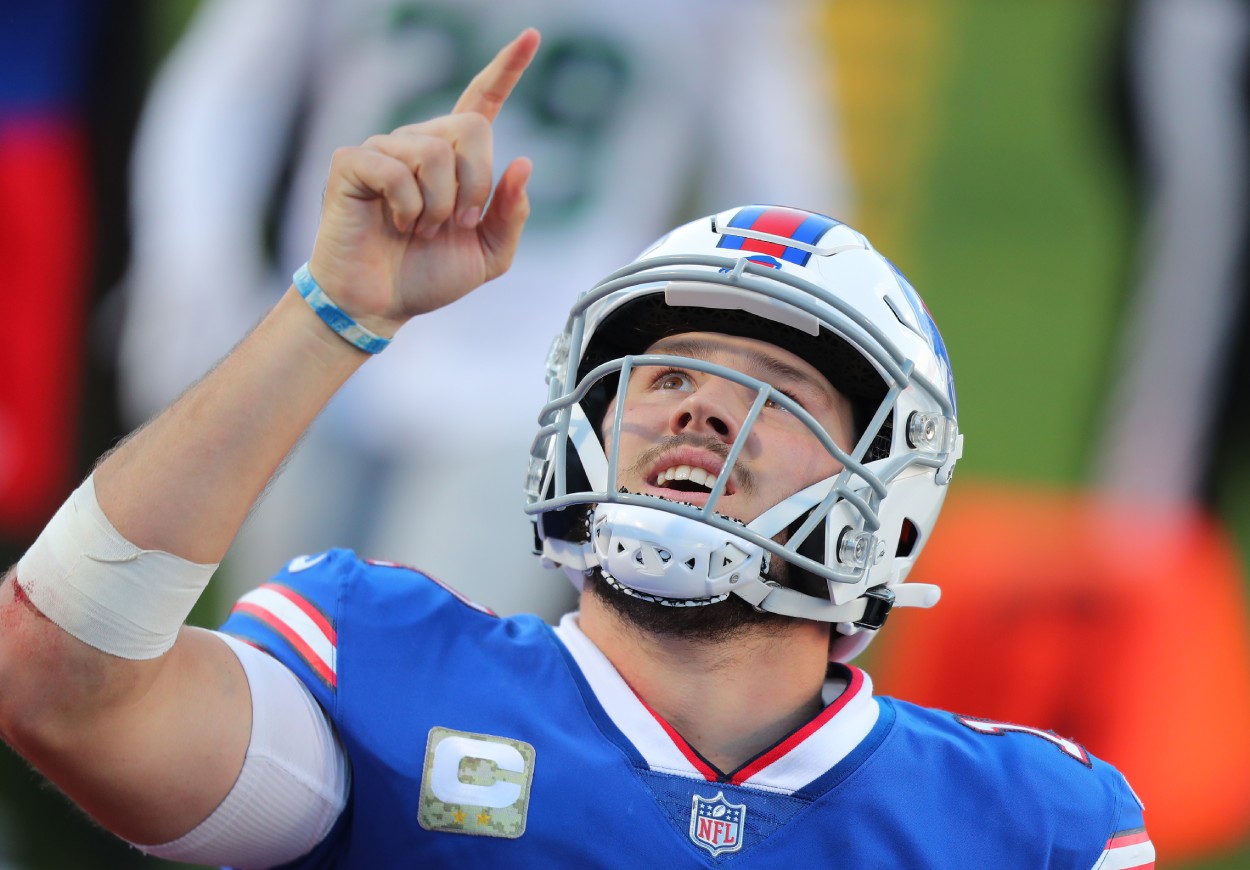 Sports fans want instant gratification, especially when it comes to the quarterback position in football. Social media and the likes of Stephen A. Smith have turned the sensible idea of letting a quarterback develop into an outdated notion.
Such is the New York Giants' situation with Daniel Jones, the sixth overall pick in 2019. Jones is 8-18 in two seasons as a starter and struggled with turnovers in that span, throwing 22 interceptions and losing 17 fumbles.
Is it time to write Jones off? During a recent appearance on Moose and Maggie on WFAN in New York, Florio said the third-year quarterback could salvage his career by following in the footsteps of another quarterback in the tri-state area.
"I think the goal is to have [Jones] make the kind of jump that we saw from Josh Allen in Buffalo last year. Now, that would be a dramatic jump, but everyone was stunned by how well Josh Allen played right out of the gate last year and how much the offense revolved around Allen. And he took full advantage of the skills."

Mike Florio
It's not a perfect comparison, but let's put it this way. If Jones plays half as well in 2021 as Allen did last year, then he and the Giants should be instant favorites to win the NFC East.
Allen's progression over the last few years has been a remarkable story
Anyone who watched Allen in his first two seasons likely would never have guessed he'd have laid a potential path to success for future quarterbacks.
Allen threw 12 interceptions against 10 touchdowns as a rookie, numbers which naturally had some fans already calling for his head. But the Bills placed their faith in the young quarterback, who threw 20 touchdowns and ran for another nine in 2019. Although Deshaun Watson and the Houston Texans defeated the Bills in the AFC Wild-Card Round, it was clear Allen had taken a massive step forward.
Then came 2020, when Allen torched defenses for 4,544 yards and 37 passing touchdowns en route to earning Pro Bowl honors and appearing in the AFC Championship Game. Remember, this is the same quarterback who fans were ready to write off after some turnovers in his rookie year.
The Bills worked with Allen and didn't force him to be a player he'd never become. Instead of asking him to be a pocket passer like Peyton Manning, the team embraced using him as a dual-threat player — much like the Carolina Panthers did with Cam Newton a decade ago — who could beat teams with his arm and fight for every yard on the ground.
Teams like the Giants and Miami Dolphins, who have their own questions regarding Tua Tagovailoa, can learn from what the Bills did with Allen. Instead of demanding instant gratification, they worked through the punches and came out successful on the other side.
Allen and Jones have far different goals to accomplish during the 2021 season
For the first time since Jim Kelly stood under center in the 1990s, the Bills are legitimate Super Bowl contenders and favorites to win the AFC East.
As of publication, Odds Shark listed the Bills as +1200 favorites (bet $100 and win $1,300) to win Super Bowl 55. Only the Kansas City Chiefs (+500) and Tampa Bay Buccaneers (+650) had higher odds. Naturally, the next step for Allen and the Bills is defeating Patrick Mahomes and the Chiefs for the right to appear in the Super Bowl.
The Giants, on the other hand, are near the bottom of the league at +8000 after going 6-10 last season. If Jones can take the leap that Allen did in recent years, then those odds will quickly increase as the season goes on.
It might be some time before another matchup between Allen and Jones, however. The Bills and Giants aren't scheduled to play one another in a meaningful game until the fall of 2023 … unless, of course, they match up in the Super Bowl before then.
If Allen and Jones are the starting quarterbacks that night, then football fans should never again have to hear Smith or Skip Bayless rant about a quarterback being a bust after his first four starts.
Betting odds courtesy of Odds Shark as of July 15, 2021.