Mike Florio Boldly Suggested the Jaguars Should Replace Urban Meyer With a Hall of Famer Who Knows How to Handle a No. 1 Pick
The Jacksonville Jaguars gambled on hiring Urban Meyer, and ProFootballTalk's Mike Florio is ready for a clean slate.
Meyer's first year as a head coach has involved everything from the Tim Tebow experiment, an ugly 0-4 start, and the recent controversy involving a risque video featuring the head coach and a young woman in Ohio. If the Jaguars part ways with the college football legend, Florio has an idea for where the long-suffering franchise should turn next.
Mike Florio suggested the Jaguars replace Urban Meyer with Tony Dungy
If Jaguars fans salivated at the idea of Meyer teaming up with No. 1 overall pick and ex-Clemson star quarterback Trevor Lawrence, how would they feel about Tony Dungy filling the coaching role later this fall?
Florio, who works with Dungy at NBC Sports, floated the idea in a story and subsequent Twitter thread on Thursday, Oct. 7. The Football Night in America analyst only suggested the idea; he did not report that Dungy or the Jaguars had any interest in one another.
In wondering who would take over the Jaguars if Meyer is fired or quits later this season, Florio determined that offensive coordinator Darrell Bevell would "make the most sense." Florio then suggested the Jaguars consider an unconventional idea and hire an interim coach from the outside.
ProFootballTalk's founder wrote he believes Dungy, who entered the Pro Football Hall of Fame in 2016, is the right man for the job.
"It would be fascinating (but as an NBC colleague disappointing) to see Dungy agree to take over the Jaguars, simply for the purposes of getting the team through the balance of the season and helping [Jaguars owner Shahid] Khan find the right coach to move the program forward in 2022."

Mike Florio
Meyer remained the Jaguars' head coach as of publication. Dungy had also not publicly addressed Florio's suggestion.
Florio has the right idea, even if hiring Dungy is likely unrealistic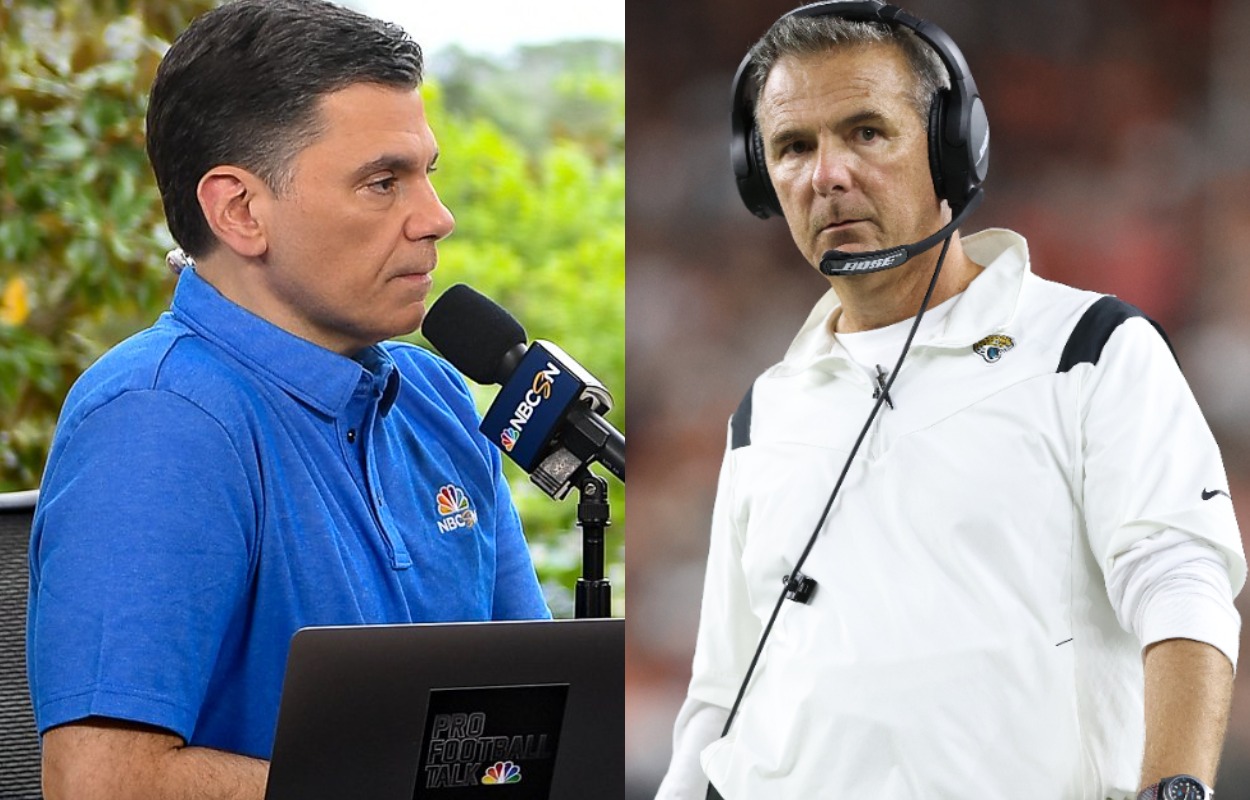 Let's get one thing out of the way right now. Dungy, who last coached an NFL game during the 2008 playoffs, likely isn't returning to the sidelines. He turned 66 on Oct. 6 and appears happily retired from dealing with game prep and press conferences.
Still, Florio has the right idea in wanting someone like Dungy to take over the Jaguars. Jacksonville needs someone who has been a head coach before and someone who has experience working with a franchise quarterback, especially someone drafted first overall. Dungy won a Super Bowl with Peyton Manning, the 1998 NFL Draft's No. 1 selection, and reached two AFC Championship Games in their seven seasons together.
Florio also mentioned longtime Tennessee Titans head coach Jeff Fisher and former Dallas Cowboys coach Wade Phillips as men he felt would be perfect fits for the Jaguars. Fisher, for all of the knocks against him and his career 173-165-1 record, made it to Super Bowl 34 and reached the playoffs five total times in Tennessee.
Although Phillips is 74 years old, he has at least been an interim head coach somewhat recently. He went 0-3 in that role with the Houston Texans in 2013.
Of those three, Fisher makes the most sense for an idea that, frankly, has a less than zero chance of coming to fruition. Still, the Jaguars should consider following that criteria going forward, even if it means bringing in Alabama offensive coordinator and former Texans head coach Bill O'Brien.
The Jaguars cannot get their next head coach hire wrong if Meyer isn't there in 2022
At this point, it doesn't feel like an "if" Meyer will leave the Jaguars. We've been in "when" mode for a few weeks now — unless we're all fools, which is entirely possible.
So to be safe, if Meyer is not running the Jaguars next year, the team will be on its third full-time head coach in three seasons. Considering the team hopes it has its franchise quarterback in Lawrence, the Jaguars cannot afford to make that four in four years come 2023.
Following this season's merciful end, the Jaguars should consider calling the New Orleans Saints and Pittsburgh Steelers and seeing if the team can acquire either Sean Payton or Mike Tomlin, respectively. Both are Super Bowl-winning head coaches who have thrived with Drew Brees and Ben Roethlisberger as their respective quarterbacks.
If the Jaguars can't get Dungy, the team should definitely consider trading a draft pick or two for Tomlin. The Steelers' longtime head coach served as Dungy's defensive backs coach in 2001.
Who are we kidding? The Jaguars will wind up hiring a trending coordinator and fire him after two seasons. Some franchises are determined to keep playing Pong while others are soaking countless hours into chess and checkers.
Like Sportscasting on Facebook. Follow us on Twitter @sportscasting19.
[Correction: An earlier version of this article indicated Jeff Fisher had won Super Bowl 34.]
RELATED: Aaron Rodgers Weighs in on the Biggest Problem With the Urban Meyer Scandal: 'In College You Call Your Coaches Coach, and in the NFL, You Call Them by Their Name'