Mike Florio Envisions the Dallas Cowboys' Lingering Ezekiel Elliott Problem Won't Be Over Anytime Soon: 'The Cowboys Are Stuck'
We have bad news for the Dallas Cowboys fans who want Ezekiel Elliott gone and an excellent update for fans of the other three teams in the NFC East.
Elliott, the three-time Pro Bowl selection and Ohio State product, is showing signs of decline in his mid-20s. But as NBC Sports' Mike Florio recently pointed out, the Cowboys' issue with their star running back likely won't be resolved anytime soon.
The Dallas Cowboys are in a difficult situation involving Ezekiel Elliott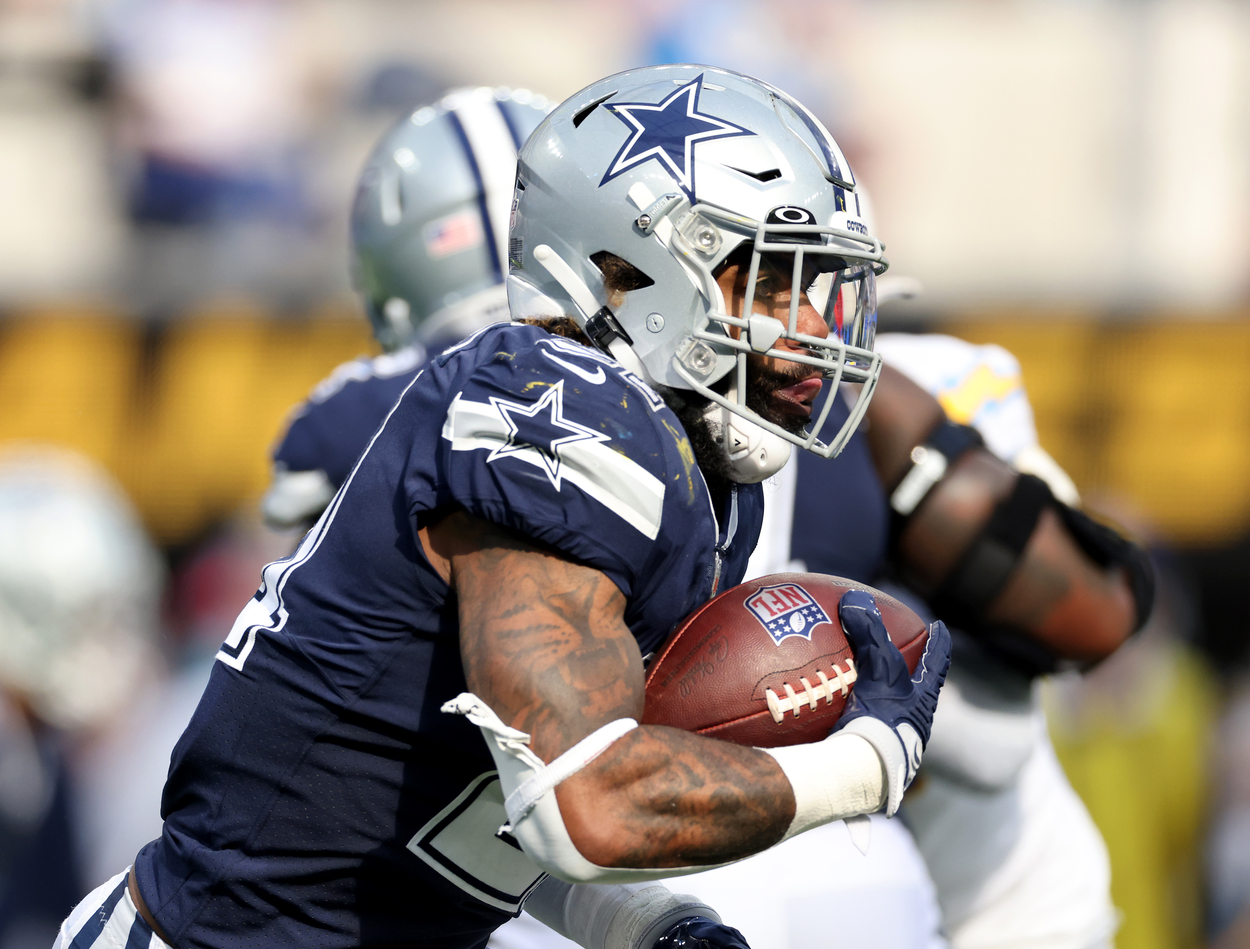 Depending on who you ask, the Cowboys may not even have any type of problem involving Elliott. Dating back to the start of the 2020 regular season, he's rushed for 1,083 yards and seven touchdowns on an even four yards per carry. Those aren't bad numbers for most running backs over a 17-game stretch.
The issue, however, is that Elliott isn't most running backs. He's a 26-year-old perennial Pro Bowler currently playing on a six-year, $90 million contract. If he somehow lasts the full duration of his deal, he'll hit free agency in 2027, a few months before he turns 32.
The Cowboys' financial obligations to Elliott put them in a challenging situation, especially if his recent ugly stretch — he's only topped the 100-rushing-yard plateau in two games since the start of last year — represents a sign of things to come. As Florio explained in a recent article on ProFootballTalk, the Cowboys are "stuck" with their veteran running back.
"They could trade him after 2021, but he'll still get the money. They could cut him after 2021, but he'll get the difference between whatever someone else pays him (much less than $12.9 million) and the $12.9 million. If, as it seems, Elliott has begun to be less effective and if the Cowboys had the flexibility to cut the cord or squeeze him to take less, they would."

Mike Florio
Well, that's what happens when a team signs a running back with a heavy usage history to a lengthy extension.
Tony Pollard's emergence is only making Elliott's situation harder
Fans always prefer the backup until the second-string player actually sees the field. Just ask New York Jets supporters if that line of thinking applies with quarterbacks.
Many with an emotional investment in the Cowboys, whether they work for the organization or simply wear the jerseys to the bar, would likely argue that Elliott gives the team the best chance to win a Super Bowl. However, backup Tony Pollard is quickly approaching the point where the home crowd may want him as the featured back.
The third-year Memphis product ran for 109 yards and a touchdown in the Cowboys' Week 2 victory over Justin Herbert and the Los Angeles Chargers. He's rushed for 1,013 yards and seven touchdowns on an even five yards per carry across 33 career games.
The grass isn't always greener on the other side. Pollard is an efficient change-of-pace running back capable of a solid pickup or two while Elliott gets some rest on the sidelines. He's also a competent receiving back who had seven catches for 60 yards in the season's first two games.
Social media users and fantasy football managers understandably want to see Pollard earn more opportunities, especially given Elliott's early struggles. However, he's not guaranteed to play at a Pro Bowl level if he gets 25 touches per game.
Elliott and the Cowboys need to ensure the focus is on now, as opposed to what can happen in 2023
Nothing is forever in the NFL. Elliott, the fourth overall pick in 2016, may very well finish his career as a backup on the Las Vegas Raiders in his early 30s. He also could turn things around and remain a reliable starting running back before retiring at the end of his current contract.
The Cowboys need to ensure that right now, everyone is only thinking about the present. All parties will deal with Elliott's long-term future in Dallas when the time comes, whether it involves trading him after this year, cutting him in 2023, or any other option.
Dak Prescott's presence at quarterback should always keep the Cowboys in playoff contention. Pollard provides America's Team with playmaking abilities off the bench and on special teams.
If the Cowboys want to find themselves competing for a Super Bowl title later this year, they need Elliott at whatever his best is at this point. Bringing a sixth Lombardi Trophy to Dallas would undoubtedly help both sides work through the fact that, at least for now, they're stuck with one another.
Like Sportscasting on Facebook. Follow us on Twitter @sportscasting19.
RELATED: Ezekiel Elliott's Mother and a Practice Squad Safety Are Only Highlighting His Ugly Downward Spiral