Mike Florio Is Extremely Displeased the Seattle Seahawks Still Haven't Called Colin Kaepernick
Article Highlights:
NBC Sports' Mike Florio believes the Seattle Seahawks should call Colin Kaepernick
The social justice icon last played in an NFL game on Jan. 1, 2017
It's hard to see any team signing Kaepernick this season or going forward
We've hit that point in the NFL calendar where prominent media members and Twitter users with seven followers ask why former San Francisco 49ers quarterback Colin Kaepernick isn't on an active roster.
ProFootballTalk's Mike Florio, a staunch defender of Kaepernick for years, still fits comfortably into the former group.
Mike Florio believes the Seattle Seahawks should have called Colin Kaepernick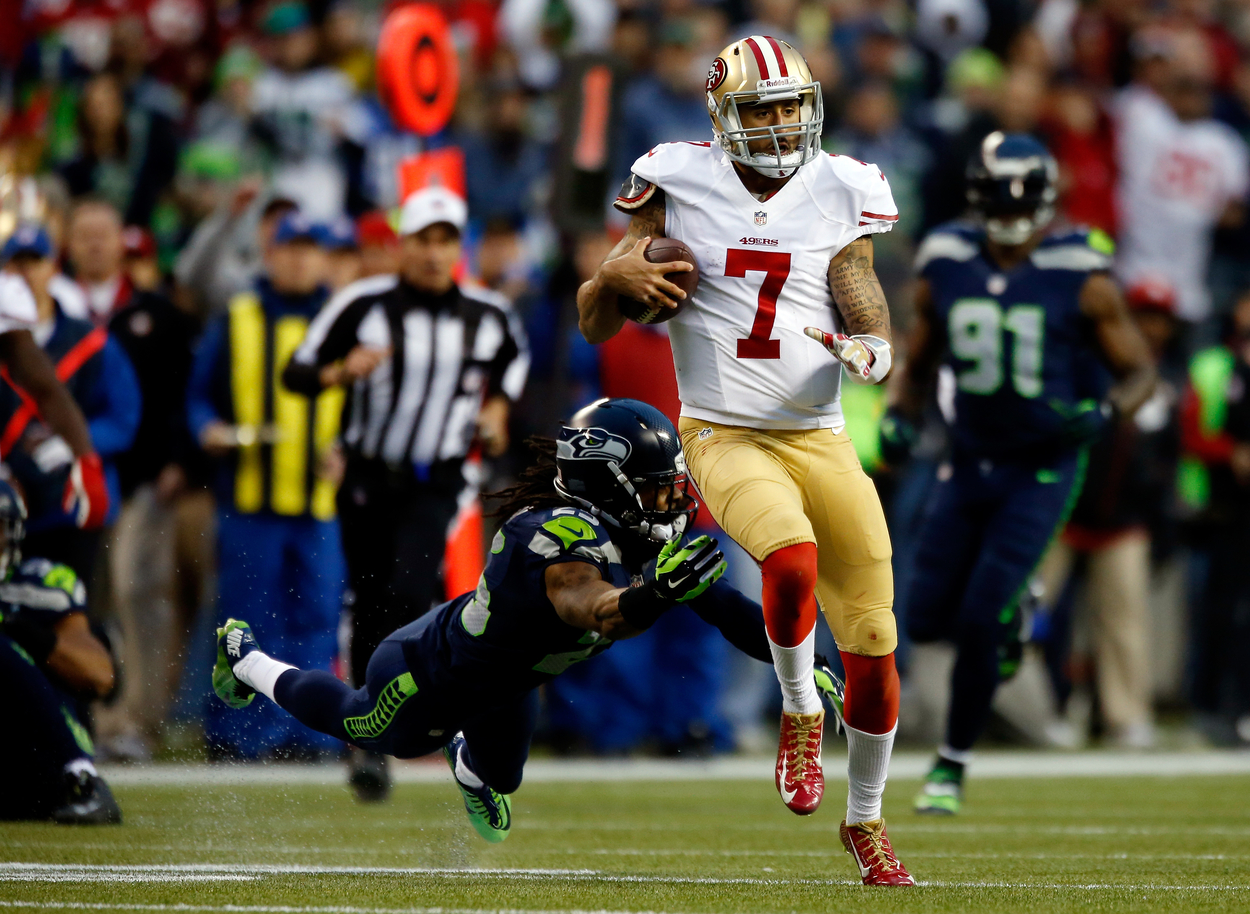 When Geno Smith started for the Seattle Seahawks in Week 6, it truly marked the end of an era. For the first time in years, football fans realized the West Virginia product was still in the league.
Smith started against the Pittsburgh Steelers because perennial Pro Bowl quarterback Russell Wilson is on injured reserve with a finger injury. Before Wilson's ailment, he'd started 165 consecutive games between the regular season and postseason dating back to September 2012.
Smith performed admirably in his first start since December 2017, completing 23 of 32 passes for 209 yards, a touchdown, and no interceptions in the Seahawks' 23-20 loss. However, he also lost a fumble in overtime, setting up the Steelers' game-winning field goal.
For some, the overall performance, save the fumble, would be enough given the Seahawks' porous defense and rash of injuries. Still, Seahawks head coach Pete Carroll said on Monday, Oct. 18, that the team had conversations with three-time Pro Bowler Cam Newton, who most recently played for the New England Patriots.
In an editorial posted on PFT's website Monday night, Florio asked why the Seahawks haven't also looked into Kaepernick. The social justice icon last played in an NFL game on Jan. 1, 2017, ironically against the Seahawks.
"Is [Kaepernick] better than Geno Smith? Some would say that Kaepernick is. Those who would say otherwise would point to the fact that Smith has been in the league since the end of the 2016 season, whereas Kaepernick hasn't. And that's how four years of an obvious shunning of Kaepernick has made it easier to continue keep shunning him."

Mike Florio
As of publication, the Seahawks had not signed Kaepernick or Newton.
The Seahawks would put too much at risk by gambling on Kaepernick or Cam Newton
Florio's suggestion the Seahawks call Kaepernick isn't without any sort of precedent. Seattle brought Kaepernick in for a visit in 2017, not long after he became a free agent, but did not sign him. Austin Davis, a Southern Miss product who started eight games for the then-St. Louis Rams in 2014, instead served as Wilson's backup that year.
The issue with bringing Kaepernick or Newton into the mix goes far beyond social justice beliefs or personality quirks. Smith is in his third year with the organization, and he knows the playbook and the scheme. Even if the team signed one of those quarterbacks today, they wouldn't be starting against the New Orleans Saints on Oct. 25.
If you're skeptical, consider that Carson Palmer threw 16 interceptions against 13 touchdowns and lost five of his nine starts after the then-Oakland Raiders traded for him in October 2011 and rushed him into the starting lineup.
In theory, the Seahawks could sign either to the practice squad and let them learn the playbook for a couple of weeks. Seattle is treading water at 2-4 and hoping they'll still be in the hunt for a postseason spot when Wilson potentially returns in early November.
Say whatever you want about Smith, but he, at least for now, is the best quarterback to keep their playoff hopes alive. Whether it's fair or not, the truth is that Kaepernick being out of the NFL for nearly five years greatly hurts his chances of signing anywhere now.
It's time to officially accept we're likely never seeing Kaepernick in the NFL again
A quick glance at the responses to Florio's story shows that plenty of football fans and Twitter bots never want to see Kaepernick retake the field. By the sounds of things, it looks like they're going to get their wish.
Kaepernick hasn't played in an NFL game in nearly five years. He held a public workout in 2019, which went nowhere. If no team signed him in 2020 amid the NFL's newfound commitment to fighting racism and publicly acknowledging the league handled Kaepernick's 2016 social justice protests poorly, then there is no reason to believe a team will take a chance 16 months later.
Luckily for Kaepernick, his life is far more than football in 2021. He's a published author and activist who has supported numerous charities over the years. In the early weeks of the pandemic, his Know Your Rights camp created a relief fund to help those directly impacted by ongoing events. The 2011 second-round pick donated $100,000 to the fund in April 2020.
The Seahawks' mission is to win games and bring a Lombardi Trophy back to Seattle. Kaepernick's objective is to create reform and change millions of lives in the process, and he'll continue doing so even if he's not carving up defenses this fall.
Like Sportscasting on Facebook. Follow us on Twitter @sportscasting19.
RELATED:: EA Sports and 'Madden NFL 22' Insulted Both Colin Kaepernick and Football Fans in a Single Stroke