Mike Florio Might Have Uncovered Why Nick Saban Keeps Bringing up the Failed Drew Brees-Miami Dolphins Recruitment
Miami Dolphins fans remain tortured about what could have been if the franchise partnered Nick Saban with Drew Brees in 2006.
Clearly, one of the most intriguing "what ifs" remains on Saban's mind, too. Despite having turned the Alabama Crimson Tide into a powerhouse since he arrived in 2007, Saban has constantly publicly reflected on the Dolphins' failed recruitment of Brees for years — and ProFootballTalk's Mike Florio thinks he knows why.
Mike Florio thinks Nick Saban 'wants to rectify' his failed NFL career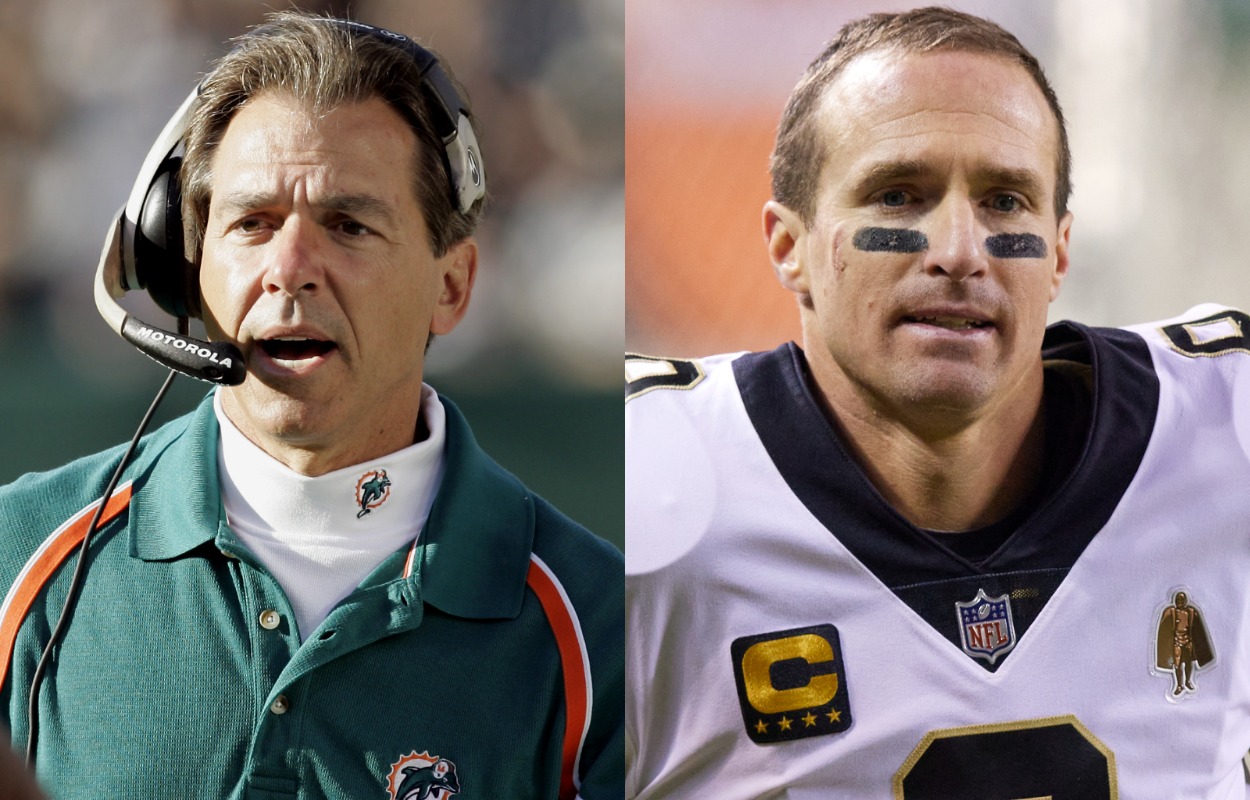 Saban and his seven national championships, six of which he's won since 2009, still sound like a man still haunted by a failed stint in the NFL.
In the months after Brees officially retired after a legendary NFL career, Saban has spoken out multiple times about the Dolphins' refusal to sign the quarterback in 2006. The Dolphins famously passed on signing the former Chargers quarterback because of fears involving a shoulder injury. Instead, the Dolphins acquired Minnesota Vikings quarterback Daunte Culpepper, who missed time in 2005 with a knee injury and didn't pan out in Miami.
During the July 21 episode of the PFT PM podcast, Florio shared his theory of why Saban keeps bringing up the Brees-Dolphins saga all of these years later.
"[Saban] wants to rectify his failed NFL coaching career with the very basic and simple argument [of], 'If they had just listened to me and signed Drew Brees, we would have become the team since 2006 that the Saints became."

Mike Florio
Obviously, that did not happen. The Dolphins went 6-10 in 2006, and Saban, after insisting he didn't intend to coach Alabama, returned to college football only days after the season ended. Elsewhere, Brees led the New Orleans Saints to an NFC Championship Game appearance that season.
Florio criticized Saban for being unrealistic and undermining Sean Payton
Saban has every right to think about what could have been if he, not Sean Payton, became Brees' head coach in 2006.
However, Florio warned that Saban's train of thought could prove problematic. The ProFootballTalk founder said Saban's continued belief that he and Brees were guaranteed to succeed together undermines the work that Payton — who took over the Saints after the 2005 season — and Brees did together.
"If Brees goes to Miami and plays for Saban, who's a defensive coach, [then] who's going to get the most out of Drew Brees? Is it going to work in Miami the way it worked in New Orleans? Saban just wants to assume that Drew Brees, wherever he would have landed as of 2006, is going to unlock all of these achievements and performances that made him one of the great quarterbacks of all time."

Mike Florio
Brees also benefited from taking over a Saints offense with a young Reggie Bush, who led the team with 88 receptions that season, and Marques Colston. However, Brees at least would have had Ronnie Brown and Wes Welker in Miami.
Saban needs to move past the Brees-Dolphins situation
Saban has done practically everything imaginable at Alabama. He's won seven national championships, pocketed plenty of money along the way, and will be remembered among the greatest college football coaches in history.
What does he get by trying to think so much about the past? If Saban desperately wanted a chance at winning a Super Bowl, he could have easily put his name out there for coaching vacancies at any time. Perhaps an alternate universe exists where Saban took over the New York Jets after the 2014 season and turned Geno Smith into an All-Pro quarterback.
But that potential alternate universe is just that: a random thought about what could have been. Brees and Saban each walked different paths, and, aside from all of the quarterback's various injuries in recent years, things worked out perfectly for both of them.
Can't that be enough for Saban when he goes to sleep at night? Clearly not. He'd rather have nightmares about Brees' shoulder than dream happily about any of the national championship victories.
Like Sportscasting on Facebook. Follow us on Twitter @sportscasting19.