Mike Florio Prematurely Rips the 49ers for Their Controversial 2021 Draft Pick: 'The Trey Lance Experiment Has Indeed Been a Disappointment'
The San Francisco 49ers' decision to trade up to No. 3 overall during the 2021 NFL Draft was controversial, to say the least. Not only did it cost the 49ers a war chest of draft capital to orchestrate the trade with the Miami Dolphins (two first-round picks and third-round pick), but there was also a sense of uncertainty regarding who the 49ers front office was targeting.
Some thought they had taken a liking to the safe option of Mac Jones, while others envisioned the team drafting Ohio State fan favorite Justin Fields.
The uncertainty lasted all the way until draft night, where the 49ers ultimately pulled the trigger on North Dakota State phenomena, Trey Lance.
Trey Lance's rookie season is yet to get underway fully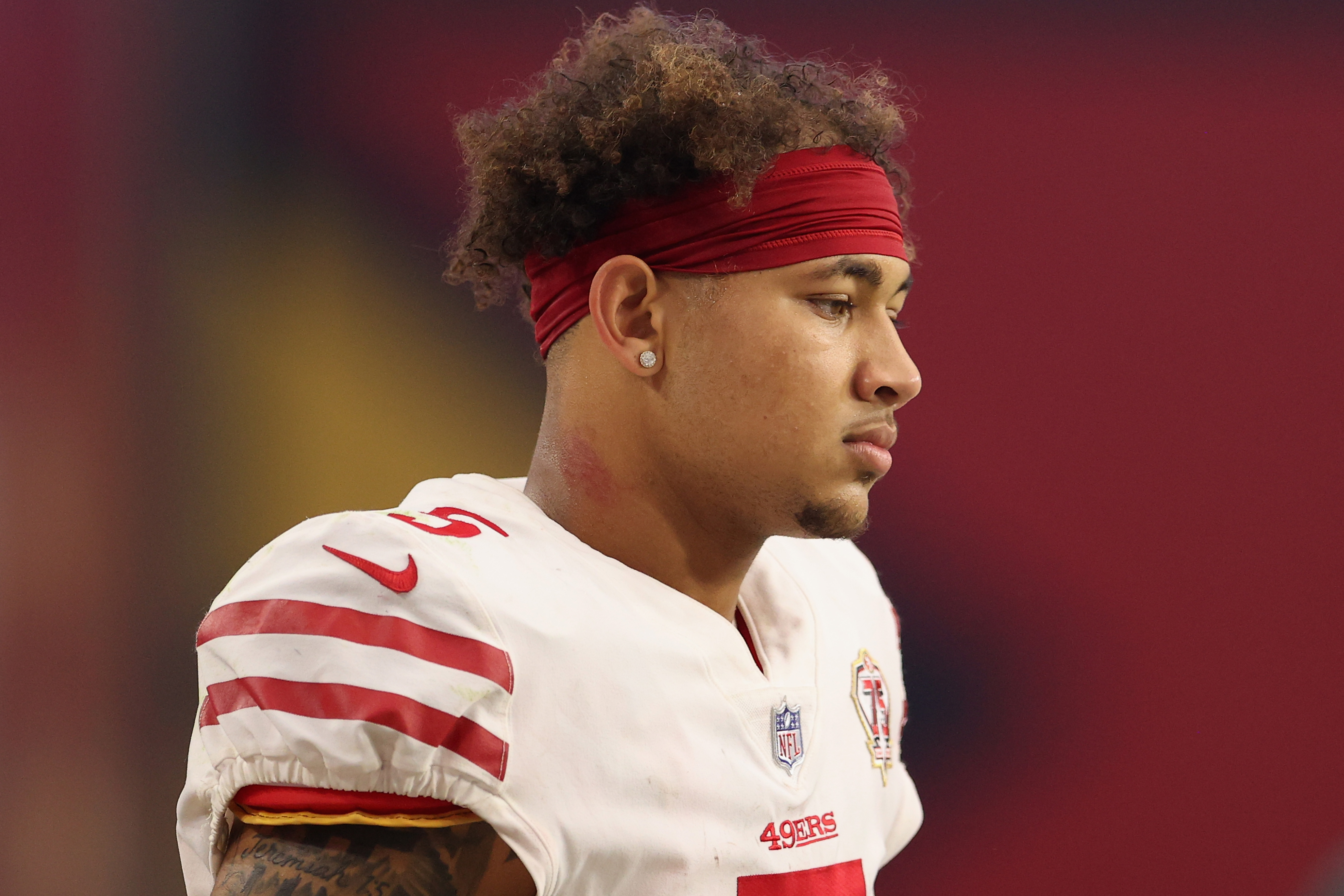 Despite being the No. 3 overall pick, Lance's rookie season has yet to take shape. The big-armed gunslinger began the year in a backup role behind veteran QB Jimmy Garoppolo, and 49ers head coach Kyle Shanahan has shown an overall reluctance to change that dynamic anytime soon.
Lance was featured in a few gadget plays earlier in the season. However, nothing of substantial value. Nothing that showcased Lance's arm talent or overall ability to play QB.
Lance did make his first career start against the Arizona Cardinals during Week 6, with Garoppolo sidelined due to injury. However, that too gave us little to go off of when assessing Lance's overarching talent. Lance only completed 15 passes for 192 yards and an interception.
The San Francisco rookie did rush for an additional 89 yards on 16 attempts. However, his rushing ability is not under question. Everybody knows he's fast and wicked athletic. The main question surrounding Lance is his accuracy — something he's yet to showcase operating an NFL offense.
Trey Lance's doubters are beginning to emerge
Lance has attempted 48 career passes in the NFL. It's near-impossible to determine the type of quarterback he will develop into. However, his minimal sample size isn't stopping his doubters from taking a mini victory lap.
Pro Football Talk's Mike Florio chimed in with his thoughts on Lance and the 49ers' overall QB situation before their Week 7 game against the Indianapolis Colts, and he didn't hold back with his criticism.
None of this is to say that Lance won't develop. However, at a time when more and more young quarterbacks are arriving via round one and instantly becoming starters, the guy in whom the 49ers invested three first-round picks and a third-round pick should be starting.

It may not be his fault. Maybe he shouldn't have been the third overall pick. Maybe Shanahan is better with veterans than rookies. Maybe the third pick should have been Justin Fields or Mac Jones. Maybe the 49ers, after passing on Patrick Mahomes in 2017 and telling Tom Brady "no thanks" to a homecoming in 2020, pushed the needle too far the other way, going all in when they should have just stayed put…

Maybe Lance will eventually become the franchise's next Joe Montana. Maybe Lance will get his fingerprints on three or four Lombardi Trophies. For now, though, it's obvious that the move isn't paying dividends for a team with 2021 Super Bowl aspirations that has lost three of its first five games and that will be hard pressed to even make the playoffs if they rack up their fourth loss before Halloween.

Mike Florio, Pro Football Talk
The 49ers shoouldn't rush Lance's development
To put it bluntly, Florio's criticism of Lance and the 49ers' handling of their quarterback room is premature. Not only is Lance still a high-ceiling prospect in the grand scheme of things, but we've seen plenty of young quarterbacks who were written off during the early stages of their career blossom into franchise arms.
Josh Allen, Dak Prescott, and Lamar Jackson were all intensely critiqued during their rookie seasons. All three are legitimate MVP candidates now.
To add further context to this discussion, Lance entered the 2021 Draft as someone needing extra developmental time. He played for a small midwest school in college that did not run an NFL-style offense and only played one organized game during 2020. This is a raw talent who needs extra practice reps, similar to Patrick Mahomes when first drafted.
Maybe Lance does end up a complete and utter bust, and maybe the 49ers should have drafted Jones or Fields. However, making such a claim in Week 7 is wildly premature. There's still a lot of football left to be played.
All stats courtesy of Pro Football Reference.
RELATED: Jamal Adams Has a Fiery Message for His Haters After an Embarrassingly Ugly Start to the Season: 'I'm Not Here to Prove Anything to Anybody'