Mike Florio Rips Urban Meyer's Ineptitude And Suggests Jaguars' Coach Has No Understanding of How The NFL Works: '1 And Done Or Maybe Less'
The Jacksonville Jaguars have serious problems on their hands, but none bigger than head coach Urban Meyer. He has dominated headlines since the team hired him. However, the Jags are not a good football team, and their leader is flopping. Pro Football Talk's Mike Florio ripped Meyer for his ineptitude as an NFL head coach.
The Jaguars are off to an abysmal start in 2021
The Jacksonville Jaguars are potentially playing their way into another No. 1 draft pick in 2022.
Some intrigue surrounded the team heading into the 2021 NFL season following the hire of Urban Meyer and the additions of Trevor Lawrence and Travis Etienne Jr. in the draft. Mediocrity is still Jacksonville's calling card, though.
The Jaguars are sitting at 0-5 heading into Week 6. The only other winless team is the Detroit Lions. These two teams will be battling for last place all season long.
Jacksonville is in much worse shape than Detroit, though. Its abysmal record doesn't tell the entire story. Meyer continues to prove that he doesn't belong. His recent controversy that stemmed from a viral video brought his leadership skills into question.
The Jaguars have a rookie quarterback in Lawrence and a host of other young players. When you factor in poor leadership, it's a recipe for disaster.
Mike Florio says Urban Meyer won't last past 2021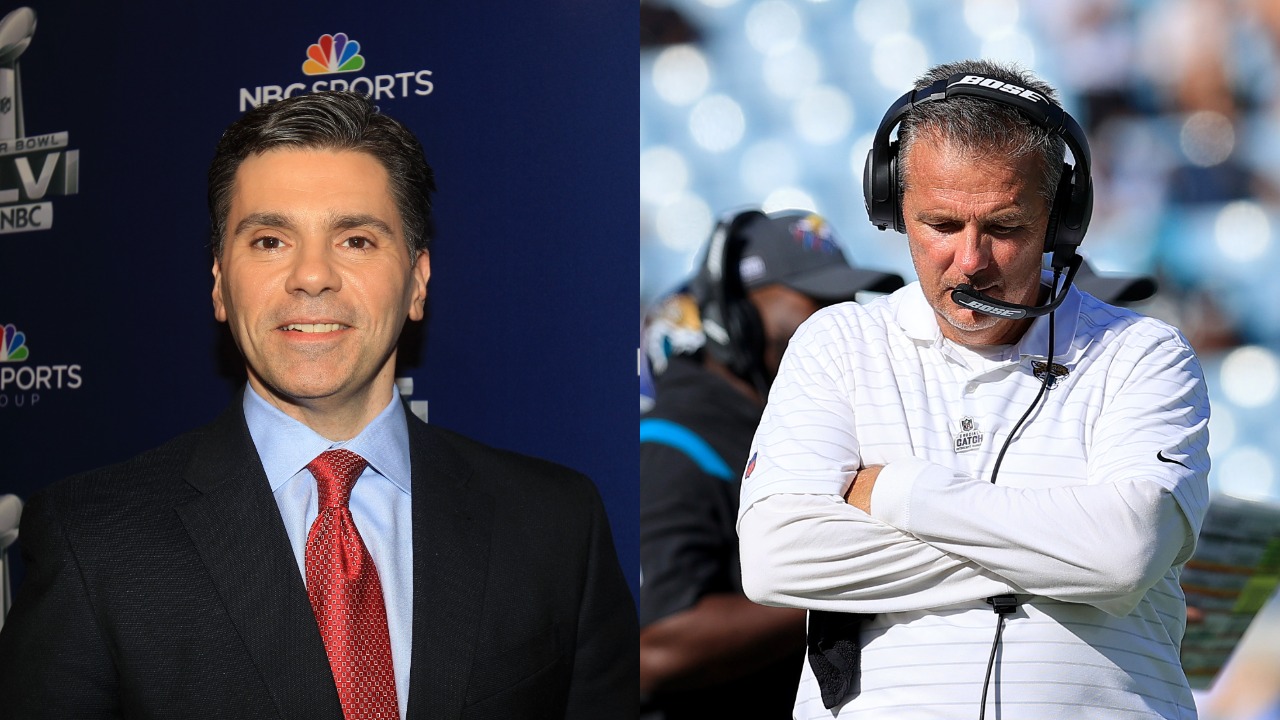 While Trevor Lawrence's future in the NFL is bright, Urban Meyer's is not. Nothing good has come of his short tenure in Jacksonville.
Pro Football Talk analyst Mike Florio previously suggested the Jaguars replace Meyer with Hall of Fame coach Tony Dungy. He joined The Rich Eisen Show to continue roasting the first-year NFL head coach.
Florio kicked things off by blasting Meyer for neglecting his team after the Week 4 loss to the Cincinnati Bengals on Thursday Night Football. "That's the unforgivable sin in my mind," he said. "That's the abandonment of his post. …It's about responsibility for your team."
That's the problem. Meyer has not proved himself a responsible figure in the Jaguars locker room. Florio didn't stop there, though. The PFT analyst suggested that Meyer isn't fit to be an NFL head coach.
"He has no understanding of how the NFL works," said Florio. "He thinks it's Ohio State vs. Rutgers each and every week. He's gotten his butt kicked five straight weeks by teams that aren't among the very best in the NFL."
Then, Florio predicted Meyer's future in Jacksonville. "It just feels like this all is pointing to one and done or maybe less than one and done for Urban Meyer," he said.
Urban Meyer does not belong in the NFL
When Urban Meyer's stint with the Jacksonville Jaguars ends, so too will his NFL career.
Meyer spent 17 years as a college football head coach between Bowling Green, Florida, and Ohio State. He posted a 187-32 career record. That's where he belongs, not the NFL.
Mike Florio compared Meyer to other college coaches who tried their hand in the NFL like Chip Kelly and Greg Schiano. Neither of those coaches panned out at the pro level, and the Jags' head coach is the latest failed experiment.
"Here's another one who hasn't worked in the world of grown-a** men and thinks he can just show up and coach these guys like he coached in college," said Florio. "Meyer is a guy who thinks you can keep banker's hours and check out and let the staff keep working."
While enjoying success in the college ranks, Meyer is in over his head. He's way out of his league in the NFL. He can't get away with his lack of leadership in this league full of grown men. His behavior and ineptitude likely soured the taste in a lot of the players' mouths. He can't expect them to respect what he tells them to do.
Jaguars owner Shad Khan already issued a statement expressing his disappointment in his head coach. Meyer is probably on a short leash, and nothing suggests the captain can right the ship.
Like Sportscasting on Facebook. Follow us on Twitter @sportscasting19.
RELATED: Mike Florio Boldly Suggested the Jaguars Should Replace Urban Meyer With a Hall of Famer Who Knows How to Handle a No. 1 Pick