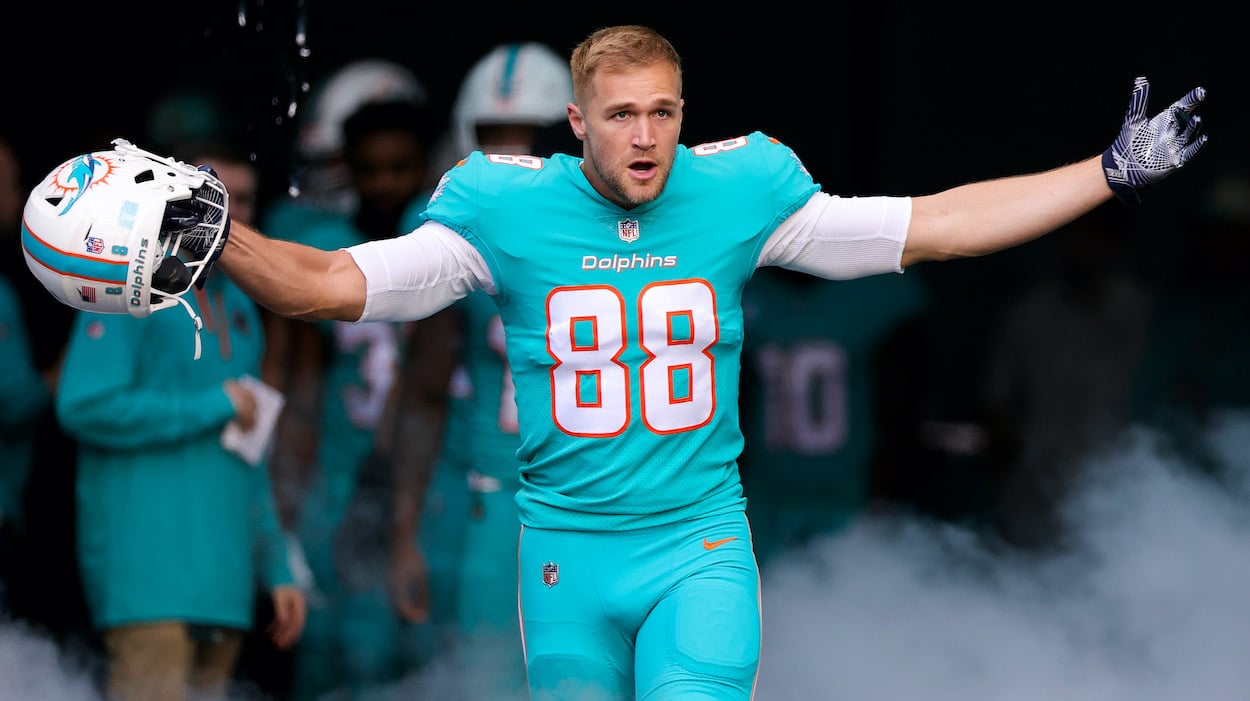 Mike Gesicki contract: Free-Agent TE Says Goodbye to Dolphins as He Looks for $40M Deal
The Mike Gesicki free-agent sweepstakes will come down to which team with a lot of cap room will give a $10M a year Mike Gesicki contract.
The Miami Dolphins got into the playoffs with a third-string quarterback and gave their AFC East-rival Buffalo Bills all they could handle in the Wild Card game. Now that the team is out, though, there are plenty of questions the franchise has to answer this offseason, not the least of which is the Mike Gesicki contract situation. The tight end is a free agent, and with the Dolphins' salary cap situation, the team likely won't be able to keep him. Here is what you need to know about the contract the TE is looking for and which teams will try to win the Mike Gesicki free-agent sweepstakes
Mike Gesicki contract
Dolphins tight end Mike Gesicki started his NFL career as a highly-regarded second-round pick out of Penn State in the 2018 NFL Draft. He had a relatively pedestrian rookie season, making just 22 catches for 202 yards with no touchdowns.
However, in the next three years, Gesicki improved every season with 51, 53, and 73 catches for 570, 703, and 780 yards in 2019, 2020, and 2021, respectively. He also found the end zone 13 times in those three campaigns.
During this time, the South Jersey native played on his original rookie contract, which was a four-year, $6,611,924 deal.
As a second-round pick, the Dolphins didn't have the option of adding a fifth-year, so the team franchised him for this past season. That made the last Mike Gesicki contract a fully-guaranteed, one-year, $10,931,000 pact.
In 2022 under new head coach Mike McDaniel, Gesicki had the least usage and production since his rookie season. He played just 45% of the team's offensive snaps and caught just 32 balls for 362 yards. What did stay consistent was the TE's red zone ability, as he grabbed five TDs this season.
The other reason for the likely Mike Gesicki free-agent move is that the Dolphins are in horrible cap shape heading into 2023. The team has the sixth-worst cap figure in the league this offseason. Before making a single move, the team is $-14,976,767 over the projected cap, per Spotrac.
This is why Gesicki took to social media on Wednesday and said a heartfelt goodbye to Dolphins fans.
"I'm not sure what the next step has in store for me and I'm not positive where it will be but if my time in Miami has come to an end I will forever cherish every moment and be grateful for the highs and lows," Gesicki tweeted. "No matter what and no matter where the show goes on."
The Mike Gesicki free-agent sweepstakes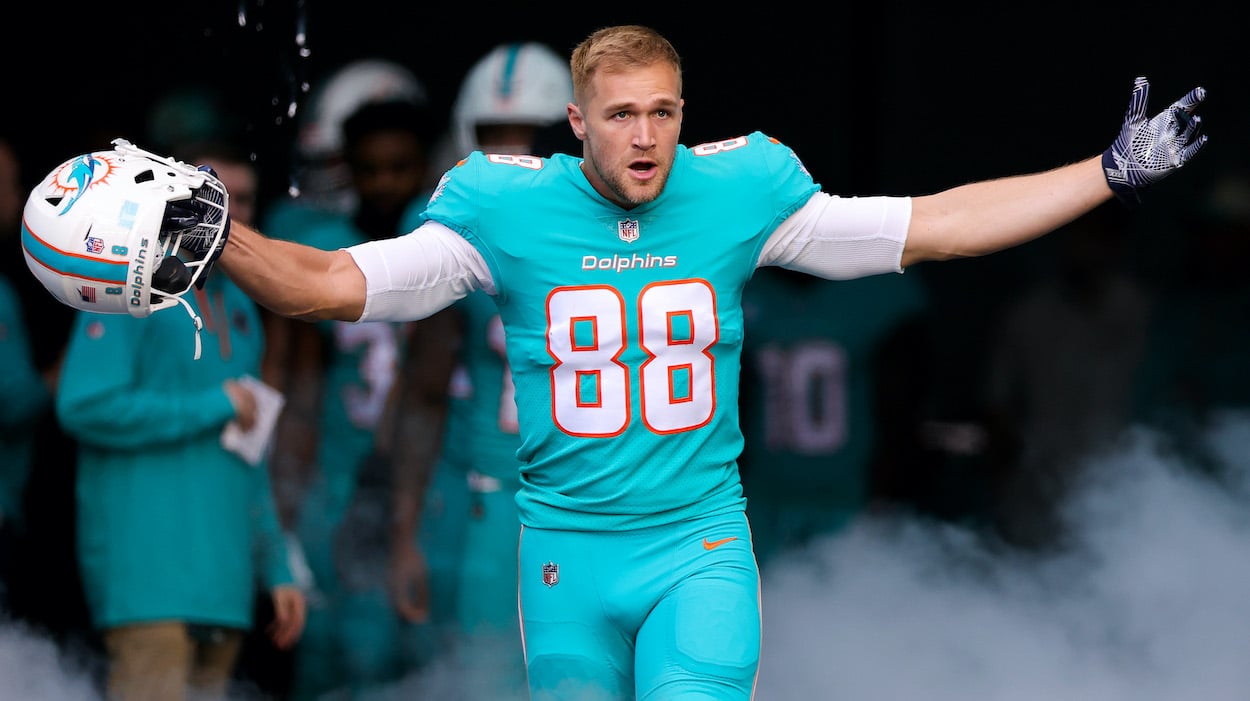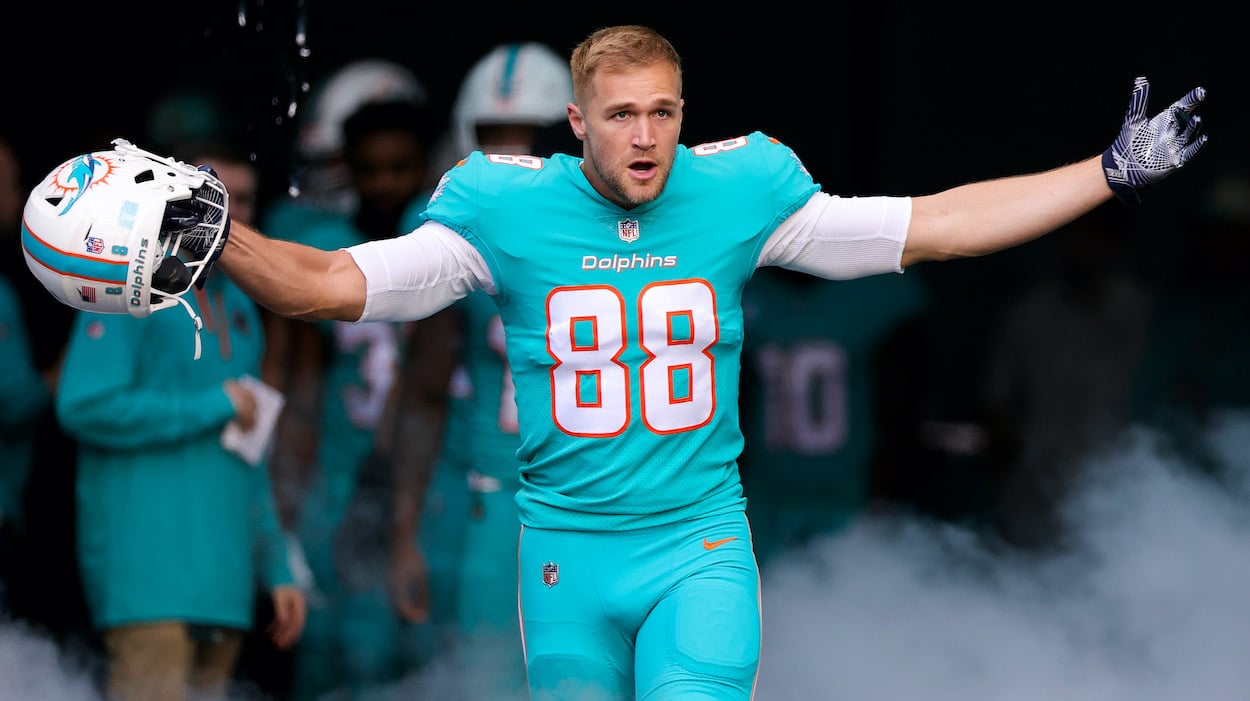 The next Mike Gesicki contract should be in the neighborhood of what he made this season. Spotrac gives him an $8.2 million market value, but as an in-demand player with several suitors this offseason, the TE shouldn't have to take much of a pay cut.
Ideally, for the player, the Mike Gesicki free-agent offseason would result in something like a four-year, $40 million contract with around $27 million guaranteed and a team out after three seasons. That would give the next Mike Gesicki contract an average annual value of $10 million, which would tie him for the 11th-highest-paid TE with Taysom Hill (in AAV), which seems about right.
Looking at the teams that can do this type of deal, you have to look at the teams with the most salary cap room, as a $10 million TE is a bit of a luxury.
There are several organizations that will vie for his services, though.
The Cincinnati Bengals are the first team that comes to mind. They didn't get a ton out of Hayden Hurst and Mitchell Wilcox this season, and right now, Devin Asiasi is the only TE signed for 2023. The Houston Texans could also use Gesicki to help their soon-to-be-rookie QB. Their top two TEs from 2022, Jordan Akins and O.J. Howard, are both free agents as well.
Also, if the New York Giants don't believe 2022 fourth-round pick Daniel Bellinger is ready to step up into a TE1 role, they could also be in the Gesicki market.