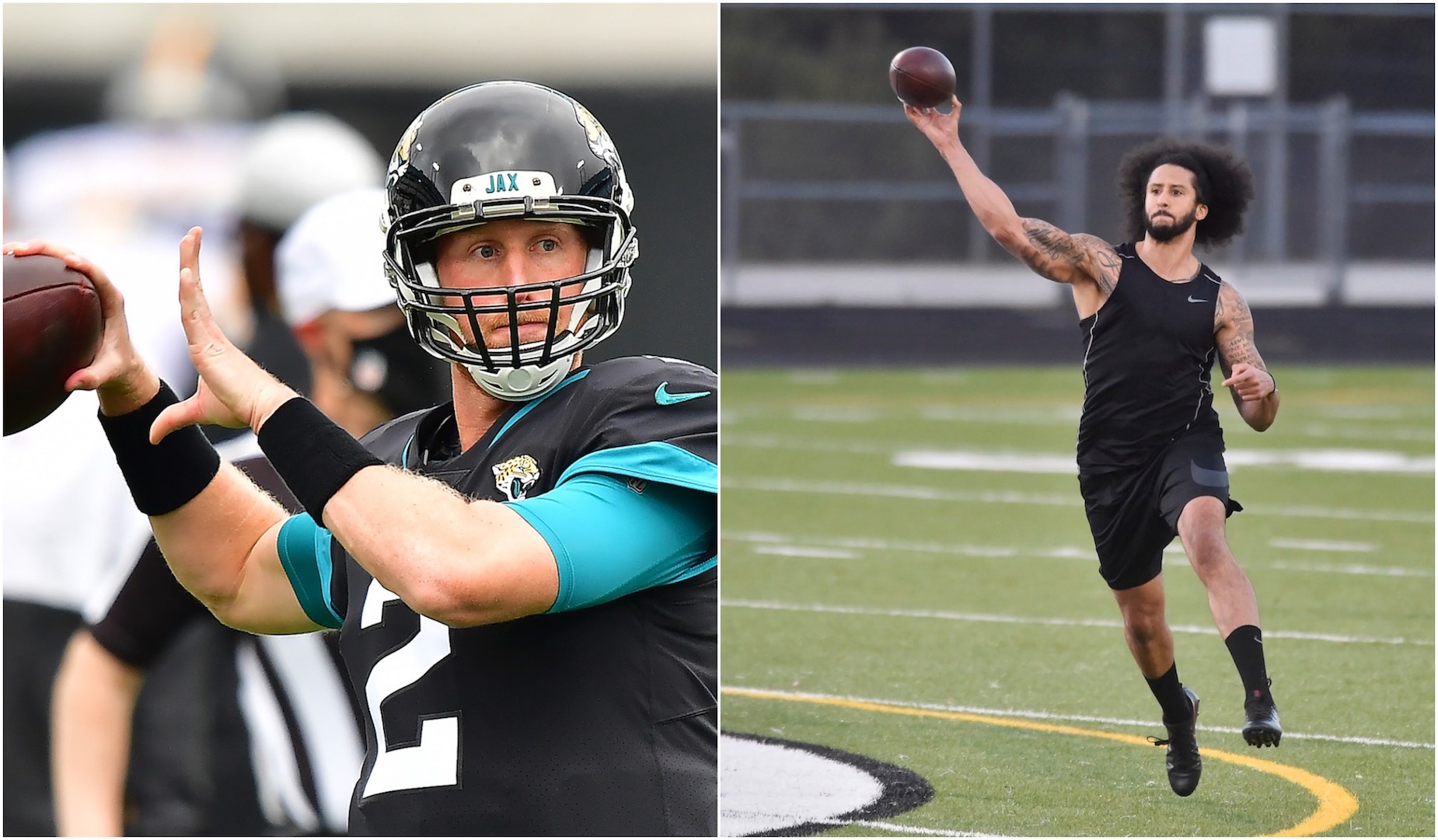 Mike Glennon's Former Teammate Cited the Quarterback's Career as Evidence That Colin Kaepernick Is Being Blackballed
When the Jacksonville Jaguars hit the field for Week 12, Mike Glennon will be the starting quarterback. Colin Kaepernick, however, is still without an NFL job.
While it's been a few years since he last hit the NFL field, virtually every football fan knows Colin Kaepernick. Whether you believe he's worthy of a professional job or should just go away, the former San Francisco 49ers quarterback keeps finding his way into the news. For better or worse, Kaepernick's name will probably be on the tip of everyone's tongue in Week 12 when Mike Glennon takes the field for the Jacksonville Jaguars.
Although Glennon is playing for the Jaguars, Chicago Bears lineman Akiem Hicks invoked his name in June 2020. In Hicks' mind, the quarterback's continued employment was proof enough that Colin Kaepernick was being blackballed by the NFL's owners.
Colin Kaepernick hasn't had an NFL job since March 2017
These days, Colin Kaepernick is much more than just a football player. At one point, though, he looked like the next big name on the NFL scene.
While Kaepernick showed potential as both a football and baseball player, he decided that his future was on the gridiron. That decision took him to the University of Nevada; he spent four seasons with the Wolfpack, piling up 10,098 passing yards, 4,112 rushing yards, and 141 total touchdowns.
On the back of that success, Kaepernick joined the San Francisco 49ers as the 36th-overall pick of the 2011 NFL draft. While the quarterback didn't see much action at first, everything changed midway through his sophomore season. He played well and led the Niners to the Super Bowl, where they ultimately lost to the Baltimore Ravens.
Kaepernick kept the starting job the following season and looked like the NFL's next marquee attraction, but never quite established himself as a star. Injuries, coaching changes, and poor performances eventually took their toll—he lost the starting job to Blaine Gabbert at one point—and the quarterback's star started to fade. He, of course, protested during the 2016 season and, after opting out of his contract that winter, couldn't land another NFL job.
Mike Glennon will get another chance as a starter in Week 12
While Colin Kaepernick hasn't been able to find a spot on an NFL roster, Mike Glennon hasn't had that issue. The journeyman quarterback will get another chance in Week 12 when he steps under center for the Jacksonville Jaguars.
Glennon played his college football at NC State before joining the Tampa Bay Buccaneers as the 73rd-overall pick of the 2013 NFL draft. While he started 13 games during his rookie season, everything went downhill from there. The quarterback spent three more seasons with the Bucs, starting a grand total of four more games.
In 2017, Glennon joined the Chicago Bears on a three-year contract; he made four starts, lost his job to Mitchell Trubisky, and was cut at the end of the season. He then spent some time with the Cardinals and Raiders, making occasional appearances off the bench.
Despite that less than stellar track record, Glennon will get another NFL start in Week 12. With Gardener Minshew hurt and Jake Luton ineffective, the Jacksonville Jaguars will hand Glennon the keys to the offense.
A Chicago Bears player once used Mike Glennon as proof that Colin Kaepernick was being blackballed
When Mike Glennon takes the field for the Jacksonville Jaguars in Week 12, you'll surely hear some people complain that he's getting an opportunity while Colin Kaepernick is stuck at home. Based on past comments, though, it seems like that sentiment isn't confined to social media.
In June 2020, George Floyd's death and the subsequent protests around the United States brought Kaepernick's name back to the forefront of the conversation. When Bears' defensive lineman discussed the former quarterback, he made it clear how he felt about his lack of employment.
"I think he would have gotten a good deal if he had not protested," Hicks said, according to Jason Leiser of the Chicago Sun-Times. "Does he have all the qualifications that we seem to be looking for in NFL quarterbacks? Athletic. He can get the ball down the field. I think that he fits a lot of those categories. … Do I know if he would have gotten a huge deal and gone onto be a Hall of Fame quarterback? I don't know these things. I just know that when he took a knee, he was silenced — or they attempted to silence him."
Hicks, however, also made a more candid comment that ended up on the record.
"Amid a thoughtful, eloquent half-hour of Hicks tackling racial unrest in America and NFL teams refusing to give Colin Kaepernick a shot because he protested police brutality, the Bears' star defensive tackle blurted one of the most revealing things he could say about his team bypassing Kaepernick," Leiser explained.
That comment? "We signed Mike Glennon."
Once Glennon hits the field as a starter, we'll probably hear plenty of others sharing that same sentiment.
Stats courtesy of Sports-Reference