Mike Golic Has a Broadcasting Goal He Wants to Accomplish Again Before He Retires for Good
In his 25 years at ESPN, Mike Golic covered the most significant events in sports and rubbed elbows with some of the most influential figures in the world.
When Golic officially left the network earlier this year, there weren't many things that he couldn't say he never did. However, the longtime radio host has already established what broadcasting goal he hopes to achieve before retiring.
Mike Golic wants another opportunity at working Notre Dame football games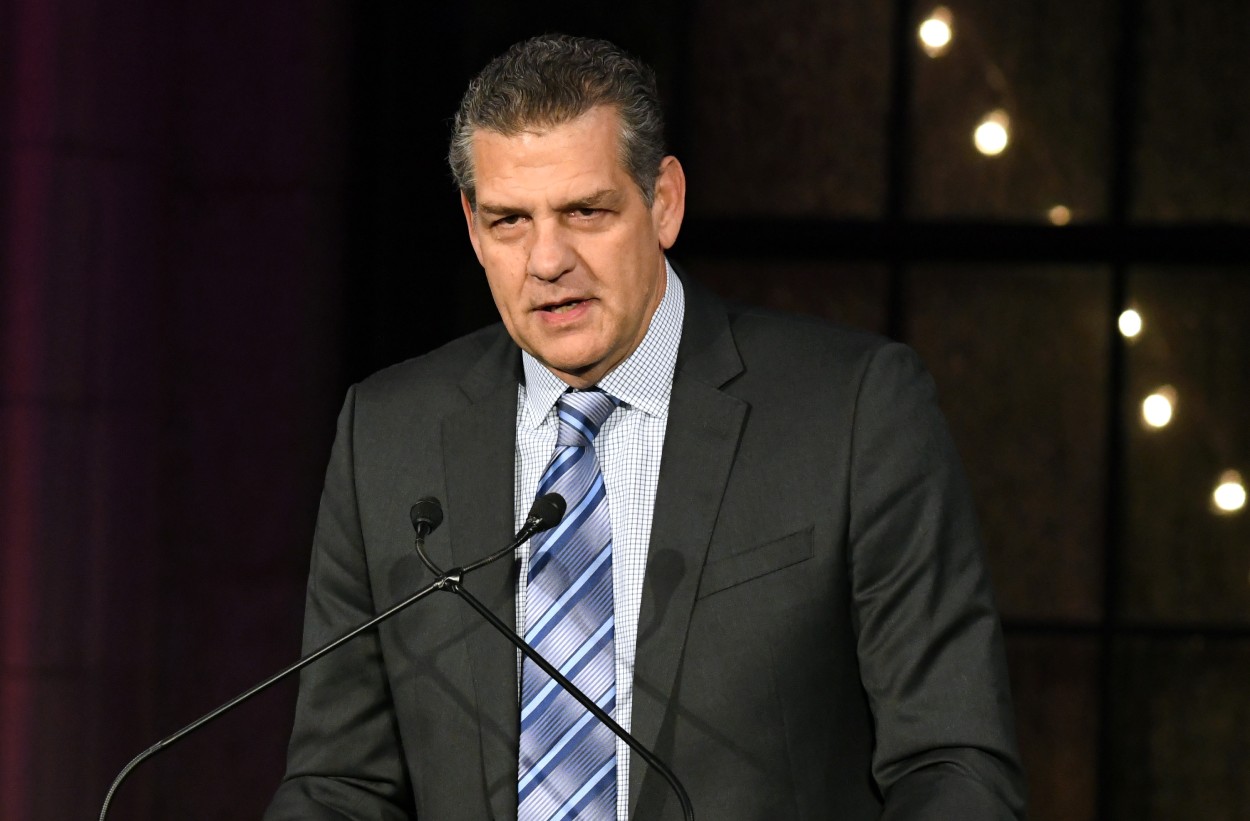 In his many years at ESPN, Golic often called a college football game here and there. Because Golic & Wingo ended in July 2020, he spent the final months of his contract as a color commentator during the college season.
One of those Saturdays involved a matchup between Notre Dame and Georgia Tech. The Fighting Irish won, 31-13, on Halloween. Golic, a former defensive lineman for the Fighting Irish, had an opportunity to call his alma mater's touchdown that day.
In a recent interview with Barrett Sports Media, Golic said he'd like to eventually get an opportunity to call more Fighting Irish games if the school allowed him to do so. The problem, Golic explained, could be as simple as the school fearing he, or any other Notre Dame graduate, would be a "homer" in the booth.
"Listen, I love Notre Dame. I want Notre Dame to win all of their games, but I called one last year when they played at Georgia Tech. I called one when they played Air Force years ago. I had no problem doing that. But it's not my rule. I don't know how much of a hard, fast rule it is for them, but I know that has been something they have somewhat lived by."

Mike Golic
Golic made it clear he believed he could work Notre Dame football games without being a "homer."
NBC has recently preferred using former NFL figures who didn't attend Notre Dame
Notre Dame has a unique television deal with NBC. The network airs all of the Fighting Irish's home games, and most are played in the afternoon, usually around 3:30 p.m. ET.
However, NBC and Notre Dame have an interesting method for who calls the games. Many universities and professional teams often use color commentators who played for the team. For example, former New York Mets first baseman Keith Hernandez calls the team's games for SNY. In the college football world, ex-Auburn quarterback Stan White serves as the Tigers' radio color commentator.
That isn't the case with NBC's Notre Dame coverage. Play-by-play announcer Mike Tirico is a Syracuse graduate; his occasional fill-in, Paul Burmeister, went to Iowa. Longtime color commentator Doug Flutie is among the greatest football players in Boston College history. Drew Brees, who officially joined NBC Sports earlier this year, played at Purdue. Sideline reporter Kathryn Tappen attended Rutgers in the 2000s.
Golic mentioned Brees and Flutie's lack of ties to Notre Dame when he spoke with BSM.
"I'm like, wait a minute, man, I'm a Domer," Golic said. "Let's get a Domer in there a little bit."
Interestingly, Brees will have a "homer" situation of his own when the Fighting Irish host Purdue on Saturday, September 18. Notre Dame defeated Syracuse in 2018 and 2020; Tirico, a 1988 graduate of Syracuse, served as the play-by-play voice in both games.
NBC should keep the door open and give Golic a chance one day
NBC's current football setup for Notre Dame games isn't going to last forever. Tirico is expected to replace Al Michaels as the network's Sunday Night Football play-by-play voice as early as next year.
If the network revamps its Notre Dame coverage in the coming years, Golic makes sense as a color commentator. Brees will likely transition into calling NFL games at one point and could even replace Cris Collinsworth as the color commentator. Why not give broadcast reps to Golic, who turns 59 in December and has experience calling college games?
If Golic is correct that the school fears having a "homer" in the booth, then he should have the decision-makers review his tape from last year's game between the Fighting Irish and the Yellow Jackets. They shouldn't need long to see if he can stay objective or not.
Alternatively, NBC can use Golic as a fill-in commentator for a game or two a year. It's clear that he wants to do it, and he has the resume and experience to perform well in that role, so why not give him the opportunity? This idea is far from ESPN experimenting with Dennis Miller on Monday Night Football.
Like Sportscasting on Facebook. Follow us on Twitter @sportscasting19.