Mike Krzyzewski's Heir to the Duke Basketball Throne Gets a Ringing Endorsement From Jay Bilas: 'Jon Is Not Only Ready For This; He Is Fully Prepared'
The men's basketball program at Duke University will undergo a seismic transition after the 2021-22 NCAA season, which will mark Mike Krzyzewski's final campaign as head coach of the program. However, former Duke standout and current ESPN analyst Jay Bilas has no doubt that Coach K's replacement, longtime assistant Jon Scheyer, will carry on Krzyzewski's legacy in Durham.
Bilas sat down for an interview with Sportscasting in which he discussed the state of Duke's program and assessed Scheyer's readiness to grab the reins from a legendary figure like Coach K.
Jon Scheyer will replace the legendary Mike Krzyzewski as head coach at Duke following the 2021-22 season
Mike Krzyzewski's 42nd season at Duke will also be his last.
Coach K announced earlier this year that he would be retiring at the end of the 2021-22 season. In 41 seasons at the helm of the Blue Devils, Krzyzewski has won five national championships and made it to 12 Final Fours, amassing 1,097 wins in the process. He is the winningest coach in NCAA men's basketball history and built Duke's program up from practically nothing in the 1980s. Now, he will step aside for a longtime assistant.
Before joining Coach K's staff in 2013, Scheyer was one of the most accomplished players in program history. The Northbrook, Illinois, native went from being an ACC All-Freshman in his debut season to a Consensus All-American Second Team member during his senior year, when Duke won its fourth national title.
Scheyer failed to land a roster spot in the NBA, but he did have professional stints in Israel and Spain before an eye injury ended his playing career. He ultimately linked back up with Krzyzewski eight years ago and earned a promotion to associate head coach in 2018.
The 34-year-old suddenly finds himself taking over for a legendary figure as the head of a Duke basketball program that is one of the most prestigious in the country. While Scheyer does not have any experience as a head coach, Jay Bilas is fully confident he will be a successful leader for the Blue Devils.
Jay Bilas says Scheyer is "fully prepared" to take over for Coach K
Jay Bilas knows just how synonymous Mike Krzyzewski is with Duke basketball. He told Sportscasting he committed to Duke because of Coach K and that Krzyzewski encouraged him to pursue a career in broadcasting.
Bilas also understands the challenges Scheyer faces as Krzyzewski's heir apparent. But he told Sportscasting that his fellow former Blue Devil is ready to embrace those challenges:
Jon is not only ready for this; he is fully prepared. He's a super competitive, super smart young coach, and I think he'll knock it out of the park, to mix sports metaphors.

–Jay Bilas on Jon Scheyer, via Sportscasting
Bilas made some interesting comparisons between Scheyer and Coach K. He noted that Krzyzewski was 33 years old when he took over at Duke, while Scheyer turns 35 next August.
However, Bilas added that there's one vital distinction between the two situations. Whereas Krzyzewski had to lay the groundwork of building a culture at Duke, Scheyer has the luxury of taking over a program of great renown, with ample resources already at his disposal.
Scheyer is already establishing a reputation as a strong recruiter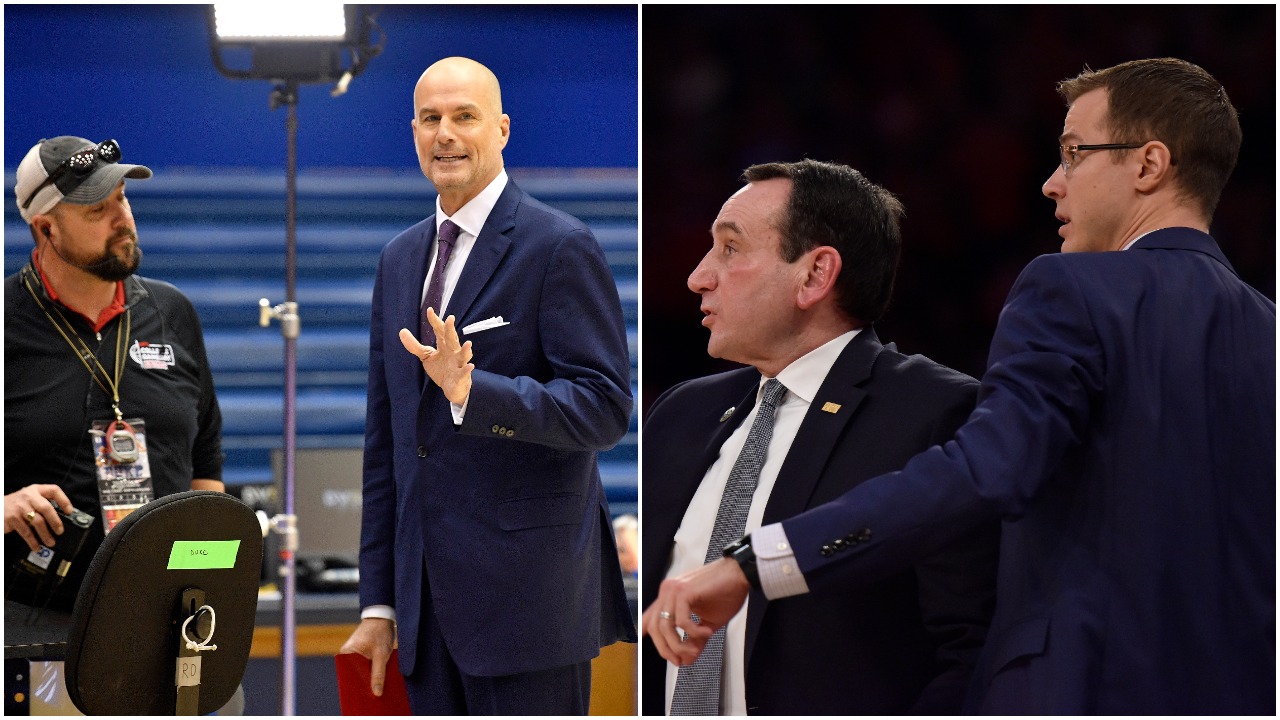 If Bilas' experience is any indication, one of Mike Krzyzewski's biggest strengths was his ability to convince young players to come to Duke. That looks like it will be a strength for Scheyer, as well.
According to Sports Illustrated, Scheyer played an instrumental role in recruiting former Blue Devils stars like Jayson Tatum and Zion Williamson. He has already garnered commitments from top players in the Class of 2022, including Dereck Lively, Dariq Whitehead, and Kyle Filipowski. Those commitments have given Duke the strongest recruiting class in the country, per Scout.com.
Indeed, Bilas hailed Scheyer's capabilities as a recruiter. He told Sportscasting he could see himself wanting to play for a guy like Scheyer, whom he said is "easy to relate to."
The Blue Devils and their fans will hope Coach K can go out in style. However, Scheyer is well-positioned to carry on Krzyzewski's tradition of success.
Stats and accolades courtesy of CBB Reference.
RELATED: Emotional Dick Vitale Has 2 Things He Hopes People Will Do for Him During His Latest Bout With Cancer