Mike Krzyzewski Reveals His Favorite Kobe Bryant Story: 'I Was the Only Coach Ever To Ask Him To Shoot'
Many people who spent time around the great Kobe Bryant have some great Kobe Bryant stories. He was an absolute legend in his NBA career with the LA Lakers and was a hero to many people for how he played the game. Recently, Duke head coach Mike Krzyzewski revealed one of his favorite stories about Bryant, and, of course, it has nothing to do with anything he did for the Lakers. His story was about Bryant's time on Team USA, which Krzyzewski coached during the 2008 Summer Olympics.
Kobe Bryant was at the height of his powers in 2008
RELATED: A Lakers Assistant Coach Revealed the Best Advice Kobe Bryant Ever Gave Him
Bryant had a remarkable career with the LA Lakers, but he was really in his prime when entering the 2008 Summer Olympics.
He had just come off two straight seasons as the NBA's leading scorer in 2005-06 and 2006-07. He had also just taken the Lakers to the NBA Finals in 2007-08 before playing in the Summer Olympics later that summer.
The Lakers ultimately lost in the Finals to the Boston Celtics that season, but Bryant averaged 30.1 points per game, 5.7 rebounds, and 5.6 assists in the playoffs.
Then after his time with Team USA that summer, Bryant ended up leading the Lakers to an NBA championship in 2008-09, which was the first of two consecutive championships for the Lakers.
Mike Krzyzewski gives his favorite Kobe Bryant story
RELATED: Shaq's Incredible Florida Mansion Includes a Tribute to Kobe Bryant
Duke head coach Mike Krzyzewski, who was the head coach of Team USA during the 2008 Summer Olympics, recently appeared on JJ Redick's The Old Man and the Three podcast, and he shared one of his favorite Bryant stories.
"We're getting ready to get ready for Bejing (the 2008 Summer Olympics), so I'm with my staff in Vegas a couple days before the team comes in, and all of a sudden, there's a knock on the door. It's two days early, and it's Kobe," Krzyzewski said. "He said, 'I need to ask you a favor.' … He said 'I want to guard the best perimeter player on every team that we play.'"
Krzyzewski then said that Bryant said, "Coach, I promise you I'll destroy them."
Krzyzewski continued: "I [was like], 'Holy s***.' I said, 'This is good.'"
Krzyzewski then said that Bryant didn't take a shot in the first practice, but he was playing defense.
"I call him over afterwards, and I said, 'Yo, this destroy thing,'" Krzyzewski said. "He says, 'Coach, I promised you, I'll destroy them.' I said, 'Look, I've seen you destroy teams offensively. Will you shoot the freakin ball?' … He said from then on I was the only coach ever to ask him to shoot."
Krzyzewski then revealed that Bryant was actually playing chess and not checkers, as he knew if Team USA were to win gold, they would have to play Argentina in the semis or the Gold Medal Game. So, Bryant wanted to focus on his defense so he could guard Manu Ginobili in that game.
Well, his plan worked out as Team USA ultimately won the gold medal that year.
Team USA won gold during the 2008 Summer Olympics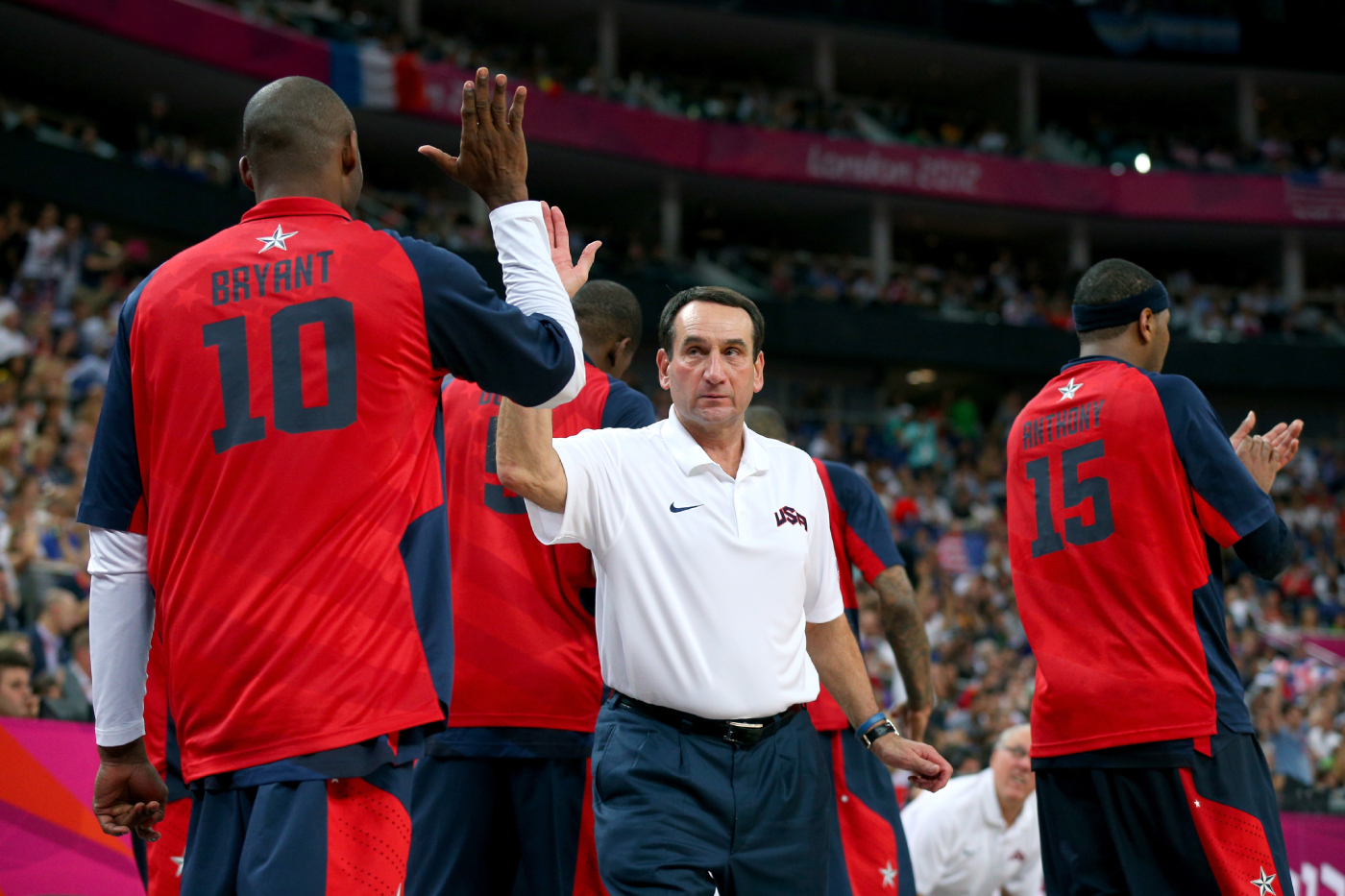 RELATED: Kobe Bryant Had a Hilarious Response To Dwyane Wade Accidentally Breaking His Nose During an All-Star Game
During the 2004 Summer Olympics, Team USA lost to Argentina, who ended up winning the gold medal that year. However, during the 2008 Olympics, Team USA got redemption.
USA ultimately went 8-0 in 2008 and defeated Argentina 101-81 in the semifinals. They then defeated Spain 118-107 to win the gold medal.
Bryant played really well during the Olympics too, as he averaged 15 points per game, which was third to Dwyane Wade and LeBron James. He also played great in the finals, as he scored 20 points and had six assists.
Kobe Bryant was a legendary player for the Lakers, but he also had a massive impact on the culture of Team USA basketball.
Stats courtesy of Basketball Reference