Mike Mayock Just Sealed His and Jon Gruden's Futures by Sharing a Dangerously Foolish Belief
Las Vegas Raiders general manager Mike Mayock is either feeling extremely bold, or he is doing his best to ensure he and head coach Jon Gruden aren't anywhere near Sin City next season.
For once, Mayock isn't letting his questionable drafting or free-agency moves do the talking. He's perfectly fine letting his vocal cords perform the work this time.
Mike Mayock believes Jon Gruden will lead the Raiders to the playoffs this season
The preseason is still a time for high expectations and delusional nonsense. It's only when the injuries hit that reality comes with a frying pan and smacks you in the face, as Baltimore Ravens running back J.K. Dobbins will confirm.
Based on comments the third-year Raiders general manager made when addressing reporters, Mayock is now among those who require a stinging cheekbone. Despite a 15-17 record and a -150 point differential over the last two years, Mayock is, in his own words, not hiding from expectations.
ProFootballTalk transcribed Mayock's comments, and they're a doozy.
"I think Jon and I would both tell you that we feel like we need to be a playoff team this year. And I don't think there's any doubt about that. And you guys are all going to put that in your headlines, and I understand it. But that's what the expectation is. We think we've done the infrastructure work necessary to put us in [a] position. We've got to take care of business."

Mike Mayock
Well, Mayock wasn't entirely correct. We didn't put his quotes in the headline. All we did was point out how inane his comments are and try getting you to read the story that way.
Mayock is clearly trying to get himself and Gruden fired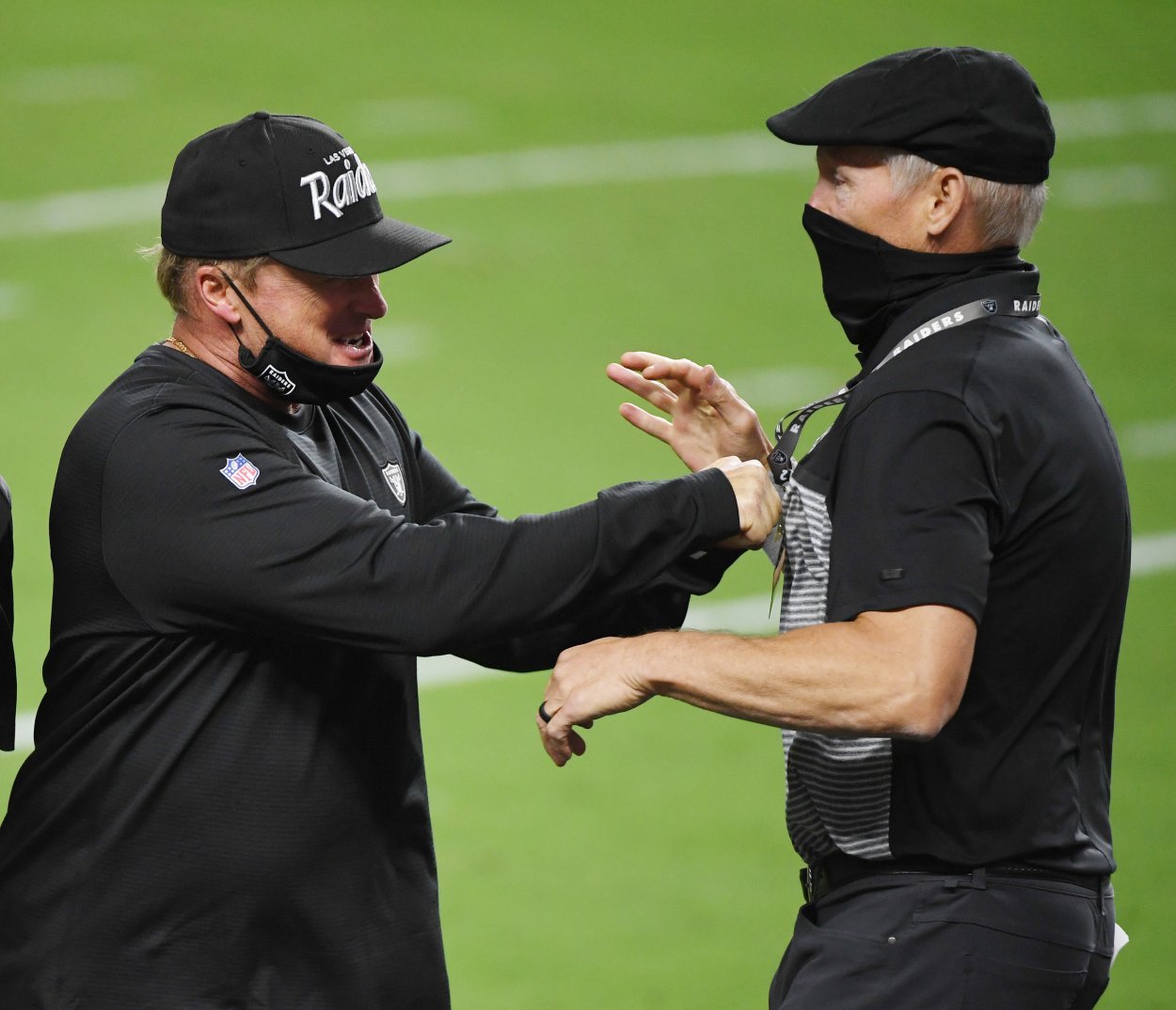 Now, we'll preface what we're about to say with all due respect to Gruden and Mayock. We have no issues with either of them as football minds or people.
With that out of the way, what is Mayock thinking?
Even with the NFL now fielding seven playoff teams per conference, why should anyone believe the Raiders are anywhere close to a team that will play postseason football? The franchise has bombed on numerous high draft picks in recent years and went 3-7 in meaningful December/January games over the last two seasons.
On the one hand, yes, the Raiders do return a talented trio of quarterback Derek Carr, running back Josh Jacobs, and tight end Darren Waller. But that offensive core isn't going to keep Carr on his feet or play shutdown defense in an AFC West division featuring Patrick Mahomes and Justin Herbert.
Yet Mayock is essentially guaranteeing a playoff berth to reporters. It's like he's trying to wave a giant neon sign telling Raiders owner Mark Davis to burn it all down. Then again, maybe that's been the goal all along.
Even with his 10-year deal, Gruden isn't exactly safe after going 19-29 in his first three seasons back with the franchise. If the Raiders post another losing record, it'll be hard for the organization to justify giving the head coach and general manager another year together.
Carr is also in the 'Raiders speaking way over their head' club
There must be something in the casino fountain water in Las Vegas. That's the only thing that could justify all of the optimism around the Raiders organization right now.
Earlier this summer, Carr appeared on The Cris Collinsworth Podcast and said he expected the Raiders to win the title and, ideally, defeat Davante Adams and the Green Bay Packers in Super Bowl 56. The three-time Pro Bowl quarterback also wants to bring Adams, his former college teammate at Fresno State, to Las Vegas in 2022.
Well, at least the Raiders are finding ways to remain cheerfully naive amid a global pandemic. Perhaps we can all afford to learn from them and take an approach that involves the glass sitting at 150% full.
Like Sportscasting on Facebook. Follow us on Twitter @sportscasting19.