Mike Mayock Had an Underwhelming Message of Support Regarding Jon Gruden and Derek Carr's 'Marriage'
There has been no honeymoon or, how can we put this, stimulating action in the three-year marriage between Las Vegas Raiders quarterback Derek Carr and head coach Jon Gruden.
For all of the highs, including some thrilling last-minute comeback victories, all you need to know about the lows is the team's 19-29 record over the last three years. In a recent attempt to play up the relationship between quarterback and head coach, general manager Mike Mayock actually inadvertently explained how bad things really are behind the scenes.
Mike Mayock said Derek Carr and Jon Gruden have a 'corny marriage'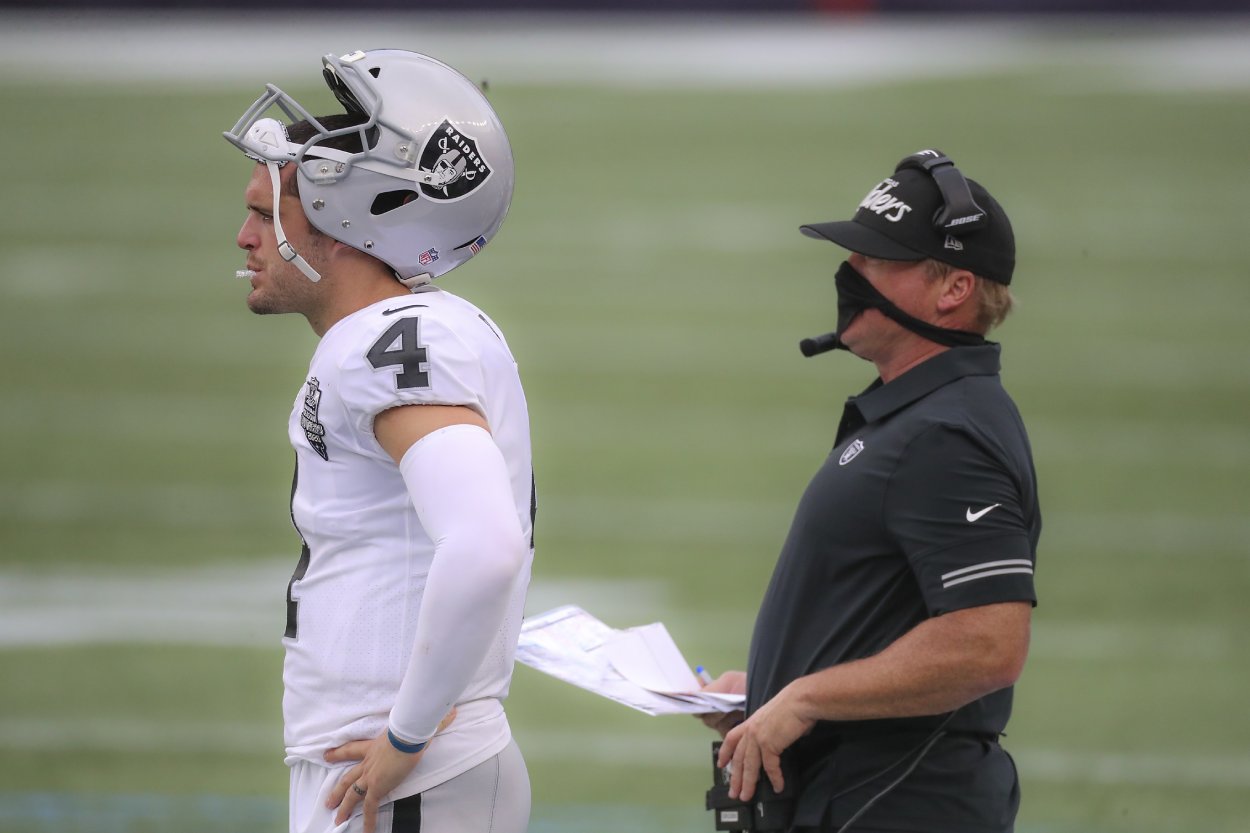 The Raiders have had ample opportunities to explore trading Carr and starting over at quarterback, whether it be through the draft or a veteran who Gruden thinks will do for him what Brad Johnson once did for him in Tampa Bay: win the Super Bowl.
If the Raiders reach Super Bowl 56, they'll almost certainly have done it with Carr at the helm barring an injury. But this is a team with one playoff appearance since the 2002 season began, so you'll forgive us for being cynical about their chances of winning the Big Game.
And as for the reports that Carr and Gruden don't get along or have the best relationship? In quotes transcribed by the Las Vegas Review-Journal, Mayock recently explained how the two are getting along better than ever. 
In fact, according to Mayock, they're even completing one another's sentences! How exciting.
"It's like a corny marriage. It's really funny. I don't know if Derek has a photographic memory or not, but his memory is mind-boggling. … Jon puts a lot on his plate, and he handles it seamlessly. The two seasons I've been here, he's gotten better each year. I'm excited to see where he can take this thing."
Of all the ways we could have described Carr and Gruden's relationship, "corny marriage" might do it justice better than any other term that falls into the PG-13 category.
Mayock isn't exactly helping the narratives surrounding Carr and Gruden
Mayock's dreaded public vote of confidence about Carr and Gruden being on the "same page" means only one thing: that's not the case at all.
The Raiders are far too talented to have gone 19-29 in Gruden's three seasons. Unlike the Tom Cable or Dennis Allen eras, these Raiders have a legitimate franchise quarterback who can beat teams by throwing for 400 yards and four touchdowns or 200 yards, a touchdown, and zero turnovers.
Carr said earlier this offseason that people don't understand how close he and Gruden are, which may be true. But if that's the case, why do people with the Raiders need to keep trying to convince the public otherwise? Actions and victories speak far louder than words ever could.
Mayock's use of "corny relationship" creates a negative impression about what Carr and Gruden truly think about one another. No one is asking them to be best friends, but would anyone really care or complain if they disliked each other outside of whatever happened for the three hours that the game is going on?
Carr and the Raiders need to put things together and get back to the postseason
If the Raiders part ways with anyone soon, it will be Carr or Mayock. Or, depending on how things shake out, both of them could be gone. Gruden can thank the 10-year, $100 million contract he signed in 2018 for his excellent job security.
Carr has two seasons remaining on his current contract, and he's still playing at a high level. In other words, the Raiders need to do everything possible to ensure the team is competing for a playoff berth this fall. Catching Patrick Mahomes and the Kansas City Chiefs for AFC West supremacy is difficult, sure, but nothing is stopping the Raiders from being one of the AFC's three wild-card teams.
Forget a "corny relationship" or telling the fans at home how close the two are. If Carr and Gruden have any lingering problems with one another, they need to put it behind them and just focus on winning 10 or 11 of the 17 games on their schedule.
The Raiders have effectively wasted most of Carr's time in the Silver and Black. But there's still at least one season left to speed past the nonsense and devote all of their energy to a winning season. Raiders fans will even accept hearing the two finish each other's sentences if it means enjoying a Super Bowl parade in the process.
Like Sportscasting on Facebook. Follow us on Twitter @sportscasting19.