Mike McCarthy Gives Demoralizing Injury Update on a Star the Dallas Cowboys Need to Win Super Bowl: 'I Am Concerned'
One fact is abundantly clear in a stretch of games that have seen the Dallas Cowboys come away with more questions than answers. Unfortunately, it's not a good one.
Star running back Ezekiel Elliott is not healthy.
Now riding a two-game losing streak and losers of three of their last four, the Cowboys could really use some classic performances from Zeke over the next few weeks, but they aren't guaranteed to get them.
Dallas Cowboys head coach Mike McCarthy is concerned about Ezekiel Elliott's health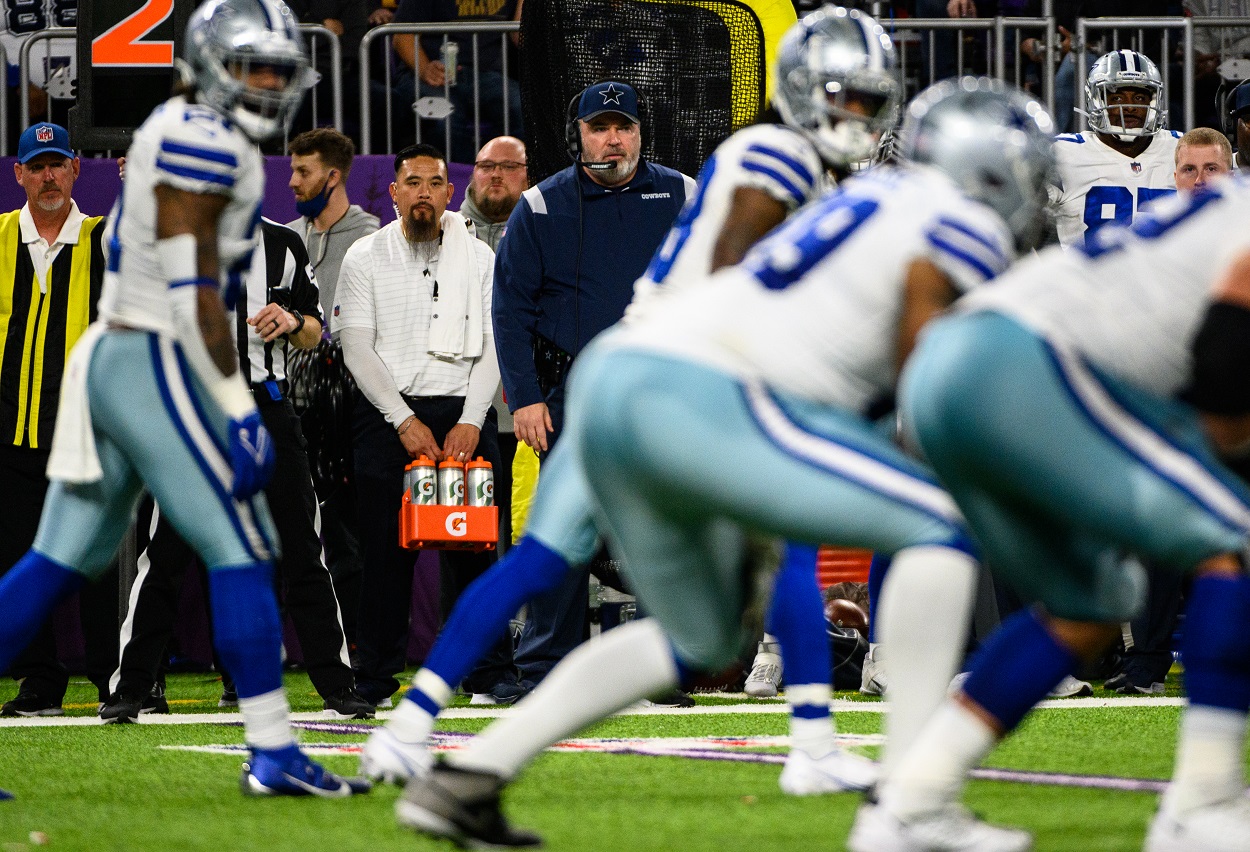 Things are so bad right now that head Mike McCarthy, never one to divulge too much, was clear that he's worried about his star running back.
"I am concerned," he said, according to Clarence Hill Jr. "He's a warrior and was fighting to get back there in every time. Zeke's running style is ferocious. We need to evaluate."
Elliott has been dealing with a bone bruise in his knee and has seen limited production recently as a result.
He touched the football only nine times in each of Dallas' last two losses. He did find the end zone against the Raiders but ultimately only rushed for 25 yards on 2.8 yards per attempt. Elliott was completely held out of the end zone in the loss to the Chiefs, and he averaged only 3.6 yards per carry in that contest.
The Cowboys seem likely to continue to lighten the load on Elliott
According to Ian Rapoport, Elliott is not planning on missing any time due to the injury.
"This knee injury is something that's going to linger all season unless they step in and basically take Zeke off the field. It seems like it's something that he's going to play with," Rapoport reported. "He's not going to be himself. He's not going to be 100%, but he is going to play. That is the plan."
If Zeke does indeed through the injury, which it sounds like he will unless things get worse, Dallas' only choice is to stay the course on the limited carries and instead lean on backup running back Tony Pollard. Rapoport also relayed that part of the plan, according to owner Jerry Jones, is actually changing the game plan to allow more touches for Pollard.
"Listening to owner Jerry Jones after the game, they're going to alter the game plan a little bit because of Zeke's injury," Rapoport said. "May have to get, as Jones mentioned, Tony Pollard 25 percent of touches. May have to flip the roles a little bit because Zeke is not himself."
The Cowboys will need Elliott to make a legitimate Super Bowl run
With no disrespect meant to Pollard, there's a significant difference between using him as the No. 1 back and Elliott when he's at full strength. That's the problem for the Cowboys, though. Elliott is not at full power, and it sounds like the only thing that will help him get there is time off of the knee.
Limiting his carries may help, but if you're the Cowboys, shouldn't you consider sitting him for a few weeks? After all, and especially considering his running style, a few carries a game is still enough to keep him hobbled.
Pollard is no superstar, but he's rushed 100 times for 531 yards and a touchdown this season, averaging 5.3 yards per carry. He can be a strong option in the passing game, and he's undoubtedly an explosive player with the ball in his hands. Look at his 100-yard kick return for a touchdown against the Raiders for proof of that.
He can't replace Zeke, but he can fill in for a few games to allow Elliott to rest and get his knee back into shape.
The question for the Cowboys is this: Would they rather have Elliott play in a limited capacity for the rest of the season or allow him to miss a few games now in order to be better in time for the playoffs?
Of course, there's no guarantee he'll get back to full strength, but it is the best chance Dallas has at making a run at the Super Bowl.
Dak Prescott is a good-to-great quarterback, and Dallas' defense has shown flashes of being elite, but the Cowboys will need a healthy Zeke to make a legitimate run through the NFC Playoffs.
With that in mind, McCarthy's latest update on Zeke has to be extremely demoralizing for Dallas.
Stats courtesy of ESPN and Pro Football Reference.