Mike McCarthy Responds to Jerry Jones' Non-Committal Attitude About His Future With Dallas Cowboys: 'I've Never Dealt With Anything Like This'
Dallas Cowboys head coach Mike McCarthy seems to be stuck between a rock and a hard place. The rock is Jerry Jones, who is undoubtedly one of the more hands-on and vocal owners in the NFL.
The hard place? Jones has seemingly not committed to a long-term future between the Cowboys and McCarthy.
Though McCarthy is still saying all the right things, he did admit that he's never been in a situation quite like this. Then again, he's never been employed by Jones before.
Jerry Jones has been non-commital about Mike McCarthy's future with the Cowboys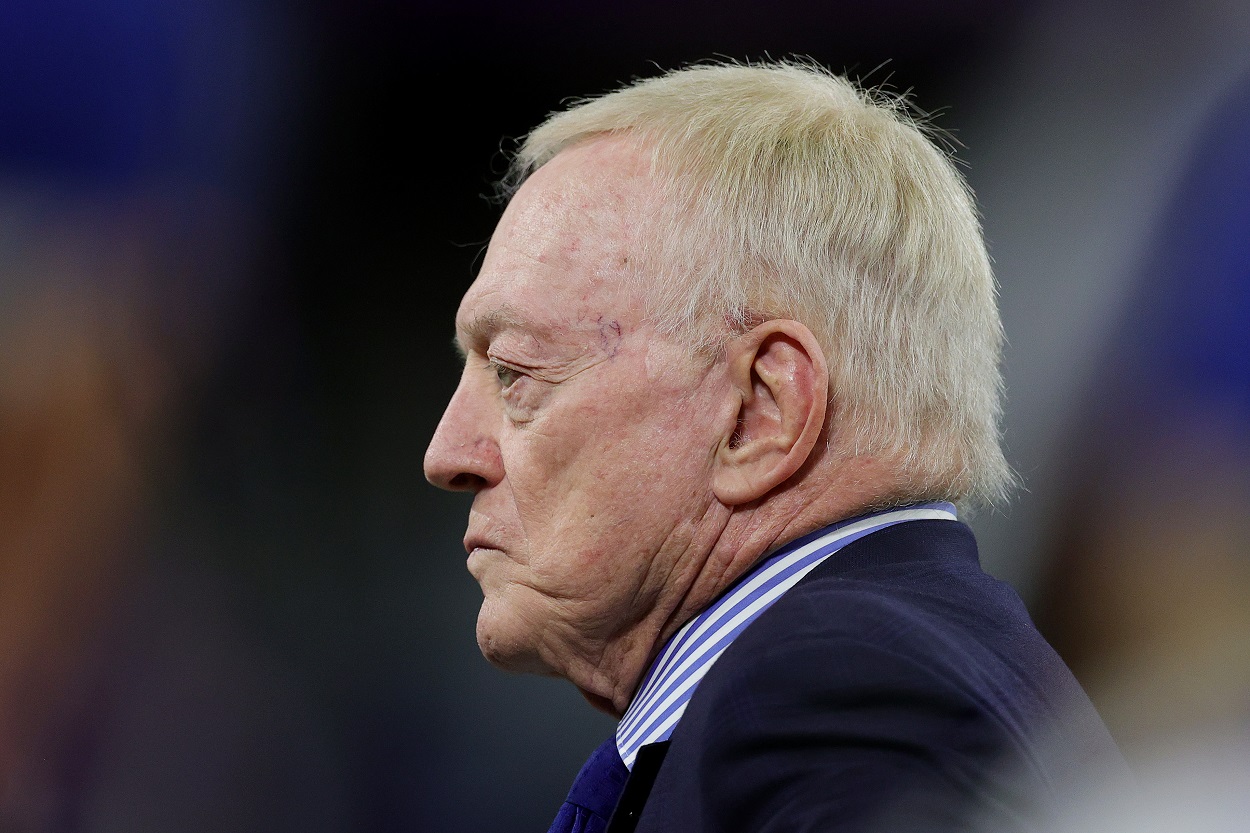 "Mike knows that someday, somebody other than him will be coach of the Cowboys," Jones recently told Jori Epstein.
That's the quote that will make the headlines, but the context is just as important.
Jones was speaking with Epstein about what the owner called a "major coup", the Cowboys bringing back defensive coordinator Dan Quinn for the foreseeable future. Quinn interviewed with the Denver Broncos, New York Giants, Chicago Bears, and Minnesota Vikings to fill their then-vacant head coaching positions but ultimatly turned any and all opportunities down to come back to coach defense in Dallas.
Jones bragged to Epstein that this was not the first time a coordinator has stayed in Dallas because the opportunity to one day potentially be the head coach was too enticing. Both Jason Garrett and Sean Payton had turned down bigger roles (at the time) when they were coordinators for the Cowboys.
"I've now had three times, quite similar circumstances, when (a coach) did stay here," Jones said. "He stays here because there always has been, with every coach, every one of those three coaches, has said they'd love to be the head coach of the Cowboys. Every one. Every one.
"That has, in my mind, a lot of logic as to why they might not take a job now, (to) wait and see how the cards go in the future."
The "cards" that Jones is referencing all have McCarthy's face on them as of now, but it doesn't sound like Jones would hesitate to move off McCarthy if he found himself with pocket aces in the future.
McCarthy is in an 'unusual' position with the Dallas Cowboys
Interestingly enough, Jones did admit that just because both Quinn and the offensive coordinator Kellen Moore could be potential replacements for McCarthy, that doesn't mean the current head coach has to worry.
McCarthy would probably feel better if Jones would simply just stop talking about his job security, but the owner seems to feel that the veteran head coach can handle the heat.
"Mike's good in his skin," Jones said. "I'm good in his skin with where we are.
For his part, McCarthy did get a chance to respond, and he did so on The Rich Eisen Show on Tuesday.
"I never once felt that I was not going to be the head coach moving forward and, frankly, I've been at this long enough that's all I'm focused on," he said (h/t The Dallas Morning News). "I'm the leader of this football team and I'm about winning and that's all I've ever focused on and that's all I ever will focus on."
McCarthy has been a head coach in the NFL for 15 seasons, and he's never been known as one to say much that could end up on a bulletin board. He's perfected "coach speak," and that's arguably what has made him successful as the leader of a team. At one point, he was known more as an offensive guru, but he's largely transitioned into the "head coach as CEO" role in Dallas.
That is what makes his admission to Eisen somewhat surprising, though.
"Are these narratives unusual? Absolutely. I've never dealt with anything like this. Do I wish I didn't have to come on here and answer questions about it? Yeah, no doubt about it. I wish we were talking about something else, but it's part of our landscape," McCarthy said.
McCarthy will undoubtedly be on the hot seat in 2022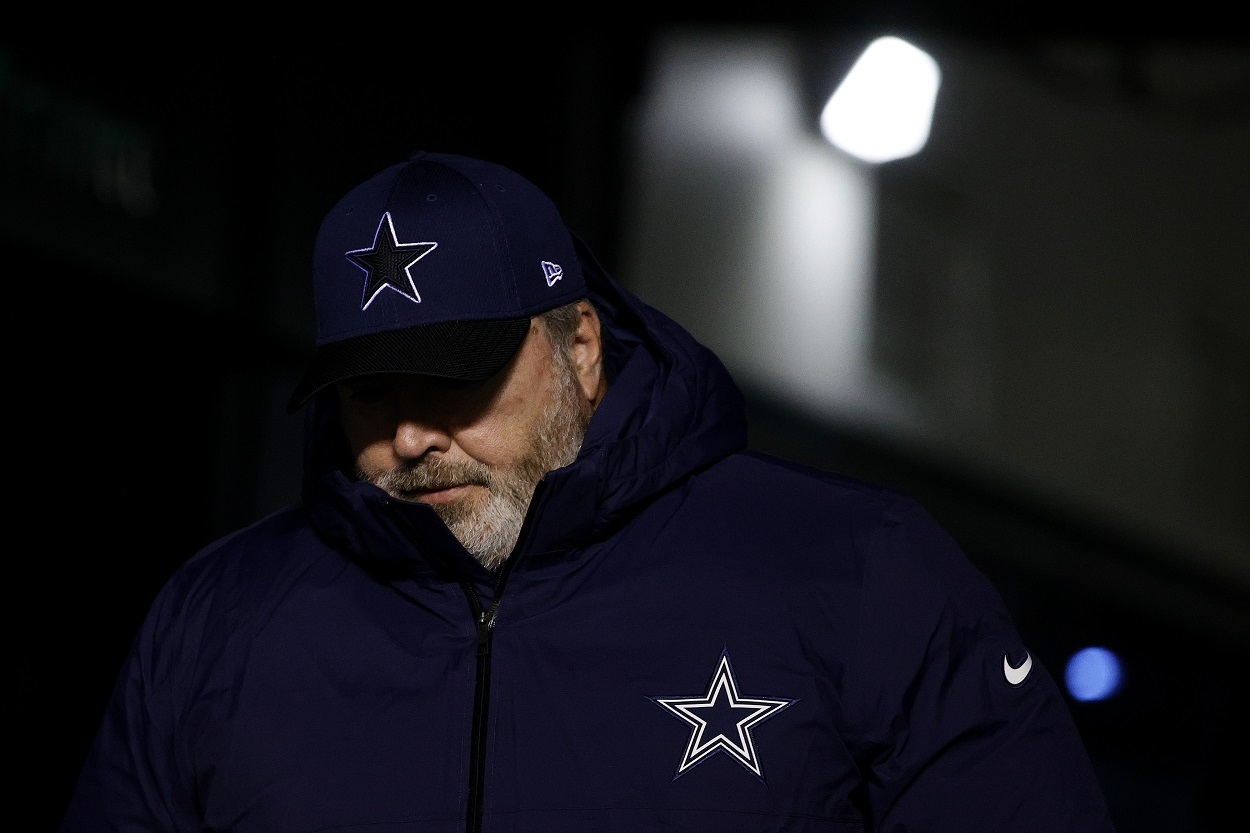 McCarthy's name would be the headliner if a way-too-early NFL coach hot seat rankings came out for 2022.
If his Cowboys underachieve again in 2022, he'll have to look over his shoulder and wonder if Jones will yank the rug out from under him in favor of Quinn or Moore. He'll also have to wonder about the viability of Payton as a candidate for the Dallas job in 2023. Payton was the assistant head coach for Dallas from 2003-2005 under Bill Parcells. He stepped away as long-time head coach of the New Orleans Saints at the start of this offseason, but would anybody be surprised if Jones gave him a call if things start to look like they're not working out with McCarthy?
At the very least, McCarthy did talk to Jones about these potential situations.
"We talked about it. We talked about Dan's situation, definitely, and about Sean Payton's narrative also," McCarthy said. "The gist of the conversation is you and I are in this back-to-back, it's a partnership and just focus on what we need to do moving forward. He made some personal comments about how he feels about it, but that's really for him and I. I'm very, very comfortable with our relationship and our dialogue. At the end of the day, we both want the same thing and it's to win a world championship.
"The narratives are unusual, but at the end of the day you've got to trust the relationships and the communications and the connections you have in our leadership group."
McCarthy is saying the right things, but he seems to be ignoring the reality that's right in front of him.
His seat won't just be hot in 2022. It'll practically be on fire.
Stats courtesy of ESPN and Pro Football Reference. Contract information via Spotrac
RELATED: Dallas Cowboys' Legendary Coach Jimmy Johnson Says Jerry Jones Won't Admit He Was Wrong on Mike McCarthy