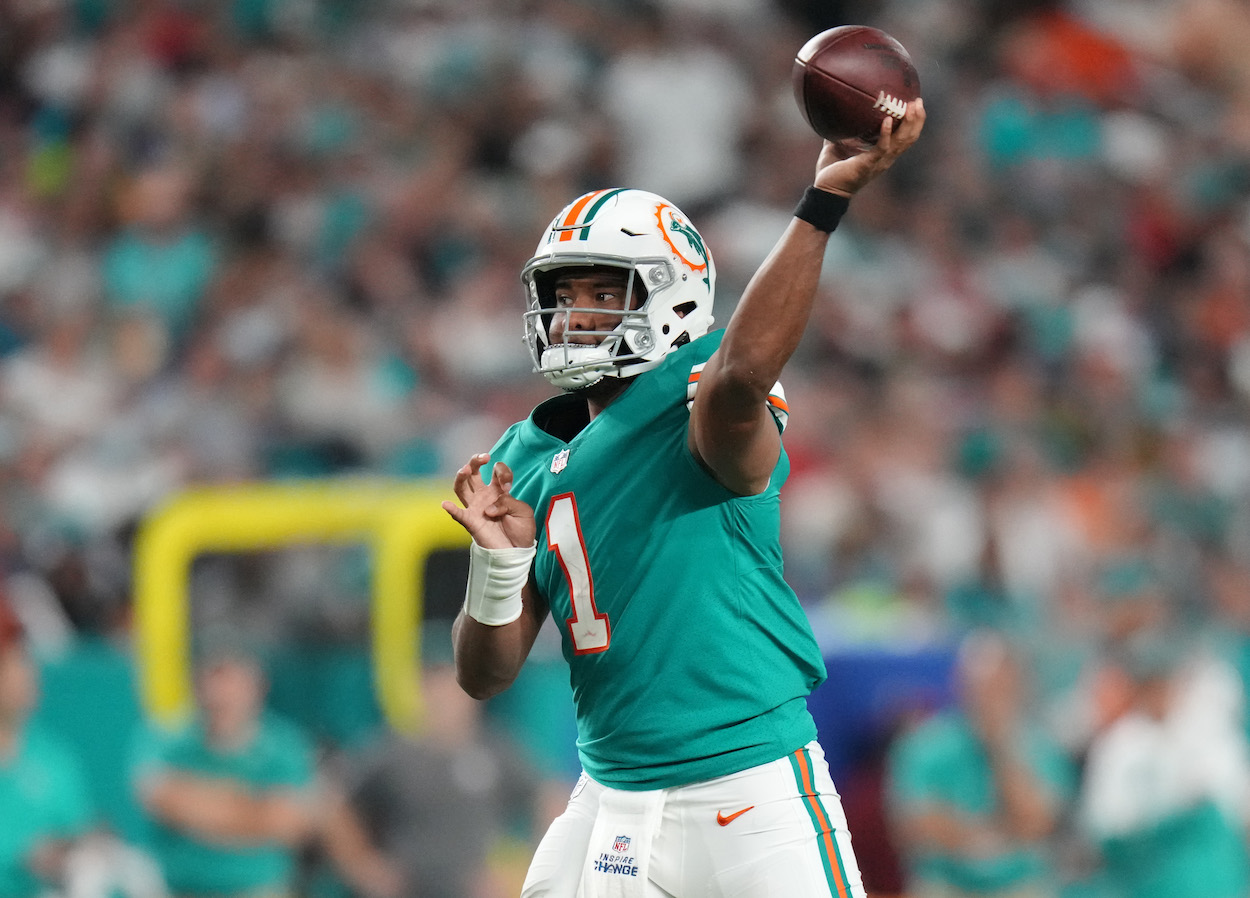 Mike McDaniel's First Order of Business Is Identifying a Concrete Plan for Dolphins QB Tua Tagovailoa
For Mike McDaniel to be a successfull head coach with the Miami Dolphins, he needs to get the best out of quarterback Tua Tagovailoa.
Despite an incredible second-half surge that saw the Miami Dolphins nearly sneak their way into a wild card spot this past year, the franchise deemed another playoff-less season as the last straw for former head coach Brian Flores. They parted ways with the defensive-minded HC, paving the way for Miami to go in a different direction altogether.
It quickly became apparent the Dolphins were targeting a head coach with a background in the offensive side of things. They interviewed Brian Daboll, Kellen Moore, and Mike McDaniel. All three were/are offensive coordinators.
The Dolphins ultimately landed on former San Francisco 49ers offensive coordinator Mike McDaniel. Another young, highly-praised mind from the Kyle Shanahan coaching tree, the hope is he'll be able to completely rejuvenate a rather lackluster Dolphins offense.
Mike McDaniel is inheriting an uninspiring offense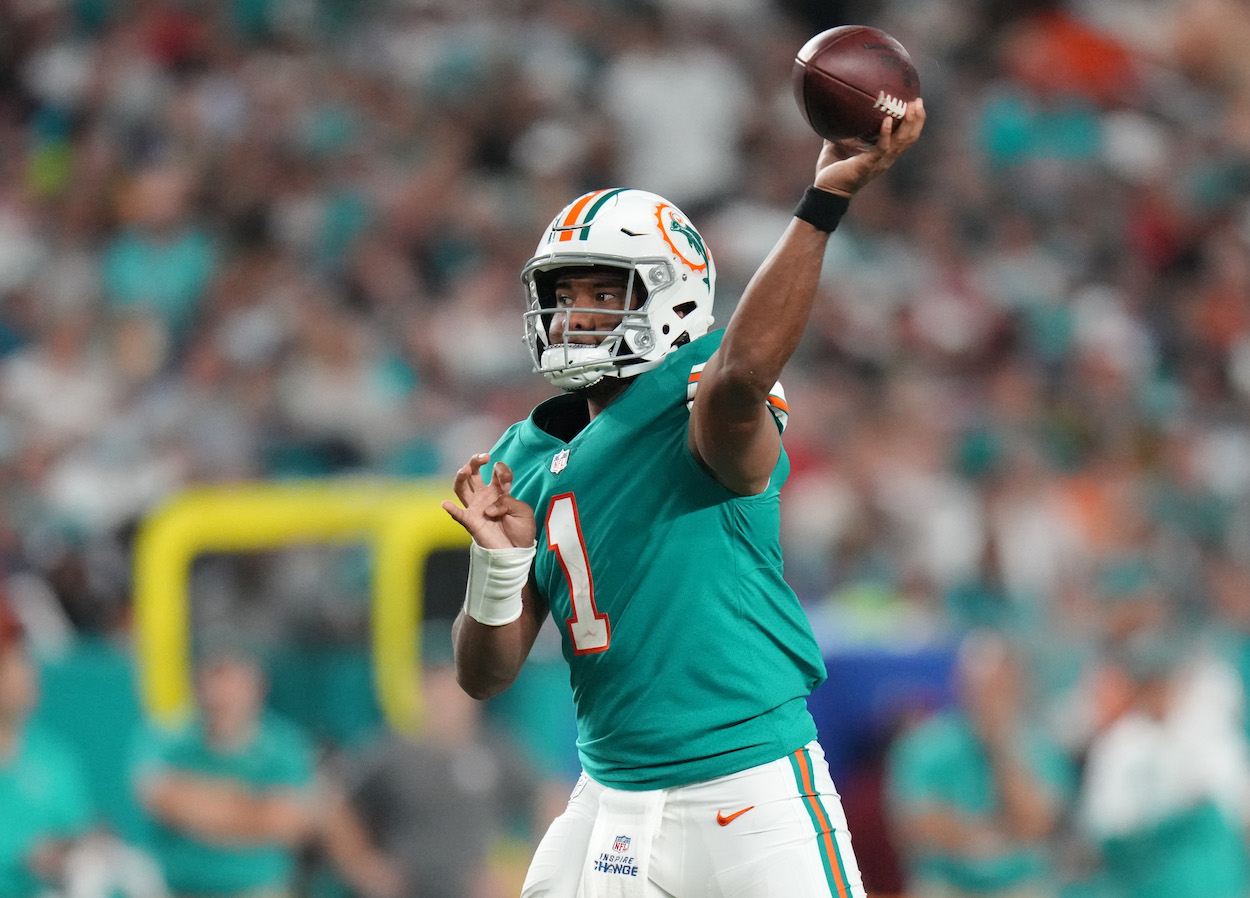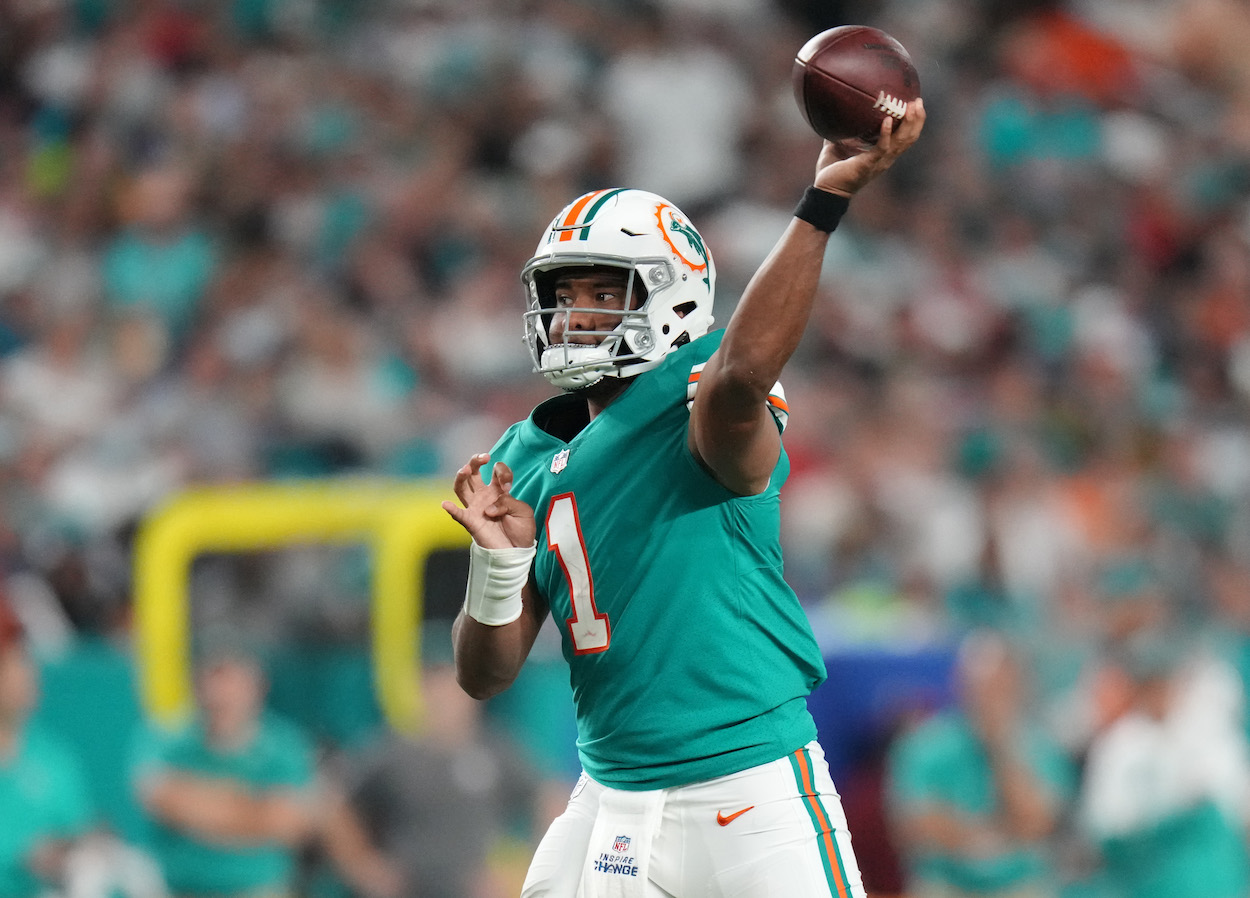 Before diving into which changes McDaniel is likely to incorporate, it's essential to acknowledge the fact he's inheriting a messy situation.
The Dolphins offense was one of the worst in the NFL the past few seasons. Flores rotated through several offensive coordinators in an attempt to find a solution, even benching former top-five pick Tua Tagovailoa at times.
The Dolphins have one of the worst offensive lines in the NFL at the moment. Their running back room is made up of late-round draft picks and former undrafted free agents. The wide receiver room is uninspiring outside of Jaylen Waddle, and long-time starting tight end Mike Gesicki is an impending free agent.
Overall, the Dolphins finished last season 22nd in points scored, 25 in total yards, and 23rd in expected points contributed by the offense. That's not good.
Tua Tagovailoa is the key to fixing Miami's offensive woes
The Dolphins are currently projected to have $63 million in cap space this offseason (Over The Cap). They will presumably add multiple starters to the offense. However, if McDaniel is serious about turning this Miami offense around sooner rather than later, he needs to unlock Tua Tagovailoa.
Tagovailoa has experienced an up-and-down NFL career since being drafted to Miami in 2020. He spent half of his rookie year sitting behind Ryan Fitzpatrick. Then, he injured his hand just two games into the 2021 season. Between being yanked in and out of the starting lineup and constant changes to the team's offensive coaching staff, it's been challenging for him to find a proper rhythm under center.
The Dolphins finished last season running an RPO-dominated style of offense. It was, in all honestly, a bandaid solution to mask all the issues they were having on that side of the ball.
McDaniel needs to bring some of his run-game coordinator experience to the Dolphins. They desperately need an improved running attack. However, if the team is to truly become a feared offensive powerhouse in the QB-dominated AFC, they need to get Tagovailoa up to speed with the Patrick Mahomes', Joe Burrow's, and Josh Allen's of the world.
Mike McDaniel and Tua Tagovailoa already have a small connection
The excellent news for McDaniel and Tagovailoa is that the two parties already have a small connection.
Tagovailoa worked under Steve Sarkisian at Alabama, who ran a Kyle Shanahan style of offense.
For McDaniel to work out in Miami for the long-term, he needs to unlock some of that Sarkisian success Tagovailoa was able to experience during college. Sure, McDaniel bringing an improved run-game and better route concepts to Miami is essential. However, the only way the Dolphins can genuinely compete with the juggernauts of the AFC is if Tua becomes an elite passer.
At the end of the day, McDaniel needs to become a bit of a quarterback whisperer. He needs to develop a plan of attack on modernizing the Miami offense, and then stick to it.
All stats courtesy of Pro Football Reference.