Why Is Mike Tirico Calling the Browns-Ravens Game With Cris Collinsworth?
We know we're living in a strange world when the Cleveland Browns are playing on Sunday Night Football. Things are even more peculiar when Mike Tirico and Cris Collinsworth, of all duos, are calling the game together.
We say that with all due respect, of course, to two of the sport's most recognizable and respected announcers. But for the second time in four days, it will be Tirico, not Michaels, stepping into the play-by-play role on an NBC football broadcast.
Mike Tirico is filling in for Al Michaels on Thanksgiving weekend once again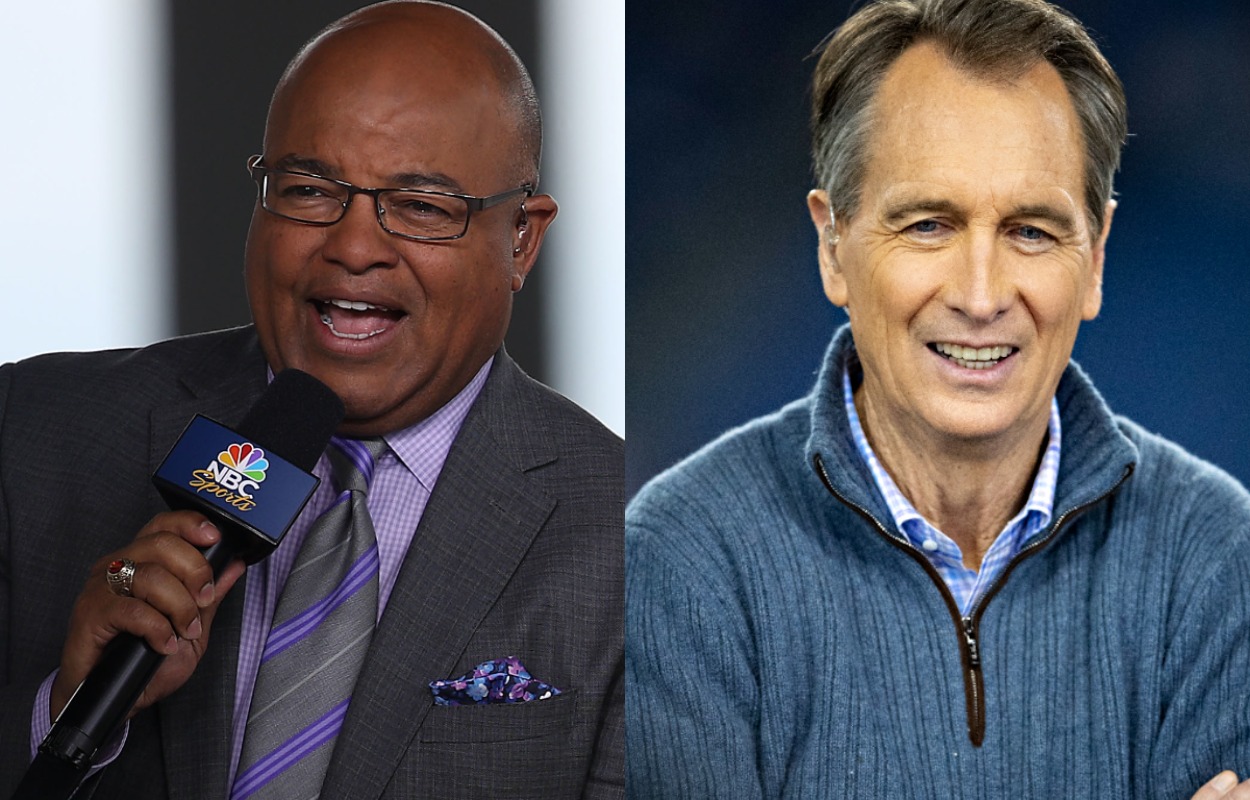 As is always the case in these stories, we want to make it clear that Michaels, who turned 77 earlier this month, is healthy. We hope he's enjoying his Thanksgiving weekend and recovering from however much turkey he scarfed down on Thursday afternoon.
For the second straight year, NBC gave Michaels the entire Thanksgiving week off. Although Tirico called the Thursday night game in 2018 and 2019, Michaels, Collinsworth, and sideline reporter Michele Tafoya all worked the Sunday night game three days later.
Tafoya worked with Tirico and former All-Pro quarterback Drew Brees during the Nov. 25 telecast of the Buffalo Bills' 31-6 road rout of the New Orleans Saints. Brees will return to NBC's studio coverage on Sunday night. As for Tafoya, she is off, and she will hand her sideline role to Kathryn Tappen, who works with Tirico and Brees on Notre Dame games.
For reasons we'll get into shortly, this is the first time Tirico and Collinsworth are calling a Sunday night game on Thanksgiving weekend. Michaels is expected to return to the booth in Week 13 when Patrick Mahomes and the Kansas City Chiefs host the Denver Broncos.
Barring any unexpected changes, Sunday's game will provide a preview of what the SNF broadcast will look like last year. Michaels' contract expires in February 2022, and Tirico is expected to replace him in 2022.
Tirico and Collinsworth worked a Ravens game together in 2020
Sunday night won't be the first time that Tirico and Collinsworth have worked together. However, both are likely hoping that Sunday's game between the Browns and the Baltimore Ravens proceeds much more normally than the game they called last year.
Originally, Tirico, Collinsworth, and Tafoya were scheduled to call a showdown between the Ravens and then-undefeated Pittsburgh Steelers on Thanksgiving. However, the Ravens' COVID-19 problems pushed the game back six days; the two eventually played on Wednesday, Dec. 2, and the Steelers won 19-14.
Three nights earlier, Tirico, Tony Dungy, and Tappen called the Green Bay Packers' 45-21 victory over the Chicago Bears. Interestingly, NBC intended to have the trio of Michaels, Collinsworth, and Tafoya call the Ravens-Steelers game if they'd been able to play it on Sunday, Nov. 29. Had that game occurred on Sunday, it would have been a 1 p.m. telecast and nationally broadcast on NBC.
Of course, that didn't happen, and we wound up with the ultra-rare Wednesday afternoon game instead.
The duo also partnered on Dec. 20, 2020, and called Cleveland's 20-6 victory over the New York Giants. Michaels missed that game because of COVID-19 protocols.
Tirico and Brees should be back together when the 2021 NFL Playoffs begin
For those who enjoyed Tirico and Brees' chemistry on Thanksgiving night, you should plan on seeing them in the broadcast booth again this season. Well, it'll be in the postseason, but we digress.
NBC will air two Wild-Card Round games in January, and the No. 1 broadcast trio of Michaels, Collinsworth, and Tafoya will work one. Tirico, Brees, and Tappen will have the other game, although it remained unknown as of publication which days each crew will have.
Tirico, Dungy, and Tappen called the Tampa Bay Buccaneers' Wild-Card Round victory over the Washington Football Team in January 2021. That game took place on a Saturday night, and it would not be surprising to see the second crew earn a Saturday night game again.
Like Sportscasting on Facebook. Follow us on Twitter @sportscasting19.