Mike Tomlin and Tony Dungy Remain Frustrated With Eric Bieniemy's Lack of Head Coaching Opportunities: 'It's Unfathomable to Me'
Article Highlights:
Mike Tomlin and Tony Dungy are frustrated that Kansas City Chiefs offensive coordinator Eric Bieniemy isn't a head coach yet
Bieniemy has played a massive role in Patrick Mahomes' development over the last few years
Dungy believes racism has kept the Chiefs' OC from earning a head coaching opportunity
This point in the calendar is when the NFL's coaching carousel starts rapidly heating up, which is great news for long-suffering football fans and could present Kansas City Chiefs offensive coordinator Eric Bieniemy with the opportunity of his life.
The Las Vegas Raiders already have a head coaching vacancy, and several other teams, including the Chicago Bears and Detroit Lions, could join the club in the coming weeks. As in years past, football fans should expect Bieniemy's name to pop up in most, if not all, searches.
Will this be the year that a team finally hires the 1990 Heisman Trophy finalist as its head coach? Mike Tomlin and Tony Dungy, two Super Bowl-winning head coaches, certainly want to see it happen sooner rather than later.
Mike Tomlin and Tony Dungy remain frustrated about Eric Bieniemy's job status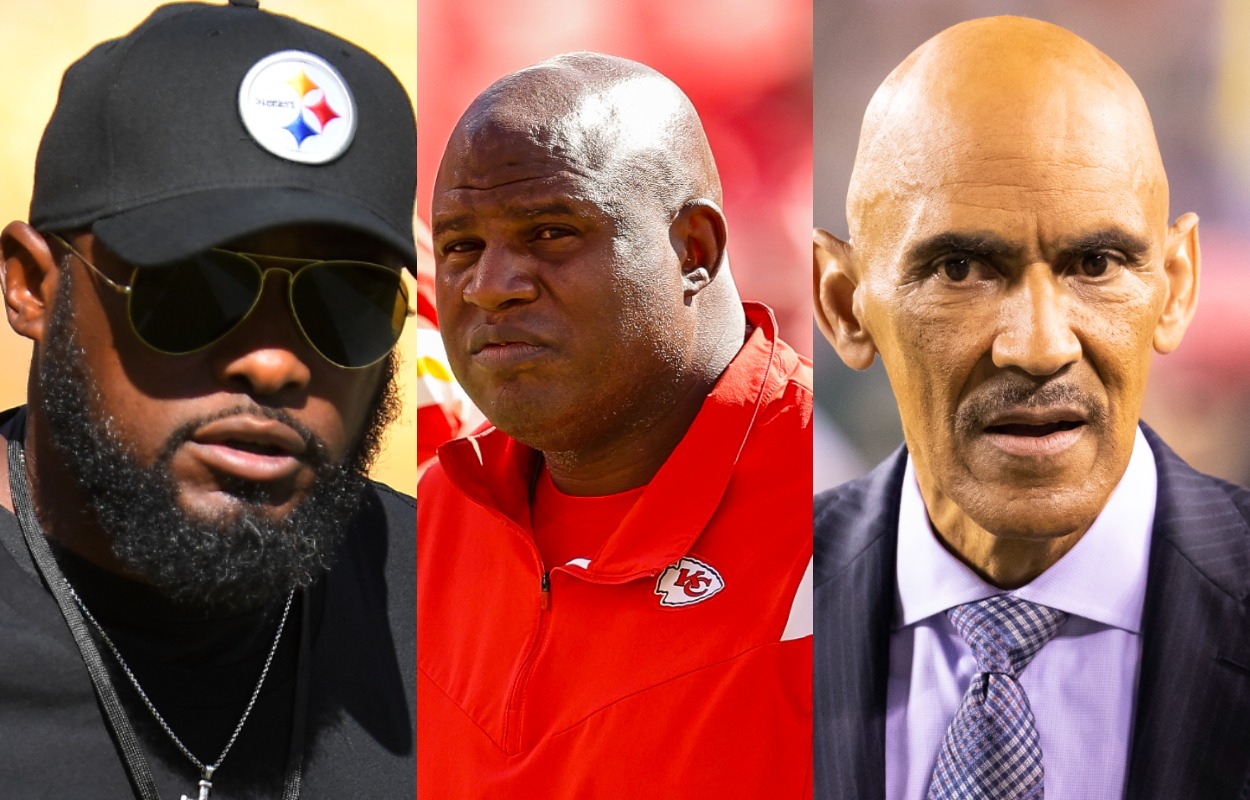 Seven head coaching jobs opened either during or following the 2020 NFL season, and Bieniemy interviewed for all seven. All of those teams chose different candidates, including the woeful Lions, who hired New Orleans Saints tight ends coach Dan Campbell.
How has that one worked out? Campbell, who went 5-7 as the Miami Dolphins' interim coach in 2015, is a dreadful 0-10-1 and "learning on the job." 
Bieniemy's lack of head coaching opportunities remains a heated point of discussion, especially with regards to the Rooney Rule. In his new book, Raise a Fist, Take a Knee, author John Feinstein spoke with Dungy and Tomlin — who, like Bieniemy, are both Black — about the NFL's hiring practices. 
Five of the seven head coaches hired during the 2020-21 cycle are white. Houston's David Culley is Black, and the New York Jets' Robert Saleh is Lebanese. Culley, Tomlin, and Miami's Brian Flores are the NFL's only active Black head coaches.
"I have no idea why Eric Bieniemy isn't a head coach. None. It's unfathomable to me."

Mike Tomlin
Dungy, who became the first Black head coach to win a Super Bowl, went a step further when discussing Bieniemy. 
"I think there is racism involved there," Dungy told Feinstein. "How can there not be, at this point? He works with the best quarterback [Patrick Mahomes] in the game, who raves about him, and no one is hiring him."
Bieniemy is trying to stay optimistic about his chances, at least where he can
Bieniemy wants to be a head coach, and he knows what his credentials are. At the same time, he's understandably trying to avoid rocking the boat too much.
When he spoke with Feinstein, Bieniemy said he still tells himself that "those jobs were not supposed to be the job that I get." Anyone who has ever watched the Lions might agree with that assessment.
"I know I'm going to get a job because I know if I keep working at what I do and we continue to have success, sooner or later someone is going to sit in a room with me and say, 'You're the guy.' I just have to be patient."

Eric Bieniemy
Bieniemy also spoke openly about the NFL's hiring practices and what he feels is a lack of diversity among those involved in the interview process.
"I know when someone is hiring they aren't just looking for talent, necessarily, or what's on your resume," Bieniemy shared. "They want to feel comfortable with that person. I haven't been in too many interviews where the guy interviewing me looked like me. Or I guess you could say where I looked like him."
As of November 2021, only two of the league's general managers, Cleveland's Andrew Berry and Miami's Chris Grier, are Black. The NFL also only has two minority owners, neither of whom are Black. Shad Khan, a Pakistani-American, owns the Jacksonville Jaguars. Kim Pegula, who was born in South Korea but grew up in New York, has co-owned the Bills since 2014.
Will a team finally take a chance on Bieniemy this coaching cycle?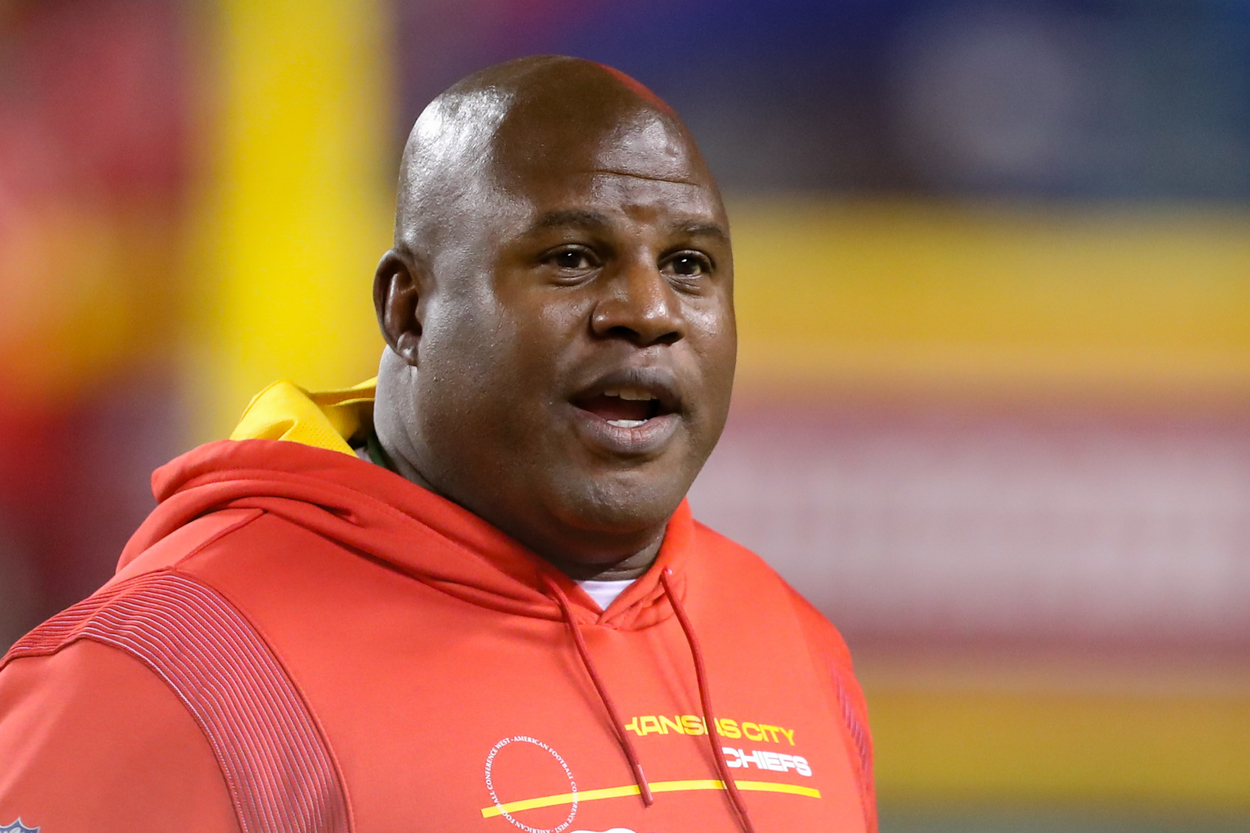 Barring anything unexpected, we should expect to see Bieniemy interview with most, if not all, of the teams who have head coaching positions open. Whether or not a team hires him, of course, is another discussion.
Given his recent experiences with NFL teams, Bieniemy may want to consider moving to the college level. He served as Colorado's offensive coordinator from 2011-12 and turned down the school's head coaching position in 2020.
Florida and Southern California, two of the most recognizable programs, each had vacancies as of publication. The University of Miami could also open in the coming days.
Although the LSU Tigers need to hire a new head coach, the 2019 national champions are reportedly pursuing Alabama offensive coordinator Bill O'Brien and Kentucky head coach Mark Stoops. If those two don't work out and Texas A&M's Jimbo Fisher stays in place, Bieniemy makes sense there, too.
There is still plenty of time for the 2021-22 carousel to get hot. If the music stops and Bieniemy is left without a seat, don't be surprised to see Dungy and Tomlin again go on the offensive.
Like Sportscasting on Facebook. Follow us on Twitter @sportscasting19.