MLB
MLB: Why Mike Trout Chose Anaheim Over Philadelphia
Despite their recent acquisition of superstar right-fielder Bryce Harper, the Philadelphia Phillies were left slightly disappointed after fellow superstar Mike Trout decided to remain with his current team, the Los Angeles Angels of Anaheim, for a record-breaking 12-year $430 million contract extension. In a world where sports superstars' faces are recognizable to even the most casual of sports fans, Mike Trout's image outside of the baseball field is almost non-existent.
The Yin and Yang of the Mike Trout extension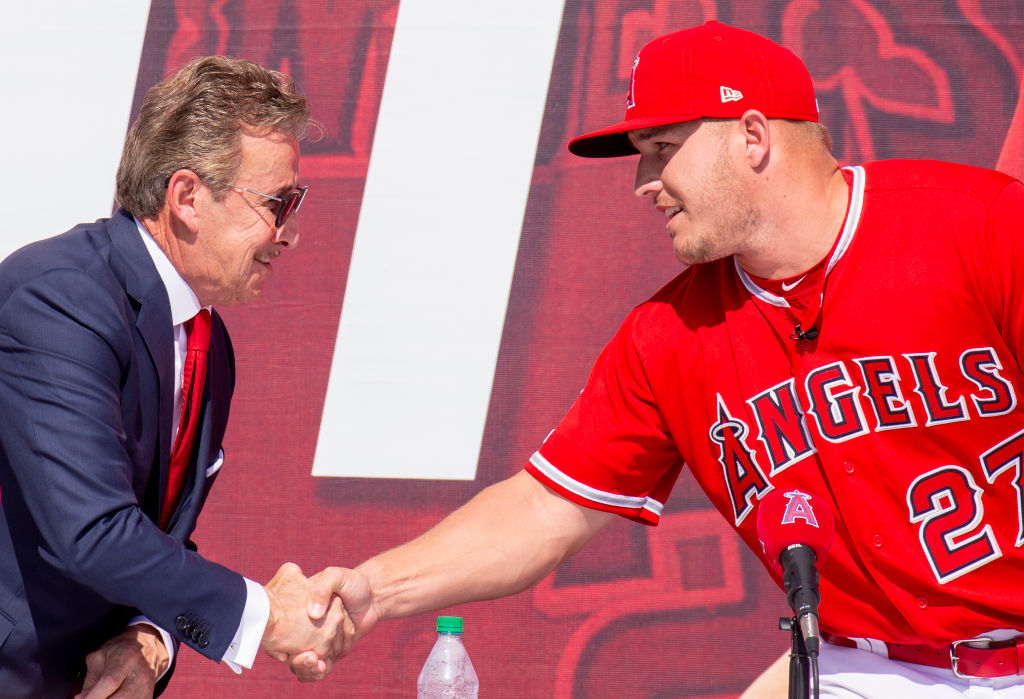 While Harper is a fixture in commercials, and his antics can make headlines for reasons positive and negative, Trout's quiet, more subdued presence may have proven to be a perfect yin to Harper's yang. Harper got into trouble for saying he'd ask Trout to join him in Philadelphia when he hit free agency.

Unfortunately for the Phillies, however, those dreams of pairing the two will remain just that thanks to Trout's massive extension. Fans are left wondering why the 27-year-old would choose to sign a contract which will likely stretch him to what will likely be the end of his career.

At its best, the deal may build Mike Trout into a mold of Derek Jeter — a player who made his name playing for one team for almost two decades. At its worst, however, it could be an Albert Pujols situation where the backside of the deal never makes the long-term commitment worth the gamble. Pujols is one of baseball's highest paid players, but he's years past his prime. In failing to convince Trout to start a new chapter in his career, the Phillies and their fans are left asking why he would decide to do so.

The Ohtani factor
Despite the draw of having a superstar of Harper's stature playing by his side, Trout has a younger superstar-in-the-making in Anaheim — Shohei Ohtani. Last season, Ohtani took the league by storm by not only hitting the ball as few can but also as an accomplished pitcher and position player.

While the draw of playing with Harper is hard for a player like Trout to ignore, Ohtani's unique skill set is something we haven't seen since Babe Ruth's early years in Boston. After accomplishing everything that he did as a rookie, the thought of playing alongside Ohtani for what could be as long as 12 years had to factor in on Trout's decision.

Loyalty to his first team
Most players travel around throughout their careers, but single-team players tend to build a mythology around them. To this day, people argue about whether Jeter is as good as the mythology around him suggests he is, but he is synonymous with the New York Yankees more than any other modern player has been with a team.

It is not unfair to think that someone like Trout, who doesn't necessarily care about the spotlight, commercials, and extracurricular publicity which comes with being a star player, would value the idea of being another athlete synonymous with the one club he always played for.

The Angels are willing to spend
While the Dodgers get the majority of the headlines in regards to Los Angeles-area baseball, the Angels remain relevant in part due to their willingness to spend. Mike Trout is the beneficiary of their generosity, and that could also factor in down the line when the Angels need to add other pieces or maintain the ones they currently have.

The Angels aren't strangers to large and long-term spending. Despite the risk not always paying off, as it did with Pujols, the Angels are taking another risk with Trout. Whether it's by bringing Ohtani back or building a team in the mold of the one the Phillies have now, they have built enough good faith with Trout that they will do something in the future.
Only time will tell if staying in Anaheim for a massive contract was the right decision for Mike Trout. The Phillies had an intriguing package to offer him in free agency, but he chose to plant his roots in Anaheim. Maybe it will be the beginning of a longer, prestigious story, or maybe it will go down as a mistake either for him, or for the Angels. Whatever Happens, Trout's contract promises to be a topic of discussion for many years to come.