MLB: Why Mike Trout's Contract Extension is Good News for Mookie Betts
The 2019 MLB offseason saw some seismic shifts in the game's economic landscape. Several players signed big deals leading to a domino effect of extensions and speculation about the future of other MLB stars currently under contract. There's one player who no doubt looked at 2019's offseason with particular interest: Boston's Mookie Betts. Trout's extension and the big money thrown around during the offseason could mean a windfall for the Red Sox outfielder.

Let's take a closer look at why Mike Trout's contract extension is good news for Mookie Betts.

The 2019 free agent moves and Mike Trout's extension
The 2019 free agent class was one of baseball's strongest ever with Bryce Harper and Manny Machado, both of whom received free agent deals north of $300 million, on the market. These were highly anticipated deals that took a while to finalize, but once they did caused reverberations throughout the league.

Not to be outdone, the Los Angeles Angels moved quickly with their megastar and locked up Mike Trout to the tune of a 12 year, $430 million extension. Despite Harper openly discussing the fact that he planned to recruit Trout to Philadelphia, the Angels decided not to give other teams the chance to contemplate the thought of Trout in another uniform.

Trout's deal essentially readjusted the market for baseball's top stars. While no one can expect to get as large a deal as Trout's — he's far and away baseball's best player — it heightens the ceiling for MLB's upper echelon of talent. That's where Mookie Betts comes in.

Mookie Betts has some jaw-dropping stats

Enter budding superstar Mookie Betts. In his fifth year in the league, Betts has put together four consecutive outstanding seasons. He won the AL MVP Award in 2018 and has finished in the top 20 in MVP voting four years in a row. He's been selected for the last three All-Star games. Last season he hit 32 home runs and drove in 80. He also led the league in slugging percentage at .640. He's the leader of one of the league's best outfield trios.

Betts did all of this while leading his team to a world championship. The Sox are expected to contend yet again, and Mookie Betts is should be a frontrunner for another AL MVP Award.

How Mookie Betts compares to top players in MLB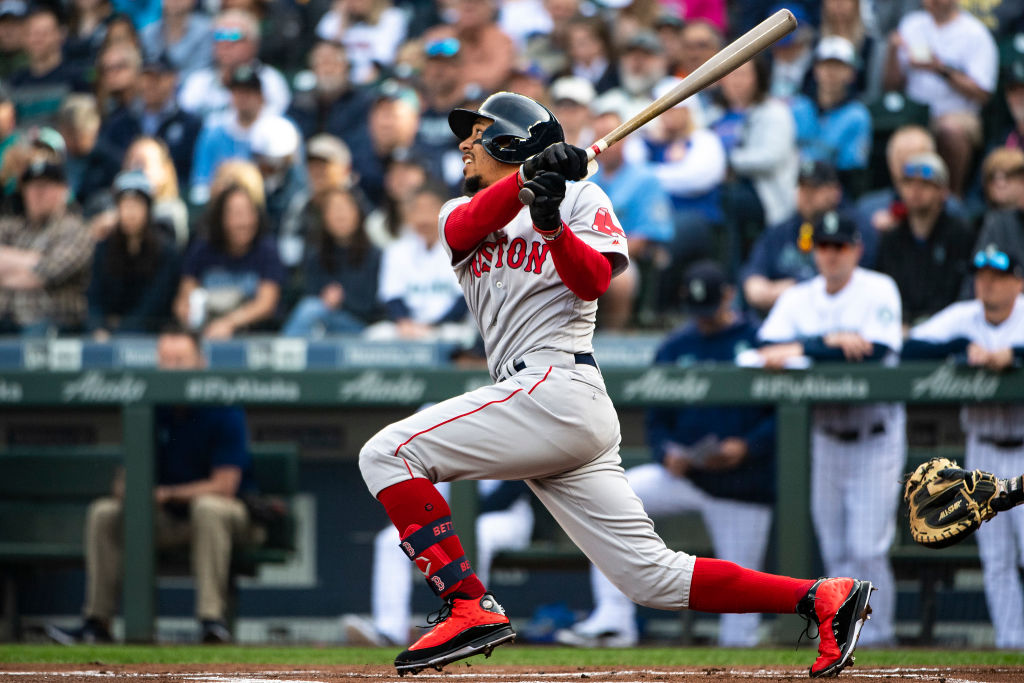 To determine how Trout's extension impacts Betts, it's important to view Betts in the context of the league's best players.

The first indicator of where he stands is his AL MVP Award from last season. This doesn't necessarily mean he's the league's most talented player — again, Trout still takes that prize — but it certainly puts him among the league's best. Betts also won a batting title by hitting .346.

One valuable statistic when comparing players is wins above replacement (WAR) which summarizes a player's total contributions to a team and its win total. Betts led the league in this category last year with a WAR of 10.9.

Betts' current contract
This past offseason, Betts avoided arbitration hearings with the Red Sox by agreeing to a one-year, $20 million deal. It's hard to imagine a world in which anyone being paid $20 million for one year's worth of work is underpaid, but based on MLB's other big contracts, that's the conclusion one would reach in Betts' case.

Take a look at the average annual value (AAV) of some other top players. Mike Trout makes almost $37 million per year. Bryce Harper makes more than $25 million. Manny Machado makes $30 million. Those are players in baseball's top tier of talent, a tier in which Betts deservedly resides.

Why Mike Trout's contract extension is good news for Mookie Betts
The bottom line is that Mike Trout's monster extension raises the bar for free agent contracts (or contract extensions) that come after his. Trout was set to hit the market in 2020 before his extension. Now, Mookie Betts is the top free agent target that year. He most likely will not get as much money as Trout, but he is almost certain to get more than both Harper and Machado due to Trout's contract resetting the market.