Mike Trout Is the Best Baseball Player We've Seen, With or Without WAR
Ask any baseball fan, "Who is the best player currently in the majors?" Most would probably answer Mike Trout. He has racked up phenomenal stats as he nears the end of his ninth MLB season. No matter which offensive stats you consider, Trout is a virtual lock to be at or near the top of the leaderboard in most of the categories.
Mike Trout's career statistics — so far
For his career — through 113 games of the 2019 season — Trout has a .306 career average, with 279 home runs and 740 RBI. With 1,304 hits, he is just about a season away from getting to 1,500. This will put him halfway to the 3,000-hit milestone only elite hitters reach in their careers.
Going deeper into the numbers, Trout's OPS is an even 1.000, and his WAR is 71.9, according to Baseball Reference. He also has the hardware to prove he's among the best. With two Silver Slugger awards to go along with two American League MVPs, he has finished in the top two in MVP voting an amazing six times in his first eight seasons.
Compared to the all-time greats in WAR
Trout turned 28 in August, which means his most recent completed season was 2018, his age-27 season. Comparing him to the all-time great position players through their respective age-27 seasons shows Trout isn't just the best player of his generation but one of the best ever.
Using Fangraphs, Trout's WAR through his age-27 season was 72.5, the highest in MLB history at that point in a player's career. In second place is Ty Cobb, at 68.8 — and Cobb played almost 70 more games than Trout through the age of 27. Mickey Mantle is third with a 67.9 WAR, followed by Rogers Hornsby and Jimmie Foxx — each with a 64.6 WAR — to round out the top five.
Of that group, only Hornsby played in fewer games than Trout's 1,173. You must go all the way down to No. 12 on the list to reach the next highest-ranked position player, Albert Pujols, with a WAR of 53.5, nearly 20 points lower than Trout's.
How does Trout rank in "traditional" stats?
If you're the type of fan who prefers more traditional stats, Trout is still among the best in MLB history. Comparing him to all players his age with at least 1,000 plate appearances since 1871 — a list that includes more than 2,500 names — Trout ranks fifth in walks. Fangraphs projects him to be third by the end of 2019.
The center fielder is also in the top 10 in runs, home runs, extra-base hits, and walks. He's projected to be in the top five in all those categories but runs by the end of this season. Even being outside of the top 10 in other categories, he's still ranked in the top 10% or less of all players that fit the criteria. He ranks in the top 1% in both hits and RBI, the top 5% in steals, and the top 10% in batting average.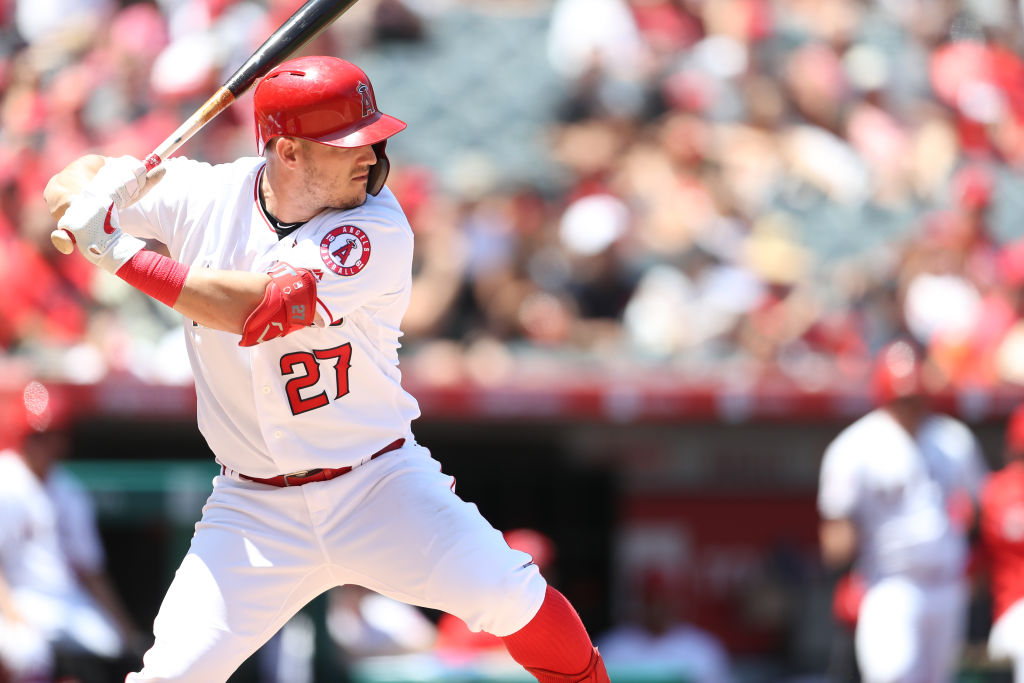 No matter how you look at Trout's numbers, whether using analytics or traditional stats, you can make a case for the athlete to be considered the best of his generation. He is without a doubt one of the best hitters in MLB history.
When being compared to names like Cobb, Mantle, and Foxx, you know you're in good company. He'll likely be inducted into the Hall of Fame five years after he retires, which is still a ways away. That's why the Angels locked him in long-term. Now if they can just get him a World Series title.