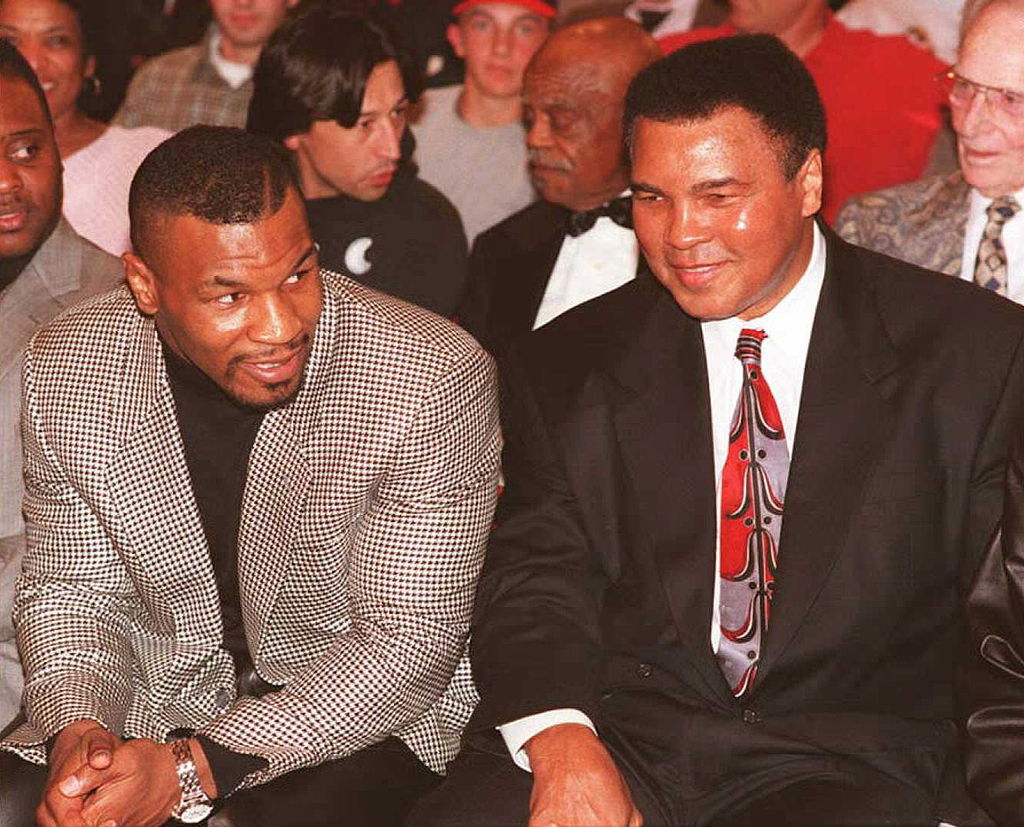 Teenage Mike Tyson Saw Muhammad Ali Get Beaten and Got Revenge for His Hero 7 Years Later
A teenage Mike Tyson was in person for one of Muhammad Ali's final fights and vowed revenge after watching his hero lose.
Mike Tyson and Muhammad Ali will forever be linked as two of the greatest heavyweight champions in the history of boxing.
Tyson makes no secret of the fact that he idolized Ali growing up in New York. So when a 14-year-old Tyson watched his hero get beaten in his second-to-last fight, he was naturally upset, even vowing to get revenge on the man that had pummeled his idol. What's incredible about the whole story was that he actually did seven years later, with Ali at ringside to witness it.
Muhammad Ali loses to Larry Holmes
In June 1979, Muhammad Ali announced his retirement from boxing. He had amassed a 56-3 career record, won multiple world heavyweight championships, and was considered by many to be the greatest boxer who ever lived. The previous year, he had beaten Leon Spinks to become the first three-time heavyweight champ in history but he was ready to be done. However, the retirement was short-lived as he agreed to fight undefeated WBC champion Larry Holmes on October 2, 1980, which many agreed was not a good idea.
Ali, 38 years old then, even had to undergo an examination at the Mayo Clinic before being granted a license by the Nevada State Athletic Commission, an exam that would later become public and included details of tingling in his hands and slurred speech.
It had been more than two years since Ali had been in the ring by the time he squared off with Holmes in Las Vegas. Holmes had actually been a longtime sparring partner of Ali's but at this point was the superior fighter. Scheduled for 15 rounds, the fight only went 10 as Holmes dominated Ali. Ali never hit the canvas but his corner knew it was only a matter of time and stopped the bout. Muhammad Ali would fight just once more in his career.
Tyson was furious that Ali lost and vowed revenge
As Muhammad Ali was preparing to fight Larry Holmes, a 14-year-old kid named Mike Tyson was trying to make a name for himself under legendary trainer Cus D'Amato. Tyson idolized Ali growing up and jumped at the chance to witness the Ali-Holmes fight. D'Amato and Tyson drove to Albany to catch the bout on closed-circuit television and Tyson was devastated as he watched his hero take a beating. He vowed revenge on Holmes and when he actually got the opportunity to speak to Ali on the phone the next day, he told his hero that once he turned pro, he would avenge the defeat. In an interview with ESPN, Tyson explained how upset he was that night.
"I was offended by how bad he beat up Ali. When we drove home to Catskill [about an hour from Albany], nobody in the car said a word, we were all so upset. The next morning, Cus was on the phone with Muhammad Ali after taking this shellacking from Holmes. He said to Ali, 'I have this young black kid who is going to be heavyweight champion someday and I want you to talk to him."

Mike Tyson
So Tyson actually got on the phone and made Ali a promise.
"When I grow up, I'll fight Holmes and I'll get him back for you."

Mike Tyson
Mike Tyson said this at 14 years old. 14! Little did he know, or maybe he actually did back then, that he'd get to keep that promise a little over seven years later, with Ali in attendance.
Mike Tyson knocks out Larry Holmes with Muhammad Ali in the crowd
A little over seven years after vowing revenge on Larry Holmes, Mike Tyson actually had the chance to keep his promise to Muhammad Ali. Cus D'Amato's vision had become a reality as Tyson was indeed the heavyweight champion of the world, the undisputed heavyweight champion of the world, having won his first title at the age of 20.
Larry Holmes, like Ali had done to fight him, came out retirement at the age of 38 for a big payday to fight Tyson at Trump Plaza in Atlantic City. It had been nearly two years since Holmes had been in the ring, a loss to Michael Spinks in April 1986. While he still packed a punch, nobody gave him a chance against Tyson, who had a special guest in attendance.
Muhammad Ali was invited to the Tyson-Holmes bout and he gave the young champion some extra incentive.
"Remember what you said — get him for me."

Muhammad Ali to Mike Tyson
And Tyson made good on his promise. Holmes simply couldn't keep up with Tyson's speed and was overmatched on power as well. In the fourth round, Tyson floored Holmes for the first time with a left-right combo. Holmes got up immediately but was soon met with another barrage and went down again. Clearly staggered, Holmes answered the count at eight but couldn't keep Tyson away. A right hook as the round came to an end floored Holmes for a third time and the fight was stopped, giving Tyson his 33rd win.
Mike Tyson would continue to dominate the heavyweight division, defeating undefeated Michael Spinks later that year, a fight that included another crazy story as Spinks didn't even want to leave his dressing room.
Tyson would say later that being able to avenge Ali's loss to Holmes was one of the highlights of his career.