Mike Tyson Revealed Why He Never Would Have Made It in the UFC
Mike Tyson has been out of the boxing ring for quite some time, though he is set for a return later this year. He'll always be remembered as one of the best to set foot in one. Tyson is a fighter from a bygone era, however. In fact, boxing is hardly the world's most successful or watched combat sport anymore — these days, that honor likely falls to mixed martial arts and more specifically, UFC.
That begs the question whether Tyson could have ever made it in the UFC. While his fighting prowess may indicate yes, Tyson himself thinks the answer is no. But why does he think that way?
Career overview
RELATED: The Tragic Death of Mike Tyson's 4-Year-Old Daughter Changed Him Forever
Mike Tyson is quite simply one of the most devastating punchers to ever live, and certainly one of the greatest heavyweight boxers of all time. According to Biography.com, Tyson became the youngest heavyweight champion ever upon winning his first title. For the better part of his early career, he looked unbeatable. A 1990 upset at the hands of Buster Douglas proved Tyson was human after all.
A 1992 rape conviction put Tyson behind bars until 1995. Upon returning, he wasn't quite the same dominant fighter he'd been, but he was close. Tyson demolished several opponents until a controversial two-fight series against Evander Holyfield.
He lost the first fight, and after getting frustrated during the second bout, bit Holyfield's ear off. Tyson's last big fight came against then-champion Lennox Lewis in 2002. It was a knockout defeat.
After a few more losses, Tyson hung up his gloves in 2005. Since retiring, he's appeared in multiple movies, is the star of his own cartoon on Adult Swim, and had a hit one-man show. He has a comeback fight scheduled against Roy Jones Jr.
How would a hypothetical Mike Tyson UFC run really have played out?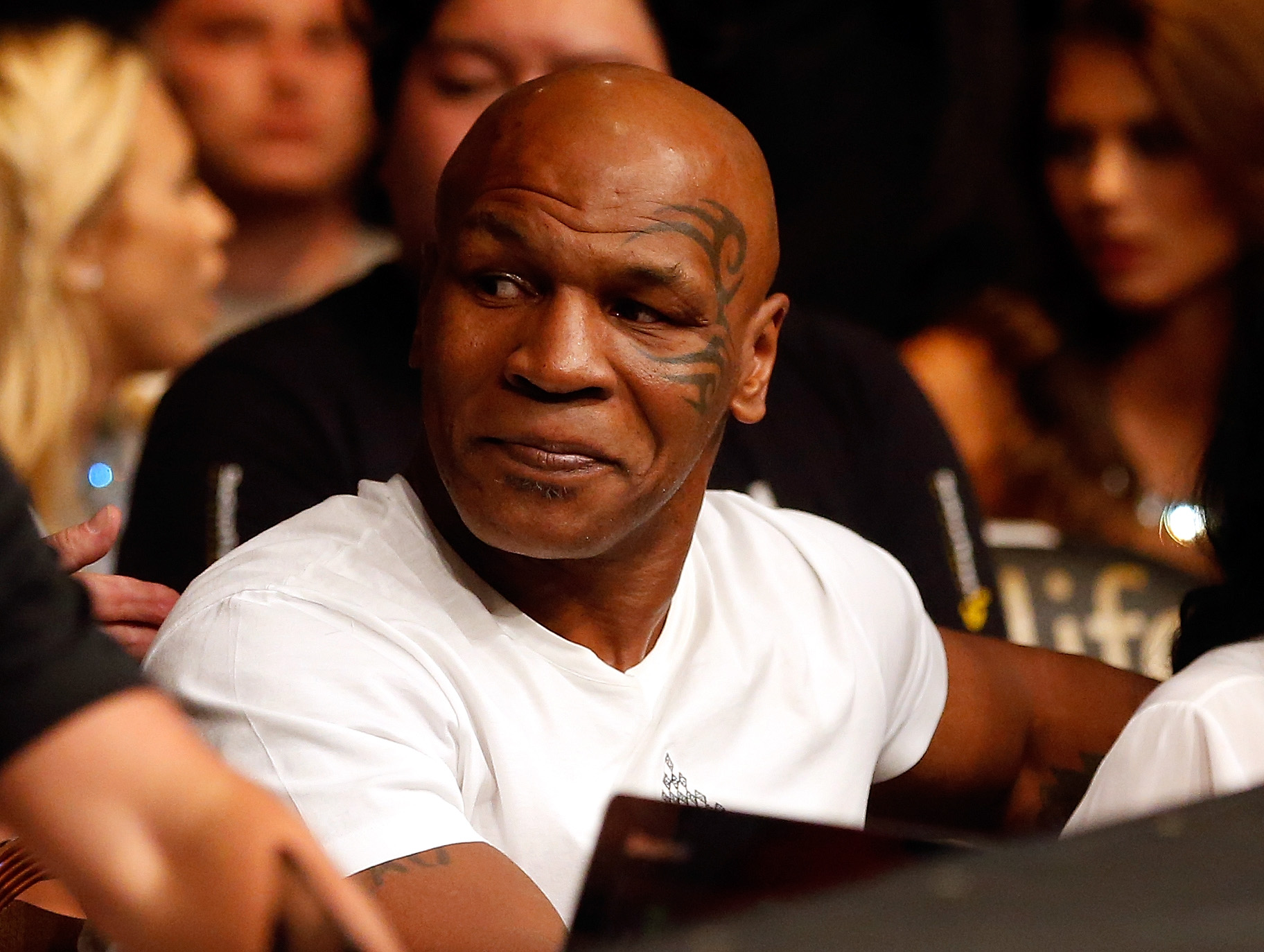 Tyson's heyday came well before UFC's run at the top of the fighting world. Currently, UFC is the biggest brand in combat sports. In Tyson's era, boxing was king. So how would Tyson have done had he been an ultimate fighter?
In this hypothetical, Tyson likely would have begun training for mixed martial arts at a very young age, as he did with boxing. It's unclear what martial art he'd train in specifically, but he'd likely get some combination of boxing and wrestling training.
The fact is, Tyson was such a great fighter and athlete, he likely would have dominated in the octagon if he'd trained in it from his earlier years. Tyson's hand-eye coordination and power punching would be a lethal combination.
It's hard to imagine a world in which young, in-his-prime Tyson loses any kind of fight to anyone. That's not a knock on the sport itself — it's a statement of how truly dominant Tyson was. He was a singular fighting talent that the world probably hasn't seen since.
Why Mike Tyson thinks he never would have made it in UFC
RELATED: Mike Tyson Dramatically Altered His Diet and It Completely Changed His Life
That said, Tyson isn't as convinced that he'd have been able to hack it in UFC. Tyson recently fielded random questions from internet users in a video interview for GQ Sports.
One of those users asked how Tyson thought he would do in UFC. His response was that he didn't know. He said that he noticed a lot of UFC fighters step on each other's feet and that because he has "the worst feet in the world" he could see himself tapping out quickly.
Is that true? Of course, it's impossible to tell. Tyson's too old to participate in a legitimate MMA competition. But had he taken it up at a younger age, there's almost no doubt he would have been brilliant. Chalk this up to Tyson being overly humble. His world-class fighting ability would help him win no matter what kind of ring he set foot in.