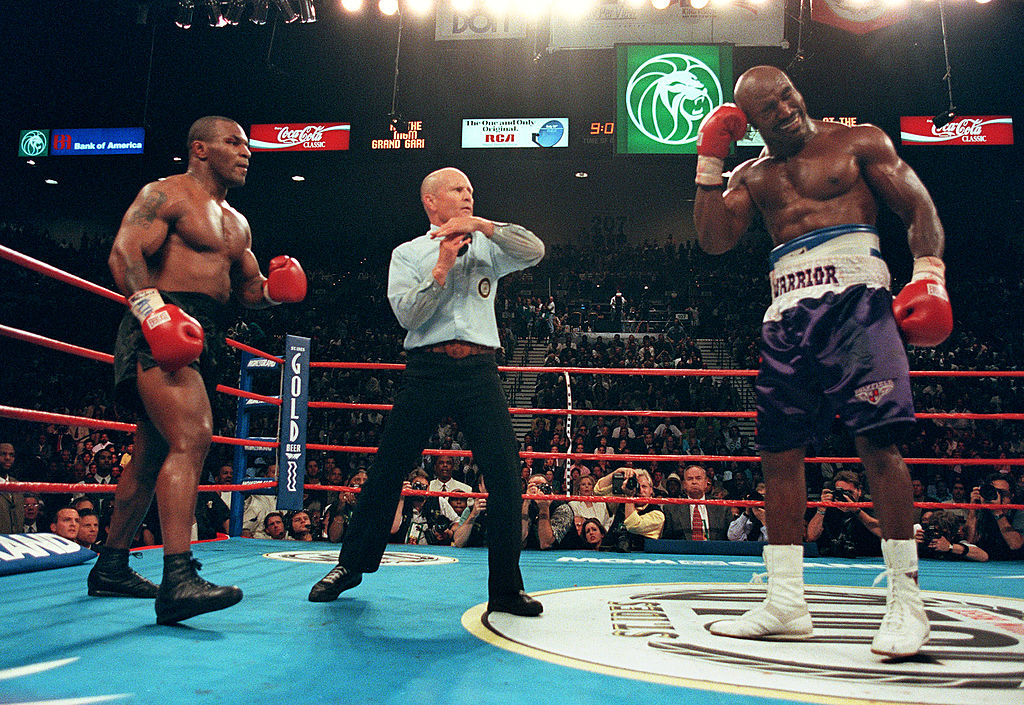 Mike Tyson Was Fined $3M for Biting Evander Holyfield's Ear but Made It All Back With Photos From It
Mike Tyson was fined $3 million for biting Evander Holyfield's ear, but said he made it all back and more by taking pictures with fans.
One of the most bizarre fights in boxing history took place June 28, 1997, when Mike Tyson was taking on Evander Holyfield in a rematch from a fight eight months earlier. Tyson was trying to avoid losing to Holyfield for the second straight time. Holyfield was in control for the first three rounds before Tyson bit Holyfield's ear not once, but twice, and was disqualified.
Mike Tyson vs. Evander Holyfield II
On Nov. 9, 1996, Mike Tyson lost the WBA heavyweight title to Evander Holyfield. The loss was just the second of Tyson's career. The two went right back at it again on June 28, 1997, as Tyson tried to reclaim the heavyweight title.
The hype was there for the rematch. Tyson was getting a $30 million payday for the fight, while Holyfield was taking in $35 million. Holyfield won the first two rounds of the rematch and when Round 3 began, Tyson emerged from his corner without his mouthpiece. Holyfield notified referee Mills Lane, who told Tyson to head back to the corner. Tyson them came out swinging.
With 40 seconds remaining, Tyson got Holyfield in a clinch, rolled his head above Holyfield's shoulder, spit out his mouthpiece and bit Holyfield's right ear, spitting out a chunk. The fight was delayed and Tyson had two points deducted. When the bout resumed, Tyson bit Holyfield's left ear, causing chaos in the ring and Tyson to be disqualified.
Holyfield's response to the bite
After the fight was over, Mike Tyson said he felt Evander Holyfield deliberately headbutted him in the second round and nothing was done about it. "He butted me in the second round, and he looked at me and butted me again," said Tyson at the time. "No one deducted points. This is my career. What am I supposed to do? I've got children to raise. He kept butting me."
Holyfield said he was shocked by what happened. He didn't know what happened to his ear. "I thought my ear had fallen off," said Holyfield after the fight. "Look at the bite. I'm missing part of my ear. I just couldn't believe it — they have rules and regulations for this."
Holyfield said he thinks Tyson did it because he was in fear. He believes Tyson wanted out of the fight. "It doesn't show no courage to foul to get out of the fight," Holyfield said. "Fear causes people to do the easy thing, the quickest thing. Everybody knows how to get out of a fight — all you do is foul. Then you can say to the other guy, 'well, you didn't beat me.'"
Tyson said he doesn't think about the incident anymore
During a recent podcast of Hotboxin' With Mike Tyson, Tyson was asked by former Chicago Bulls Hall of Famer Dennis Rodman if he thought that ear-biting incident was one of the demons in his life. Tyson was quick to respond.
"Not at all," Tyson said. "I never even think about it. Know what I think about? I think about how much money I made taking pictures of biting somebody's ear and that supersedes the three million dollars that I lost. Isn't that crazy? That's what makes it funny to me. Not that I bit his ear but the money I was fined, I made that back just by taking pictures. Imagine that?"
The second loss to Holyfield was the beginning of the end of Tyson's career. After that bout, Tyson had 10 more fights, including a pair of no contests. He went 5-3, but lost three out of his final four fights.