Mike Tyson's Career Came to a Sad End After Back-to-Back Losses
Some boxers have the luxury of retiring at the top of the world, but others don't. Some boxers, usually due to money issues, have to keep fighting even after they want to retire, just to pay their bills. In 2003, Mike Tyson declared bankruptcy, and he was forced to fight to financially survive.
A look at Mike Tyson's last fights
In 2002, Tyson had the last big fight of his career against the reigning heavyweight champion, Lennox Lewis. Tyson was the heavyweight king in the late '80s and early '90s. This fight would be a fight between the old generation of boxing and the new. 'Iron Mike' was 35 years old at the time, and he was coming off of multiple knockout wins. 
George Foreman famously became the oldest man to win the heavyweight crown when he made a boxing comeback in his forties, so Tyson had a pretty good shot at this. In this highly anticipated contest, Lewis ultimately knocked Tyson out in the eighth round. While he made a lot of money from this fight, he wasn't done yet.
A few months later, he was matched up against Clifford Etienne. Etienne wasn't a bad boxer, as he had a record of 24-1 at the time. But, in old school 'Iron Mike' fashion, he knocked out Etienne out in just 49 seconds in the very first round. This fight wasn't for a title and it didn't make him a lot of money, but it would be the last win that he'd get in his career.
Tyson takes three losses in a row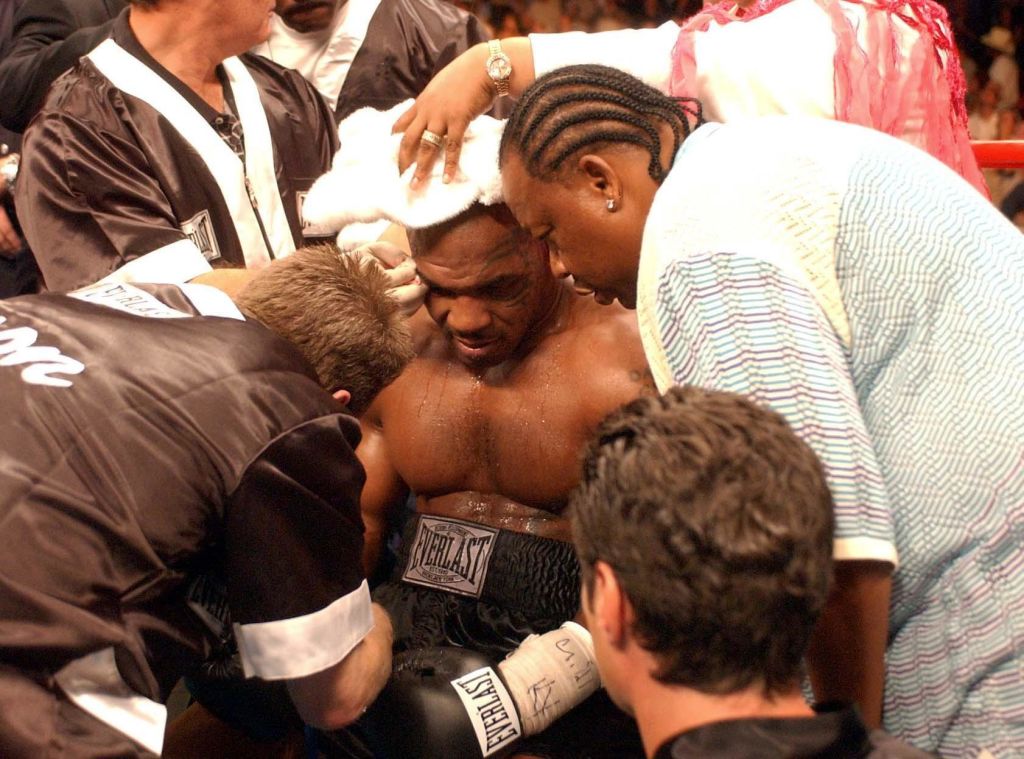 A few months after he beat Etienne, his lifestyle caught up to him and he was forced to declare bankruptcy. "Iron Mike" was more brittle now. A year after he knocked out Etienne, he had to fight again to financially recover.
His next opponent was a British boxer named Danny Williams. The regional boxer had a record of 31-3 at the time. So this seemed like an easy fight for Tyson to make some easy money from. But, it wasn't an easy fight. With a few seconds left in the fourth round, Williams knocked Tyson out. 
This wasn't ideal, so for his next fight, Tyson was matched up with another regional boxer, this time from Ireland. Kevin McBride had a record of 32-4 when he fought Tyson. This matchup was supposed to be an easy one for him. McBride never landed a knockout blow on him. But he was so frustrated by everything happening in his life and in the fight that he simply quit in the sixth round. Shortly after, he retired from boxing for good.
Why Tyson retired
As ESPN reported, Tyson quit boxing because he didn't have "the guts to be in this sport anymore." He's always been a fan of the sport. As he told ESPN, "I don't want to disrespect the sport that I love." Plus, he was 38 years old, so his age was catching up to him, too.
This was definitely a good idea; both McBride and Williams have had unremarkable boxing careers after their surprising wins over Tyson. Williams retired in 2019 and he ended his career with a record of 54-28. McBride retired in 2011 and he ended his career with a record of 35-10.
Tyson, on the other hand, was able to overcome his personal issues and climb out of debt. Currently, he's in the weed and podcasting businesses, thanks to his podcast, Hotboxin' with Mike Tyson.