Mike Tyson's Daily Training Routine Was Insane, Even by His Standards
For about a decade, Mike Tyson was the dominant force in heavyweight boxing, and nobody could beat him. Not only did he have a shocking amount of power, but he also had great boxing techniques. While some of those attributes were genetic, Tyson also had to go through a lot of brutal training to become as good as he was. Here's a look at Mike Tyson's training and workouts that turned him into the ultimate boxing champion.
A look at Mike Tyson's daily training routine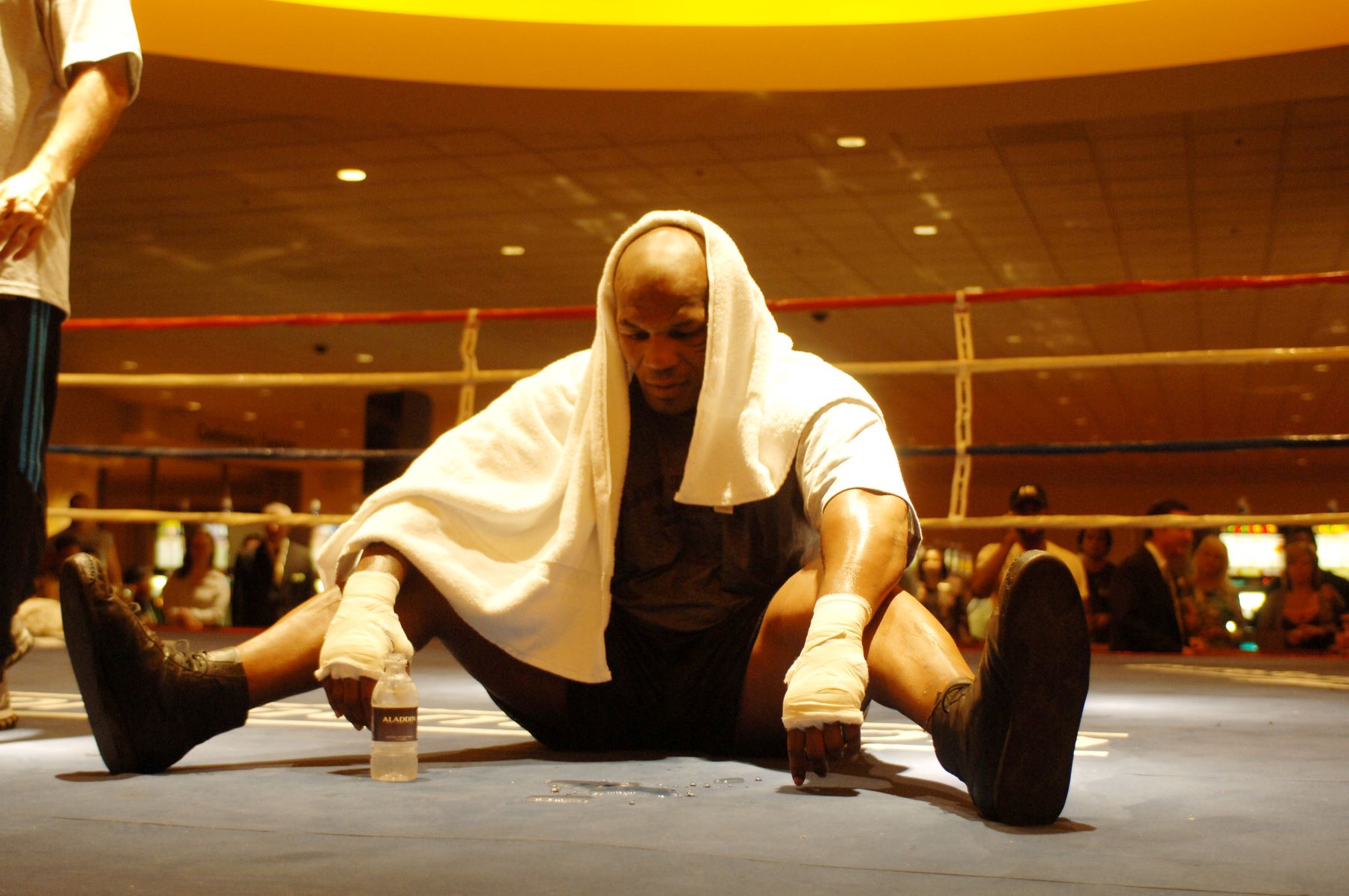 As Sport Bible explains, Mike Tyson's workout routine started early and focused on every aspect of the sport. First, he'd wake up at 5 a.m. and go for a three-mile run. He'd return home by about 6 a.m. and go back to sleep. At 10 a.m., he'd wake up again and have his breakfast. Then, he'd start working on his boxing skills by sparring for about 10 rounds. 
Afterward, Reemus Boxing reports that he'd eat lunch before sparring more and working on boxing skills. Then, Tyson would take on the most brutal part of his routine, his calisthenics workout. Over the course of a few hours, he'd complete 2,000 squats, 2,500 sit-ups, 500 dips, 500 push-ups, 500 shrugs with an approximately 66-pound barbell, and then 10 minutes of neck exercises. 
During one of those 2,500 sit-ups, Tyson realized he'd injured his back. This led to him infamously saying his back was broken after winning a fight. For his evening routine, when his back wasn't injured, Tyson would have dinner, work out on his exercise bike, and then finally go to bed by 10 p.m.
How Tyson's workouts paid off
In part due to how intense his routine was, and in part due to how dedicated he was to his craft, Mike Tyson easily dominated his opponents in the first few years of his pro career. Most of his early fights ended in the first round with knockouts because he was a much better boxer. Still, his training helped him as he faced tougher and tougher opponents.
As Reemus Boxing reports, Cus D'Amato, Tyson's first trainer, believed sparring was the key to success. Unsurprisingly, "Iron Mike" did a lot of sparring every day to hone his boxing skills. This practice allowed him to be more than just a scary, one-punch knockout artist. It also allowed him to be a skilled boxer who could bob and weave and outsmart his opponents whenever possible.
That said, no matter how hard Tyson trained, he couldn't stop himself from doing other things that would land him in hot water. Eventually, he was arrested and sentenced to prison, taking a few years off his career. By the time he returned, his age was starting to catch up with him, and he decided to retire not long afterward, as no workout can stop old age.
Is Mike Tyson planning a comeback to the fighting?
The former heavyweight champion officially retired in 2005, and since then, he's been having a good time doing his own thing, including running his own podcast. Still, like with many athletes and former champions, Mike Tyson's competitive drive remains in him. 
As Penn Live reports, Tyson may be gearing up for a comeback fight against Logan Paul, even at his current age of 55. He's been posting videos of his training on social media, and it looks like he's still got it. That said, it's hard for older people to train, let alone fight, and few fighters have done well by the time they're in their 40s. So, it's possible that 'Iron Mike' will return for a charity boxing match, but it's unlikely he'll professionally fight for a title again.
RELATED: Mike Tyson's Surprising Admission About Biting Evander Holyfield's Ear