Mike Vick Made $125 Million in the NFL But Ordered a Meal off of the Kids Menu With Arthur Blank
Michael Vick was one of the first true dual-threat quarterbacks in football. Those skills helped him make it to the NFL in 2001. He made roughly $125 million during his career, according to Sportskeeda.
As the No. 1 overall pick, Vick entered a life of money, fame, and football. The retired quarterback had a unique dinner experience with Atlanta Falcons owner Arthur Blank when he was a rookie.
Mike Vick was a top NFL prospect coming out of college
RELATED: Michael Vick Considered Pursuing a Baseball Career
Before he sat down for dinner with Arthur Blank, Mike Vick was a sensational talent at Virginia Tech University. He chose to attend that school over Syracuse University because he would be closer to his hometown of Newport News, Virginia. After he redshirted his freshman year, the future No. 1 overall pick tore up the college football landscape.
Vick led the Hokies to a perfect regular-season record in his sophomore year and a spot in the Sugar Bowl. He threw for 1,840 yards and 12 touchdowns while having 782 yards on the ground and seven rushing touchdowns that year, according to HokieSports Stats Database. He won the Big East's Offensive Player of the Year Award and finished third in Heisman voting that season.
In the following year, Vick threw and ran for more yards than his previous season. His touchdowns took a dip, but the Hokies put together another great season, finishing 11-1. NFL scouts were already seeing how the star quarterback's game would transfer to the league.
After his second season as the starter, Mike Vick decided to enter the NFL Draft. The Falcons selected him with the first overall pick in 2001. When he sat down with Arthur Blank for dinner, the four-time Pro-Bowler wasn't sure how much he could afford, so he made sure to order a budget-friendly meal.
Mike Vick orders chicken fingers for dinner with Arthur Blank
RELATED: Michael Vick Thought He 'Deserved' to Lose the $130 Million Contract He Signed in Atlanta
As a rookie in the NFL, Michael Vick wasn't a fan of going out to eat. He was satisfied with Ruby Tuesday or TGI Fridays. Growing up in Newport News, Virginia, Vick wasn't used to eating in steakhouses or anything related to fine dining.
"We get to the restaurant, Stoney River…we go in, and I'm looking at this fancy menu, and everything looked like it's, like, Chinese language to me. It's filet mignon and porterhouse steaks. I don't even know anything about that," Vick said on Bleacher Report's Untold Stories.
The quarterback said the menu for the restaurant was close to four pages long, which was way out of his comfort zone. Lost and confused over the plethora of food options he could choose from, Vick made the safe choice and ordered something he recognized.
"I went with the most simplest thing, man. I got chicken tenders and french fries. Mr. Blank is looking at me like 'are you serious' and I'm like 'yeah because I'm not gonna foot this bill,'" Vick said.
Chicken tenders at a steakhouse aren't the go-to option for many, but give Vick credit for knowing his budget and sticking to it.
Michael Vick learned his lesson about steakhouse dining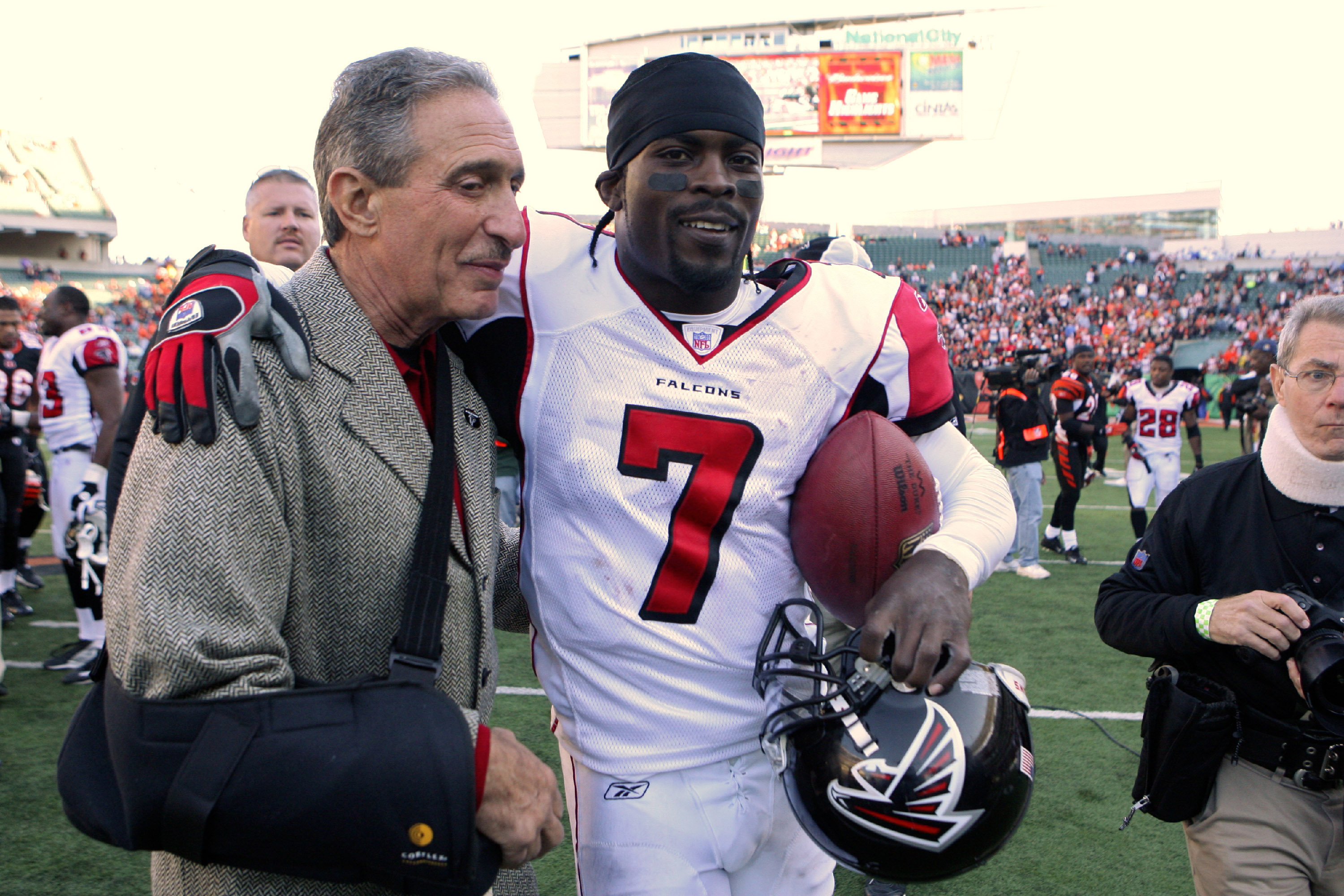 RELATED: Michael Vick Confesses to the Disturbing Reason He Ran a Dogfighting Ring in Arthur Blank's New Book
Ordering chicken tenders and french fries is not something people usually order at steakhouses. However, Mike Vick was fresh out of college and just starting his life in the NFL.
"You should've seen Mr. Blank's face when I ordered it, man. It's like he wanted to educate me right there on the spot. You know, I was a 21-year-old kid coming where I came from and fresh out of college where we ate cheesesteaks and fries every day," Vick said.
Luckily for Vick, he didn't have to pick up the bill that night, although he said his chicken fingers and fries were under $20. He might not have understood steakhouse lingo and fine dining his rookie year, but he was all caught up by year five after inking his big contract.
"Now I'm in the position where I can take care of the bill, and I know a little bit about eating good…and I probably had about $1,000 in my pocket in case I had to pay the bill," Vick said.
Michael Vick is a millionaire and a football legend. With all of the money he made during his career, Vick could order all the chicken fingers he wants.