Mike White Displays Supreme Confidence While Putting the Jets in an Awkward Position with Zach Wilson: 'If You Ask Me, I Should've Been a First Overall Pick'
No one had a clue who Mike White was a few weeks ago. Now, he's the starting quarterback for the New York Jets. Who would've guessed? The answer is Mike White. He's oozing with confidence, heading into his third career NFL start. If he continues to play well, the Jets' No. 2 overall pick, Zach Wilson, could be in an awkward position within the quarterback room.
Mike White claims he should've been a No. 1 overall pick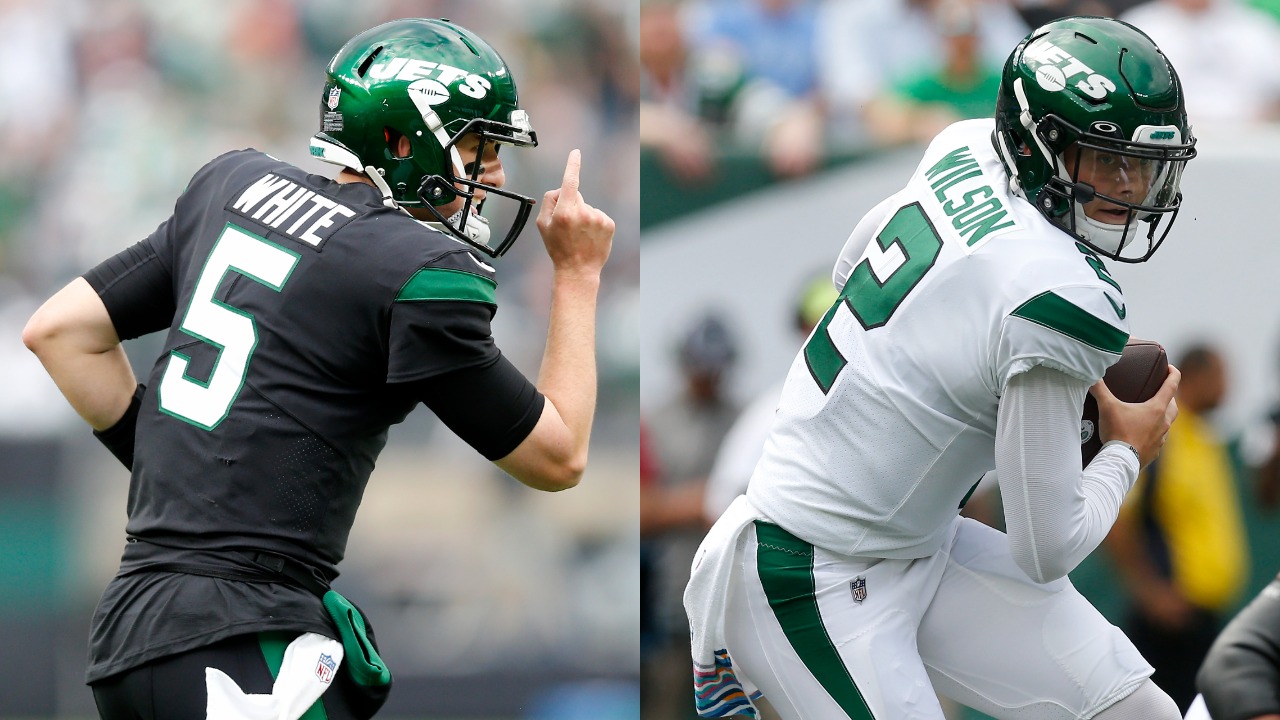 When Zach Wilson went down with a sprained MCL in the Week 7 matchup against the New England Patriots, the New York Jets turned to Mike White.
White is a former 2018 fifth-round draft pick of the Dallas Cowboys, but he never appeared in a regular-season contest before the 2021 season.
The 26-year-old has surprised people on the field in his three appearances. White has thrown for 702 yards, five touchdowns, and four interceptions while completing 72.7% of his pass attempts.
The former South Florida and Western Kentucky quarterback's confidence is growing every week. However, he knew how good he could be before the draft, even if the scouts didn't.
"I couldn't tell you. That's definitely the scouting departments across the league and what their interpretation of me is," White said per Pro Football Talk. "I have 100 percent confidence in myself. So if you ask me, I should have been a first overall pick. But that's neither here nor there. That's four years ago. I try to get my mind off that and be in the here and now and execute what my job is right now."
Mike White has been a pleasant surprise, and he's given fans of the 2-6 Jets something to actually cheer about. His performance adds even more pressure on the rookie.
Zach Wilson hasn't played like a top draft pick
The New York Jets shifted the future of their franchise in a completely different direction by trading Sam Darnold to the Carolina Panthers.
New York drafted BYU's Zach Wilson with the No. 2 overall pick in the 2021 NFL Draft. Wilson's impressive junior season with the Cougars helped his draft stock skyrocket. Still, it was unclear how he'd perform at the pro level.
Wilson's performance has been up and down when he's on the field, but mostly down. The Draper, Utah native has thrown for 1,168 yards, four touchdowns, and nine interceptions in six NFL starts. He's completed just 57.5% of his pass attempts.
As with any young quarterback, Wilson has experienced the NFL learning curve. However, his development seems to be coming along much slower than some of his counterparts.
The Jets' front office drafted Zach Wilson for a reason. Still, the 22-year-old must show improvement to solidify himself as the starting quarterback moving forward.
The Jets have an interesting dilemma at QB
Zach Wilson is clearly the New York Jets' guy, but Mike White's emergence has undoubtedly made things a little more interesting.
White hasn't been flawless, but he's been good. His presence under center has provided an energy boost to Robert Saleh's squad. Even his teammates are chanting his name in the Jets' locker room.
Despite being the No. 2 overall pick, Wilson recently admitted he could learn a lot from White's playing style.
The BYU product is still getting adjusted to the pro game. New York is hoping the signal-caller can live up to the hype, but the team also can't be blind to the fact that Mike White is playing well.
It's difficult to imagine a scenario where the Jets name Mike White the full-time starter moving forward but not because he doesn't have the skills. The front office wants the Zach Wilson experiment to pan out, so it likely wouldn't admit the mistake if that's how things turn out.
The odds will probably favor Wilson once he's fully healthy, but if White shows out against a tough Buffalo Bills defense, all bets could be off.
All stats courtesy of Pro Football Reference.