Mike Zimmer's Baffling Postgame Comments on Justin Jefferson Prove Why the Vikings Made Right Decision to Fire Him: 'Don't Care About Records'
The Minnesota Vikings finished the 2021 NFL season in the win column with a victory over the Chicago Bears in Week 18. However, ownership didn't waste any time on Black Monday. Mike Zimmer is out as head coach, as expected. His postgame comments about Justin Jefferson's quest to make history prove why the Vikings made the right decision.
The Vikings have fired Mike Zimmer
After a disappointing 8-9 finish, the Minnesota Vikings have fired head coach Mike Zimmer, per ESPN. He spent eight seasons at the helm and posted a 72-56-1 record.
While Zimmer had enjoyed a winning record since taking over the job in 2014, Minnesota finished with back-to-back losing seasons.
The 65-year-old coach did some good things during his tenure with the team. He led the Vikings to the playoffs three times and made it to the NFC Championship Game in 2017. Still, Zimmer appears to have run his course with the franchise.
Zimmer has been coaching football for a long time with 22 years of NFL experience. However, certain coaches sometimes have difficulty adapting their coaching style. That seems to be the case here. Minnesota lost eight games by one possession, proving an inability to close down the stretch.
The Vikings also fired general manager Rick Spielman, who had been with the organization since 2006. Owners Zygi and Mark Wilf are clearly looking for a fresh start to hopefully right the ship in Minnesota.
The head coach denied Justin Jefferson's chance to make history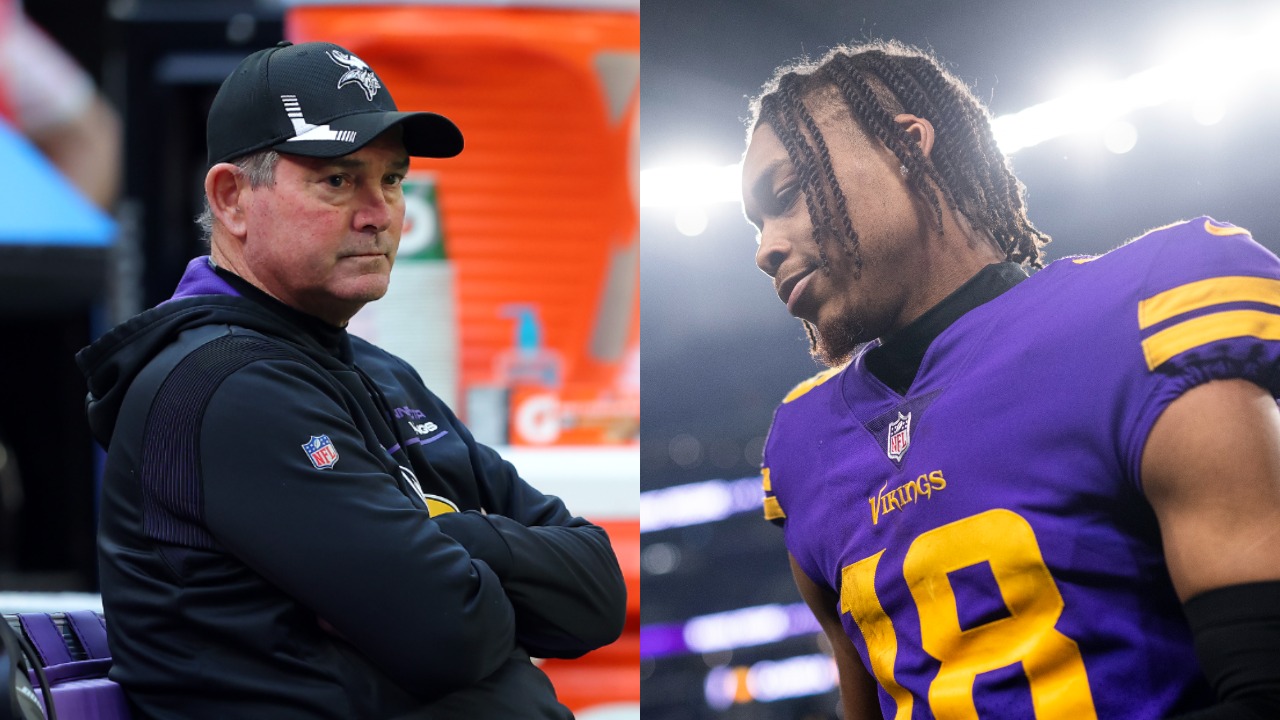 Mike Zimmer has been a well-respected coach in the NFL for some time now, but it would not be surprising at all to hear he fell out of favor with his players.
Pro Bowl wide receiver Justin Jefferson entered Week 18 needing 124 receiving yards to break the Vikings' single-season receiving record held by Randy Moss (1,632).
Minnesota had a comfortable 31-17 lead late in the fourth quarter against the Chicago Bears. Jefferson was just 17 yards away from breaking the record. Zimmer, however, appeared content with running the clock out. The Vikings ran the ball three straight times over their last two possessions before taking a knee to seal the win.
After defeating the Bears, the former head coach took the podium one final time. Reporters asked him about the potential of his star wideout setting the receiving record. Zimmer's response was less than ideal.
"Yes, I was," he said when asked if he was aware of the record. "I don't care about records. I only care about wins."
Mike Zimmer didn't seem to care at all about Justin Jefferson making history. Numbers aren't everything, but this was a meaningless game. Jefferson is one of the best players on his team, and a gesture like that could've gone a long way.
Zimmer centered his focus on getting the win, but he still ended up getting the boot. Perhaps the Vikings could opt for a player's coach to replace him.
Who could Minnesota replace Zimmer with?
Black Monday in the NFL got off to a fast start, with several coaches getting fired first thing. Matt Nagy (Chicago Bears) and Brian Flores (Miami Dolphins) also lost their jobs.
With Mike Zimmer no longer at the helm, the Minnesota Vikings' brass must now look for his replacement.
Multiple teams will be searching for a new headman, but the Vikings should have plenty of potential candidates to interview. Here are some of the names who could make sense in Minnesota:
Eric Bieniemy, Kansas City Chiefs offensive coordinator
Kellen Moore, Dallas Cowboys offensive coordinator
Brian Flores, Former Miami Dolphins head coach
Brian Daboll, Buffalo Bills offensive coordinator
Zimmer was a defensive-minded coach, so it would make sense to shift in a different direction. However, Brian Flores deserves another gig. He seemed to have fallen out of favor in Miami, but the Dolphins overachieved in 2021 and won eight of their last nine games.
It would make sense to opt for an offensive-minded coach, though. Bieniemy, Moore, and Daboll lead three of the best passing offenses in the NFL. That would bode well for Justin Jefferson and Adam Thielen. Any of those names could also probably maximize Dalvin Cook's elite talent at running back.
Minnesota has some solid pieces in place, but the front office must make the right choice to turn things around in 2022.
All stats courtesy of Pro Football Reference.