Mike Zimmer Has Definitely Had Enough of his Minnesota Vikings' Close Calls
It might be cliché to refer to professional football players as gladiators, but if you were Minnesota Vikings head coach Mike Zimmer after his team turned a 29-point laugher into yet another nailbiter, with the outcome not determined until the final play, you were probably crying out, "Are you not entertained!"
Thursday night's 36-28 victory over the Pittsburgh Steelers certainly ended with a flourish, with Ben Roethlisberger and rookie tight end Pete Freiermuth nearly connecting on a 12-yard touchdown that would have given the Steelers a chance for a game-tying two-point conversion with no time left in regulation.
All that after the Vikings led 29-0 late in the third quarter.
The Vikings are closing in on a record for close games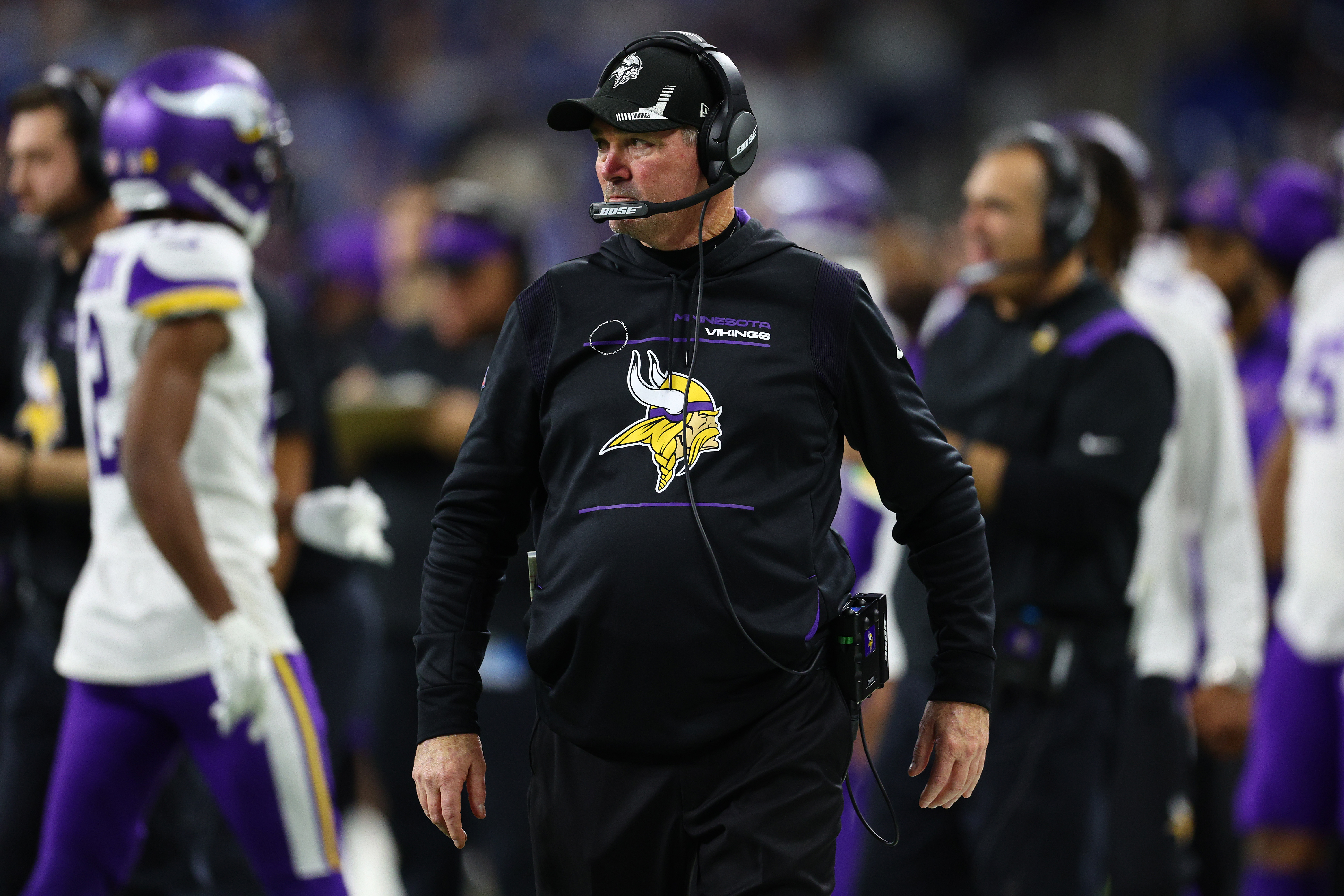 "Another fun night," Zimmer said, per Pro Football Talk. "The team that played in the first half was pretty darn good and probably could beat anybody. The team that played in the second half could get beat by anybody. We kept the TV ratings up, too, so that's good. Every week we do it."
That last line by Zimmer was not hyperbole. In 12 of 13 weeks this season, the Vikings have won by eight points or less, a string of one-possession games that is threatening to become an NFL record.
If the Vikings play three one-possession games over their final four, they will break the record of 14 games set by the New York Giants in 1994 and Baltimore Ravens in 2015.
"I really feel like if we start being more disciplined in our alignments, our techniques, where we're supposed be, and what we're supposed to do," Zimmer said, per PFT. "We don't have to make it like this. That's what I'm going to stress to our players."
The list of Vikings close games includes some painful defeats
The list of close encounters has been harrowing for the Vikings.
Three times they have gone to overtime, where twice they have lost. In their first overtime loss to the Cincinnati Bengals in Week 1, Greg Joseph sent the Vikings to overtime with a game-tying field goal with no time left in regulation — a foreshadowing of what was to come all season.
In Week 6, the Vikings beat the Carolina Panthers in overtime, but only after blowing an 11-point lead in the final five minutes. Then there was the Cooper Rush game against the Dallas Cowboys, with Amari Cooper completing the Coop-to-Coop coup de grace with 51 seconds left.
The most painful loss of all came just four days before they nearly blew the 29-point lead to the Steelers. The previous Sunday, the Vikings erased a 20-6 halftime deficit and took a 27-23 lead with 1:50 left in regulation, only to allow a touchdown pass that was completed with no time left by the previously winless Detroit Lions — emphasis on "previously."
It probably should have dawned on Seattle Seahawks fans in Week 3, a full two weeks before Russell Wilson injured his finger, that their season was in big trouble. After all, how bad do you have to be in 2021 to lose to the Vikings by 13 points?
'Here we go again' as this time, Vikings survived blowing a 29-point lead
Ironically, the Steelers have now played nine games this season that were decided within the margin on one possession.
Thursday night's outcome was probably meant to be, even if it was hard to imagine it after the way the Vikings steamrolled the Steelers to take a 23-0 halftime lead behind an epic performance by running back Dalvin Cook, who returned ahead of schedule from a shoulder injury and rushed for a franchise-record 153 yards in the first half, ending with 205 yards for the game.
But when the staggering Steelers scored 20 unanswered points in a span of five minutes around the end of the third quarter and the start of the fourth, Zimmer lamented another trip to his own miserable Groundhog Day.
"Here we go again," Zimmer said.
But for all the cliffhangers and close calls, good and bad, the 6-7 Vikings are still very much alive for a wild-card berth in the NFC, entering the weekend trailing both the San Francisco 49ers and Washington Football Team by just a half-game.
Can't get much closer than that.
Stats courtesy of Pro Football Reference