Miles Bridges Pulls Back the Curtain on Michael Jordan's Relationship With the Hornets
The Charlotte Hornets are in a special position. While the other 29 teams are playing for a regular billionaire, the Hornets have to report to Michael Jordan, the greatest basketball player of all time.
Jordan has held a stake in Charlotte's franchise for over 15 years. While he has undoubtedly played in role in some of the team's best moments, he hasn't seen nearly the amount of success he achieved during his legendary career with the Chicago Bulls.
At 59 years old, MJ isn't going to be suiting up for the 32-35 Hornets anytime soon. But he's making his impact as a leader and mentor, according to star forward Miles Bridges.
Michael Jordan bought his first ownership stake in 2006
Following a two-year run with the Washington Wizards, Jordan retired for the third and final time in 2003. Three years later, he was back in the game … as an owner.
In 2006, Jordan purchased a minority stake in the then-Charlotte Bobcats and ran their basketball operations. Four years later, he bought owner Robert Johnson's shares, making him the first former player to become a majority owner of an NBA team.
For more than a decade, His Airness has been the head honcho of the Hornets, who dropped the Bobcats moniker ahead of the 2014-15 season. Today, his official title reads "Principle Owner and Chairman." And although he eventually relinquished basketball ops duties to President and GM Mitch Kupchak, MJ still holds the ultimate power.
Though as mentioned earlier, Jordan's tenure as owner hasn't led to playoff success. Since first getting involved in 2006, Charlotte has just three playoff appearances, with the most recent showing coming in 2016. However, all three trips ended in forgettable first-round exits.
Miles Bridges reveals Jordan's interaction with him and the rest of the Hornets
There are many owners who stay in their luxury suite during games or who interact very little with their own players. Jordan, simply put, is not one of those leaders.
MJ can often be found close to the Hornets bench or even on it during certain games. The Hall of Famer usually makes a conscious effort to physically support his team. And, as forward Miles Bridges explained, he's always a simple text away.
"I got MJ's number," the 23-year-old Bridges said on The Draymond Green Show. "I text him whenever we hit a rough patch and see what he would do in this situation. Or I text him about a game and he texts right back. Like as soon as I text him, I give him five minutes, and he texts right back. It's crazy."
But like any caring boss, Jordan also wants the best from his employees. And if they fail to meet expectations, he's not afraid to let them know.
"Before the All-Star break, he came in and ripped our a**. We got beat at home by Orlando. So he's very in tune with us. It's nice to have the GOAT just being there for you at all times and just being able to rely on him as a resource like that. It's good for me."

Miles Bridges
There are some passionate owners out there, but only Michael can go into the locker room, lay into his players, and exit with even more respect than he entered with. The perks of being the GOAT …
The Hornets are in need of more Michael Jordan pep talks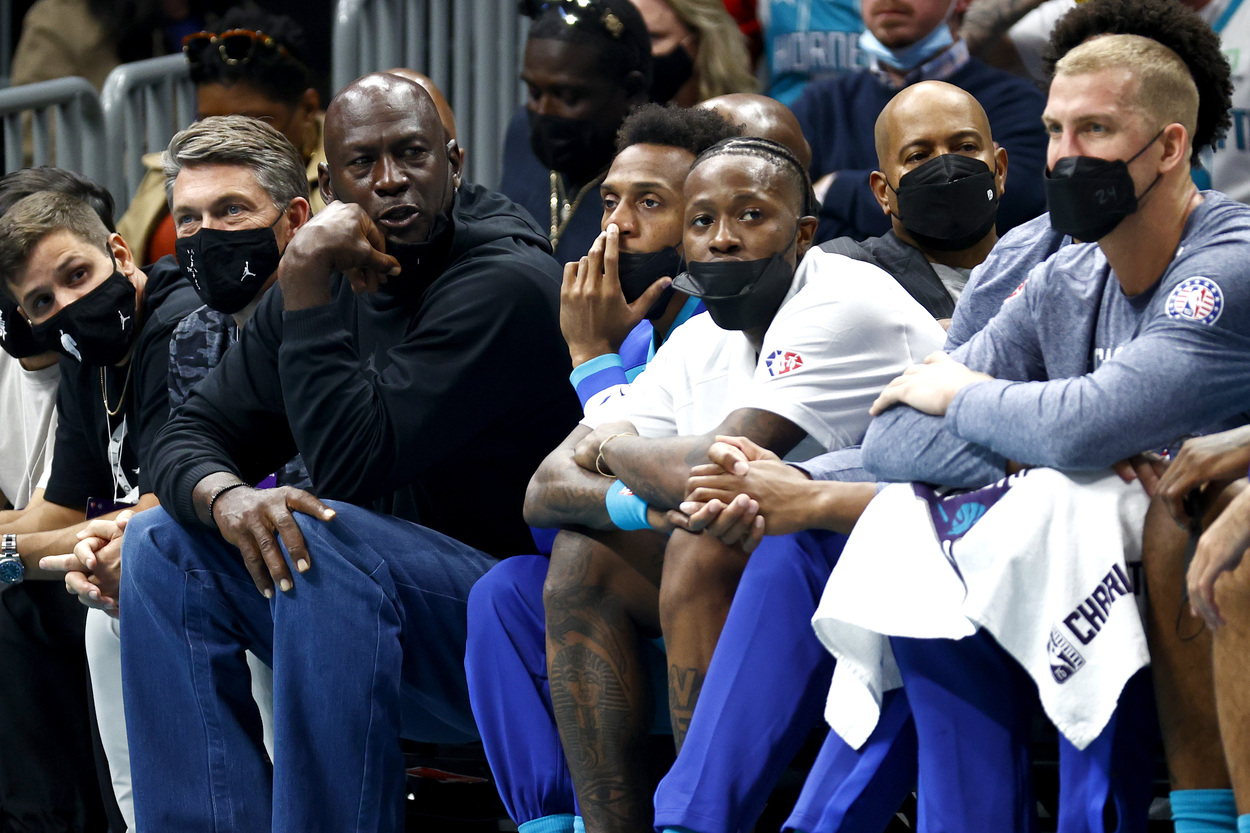 MJ's encouragement has worn off on Bridges, who didn't receive a contract extension from his boss last summer. The fourth-year pro is averaging a career-high 19.8 points, 7.1 rebounds, and 3.6 assists. But it's going to take a lot more than the high-flying forward to save a Hornets season headed toward disaster.
Since Jan. 29, Charlotte is 4-13. That means the once-promising Hornets have fallen from a comfortable playoff spot at 28-22 to a fringe spot at 32-35. And after their latest loss to the Boston Celtics on Wednesday night, their lead on a play-in spot has dwindled all the way down to 1.5 games.
Barring an absolute miracle, the Hornets will be in the play-in tournament at best, forcing them to play at least one elimination game for their lives. It's a scenario Jordan would thrive in, but one his team may very well falter in for the second year in a row.
At least MJ will be there to provide advice as needed. And the way things are going in the Queen City, they're going to need a lot of it.
All statistics courtesy of Basketball Reference.
RELATED: Michael Jordan Put One of His Charlotte Hornets Players 'in a Daze' After 1 Meeting Together: 'It Was My First Time With Him and It Was Probably the Best Meeting I've Ever Had'