Milwaukee Brewers' Former MVP Ryan Braun Is Going Out Sad
Ryan Braun had been a Milwaukee Brewers fan-favorite since 2007. After debating play during the COVID-19-shortened season, the 37-year-old left-fielder opted in for the final year of his five-year contract extension. Following his .233 average at the plate, however, the Brewers didn't utilize his 2021 mutual option contract extension. 
Braun spent his entire MLB career in Milwaukee. Now he's a free agent. Sadly, his career faced scrutiny in 2011 for a failed testosterone test, and he was suspended in the second half of 2013 for violating the MLB's drug policy. In 2014, he returned to the field, much to his fans' pleasure. Sadly, these same fans won't likely see him in a Brewers uniform again.
Ryan Braun's early MLB career
RELATED: Milwaukee Brewers Veteran Ryan Braun Is Chasing Numerous Milestones in 2020
Braun lettered in baseball in all four of his California years of high school. Although offered baseball scholarships to Stanford and UC, Berkeley, he opted to accept an academic scholarship to the University of Miami, where he played shortstop and third base. He was named to Baseball America's College All-American Team in 2005, during his junior year, according to the New York Times.
In the MLB draft the same year, Braun was drafted by the Brewers, fifth overall in the first round. He successfully played in the minors his first two years with the organization, before being called up to the majors in May 2007. He was named the Brewers' No. 2 prospect by Baseball America following a 2006 season batting average of .298 between A and AA ball. He was also awarded the Robin Yount Performance Award that year, as the Brewers Minor League Player of the Year.
Braun moves on to the majors
During his 14 years playing in the majors, Braun totaled a .296 batting average with 352 homes runs, 1,154 RBIs, and 216 stolen bases, according to Baseball-Reference. He was named six times an All-Star, 2007 National League Rookie of the Year, and 2011 NL MVP. He was also the NL home run leader in 2012 and earned a total of five Silver Slugger Awards.
But, not all of his pro career was bright and shiny. After the positive testosterone test in 2011, Braun got caught up in the Biogenesis of America scandal in 2012, reports MLB TradeRumors. The Biogenesis clinic provided performance-enhancing drugs to MLB players. Braun tested positive. By July 2013, Braun was suspended without pay for 65 regular-season games and any potential playoff games. It remains a tarnish to his career.
The end of the Braun era in Milwaukee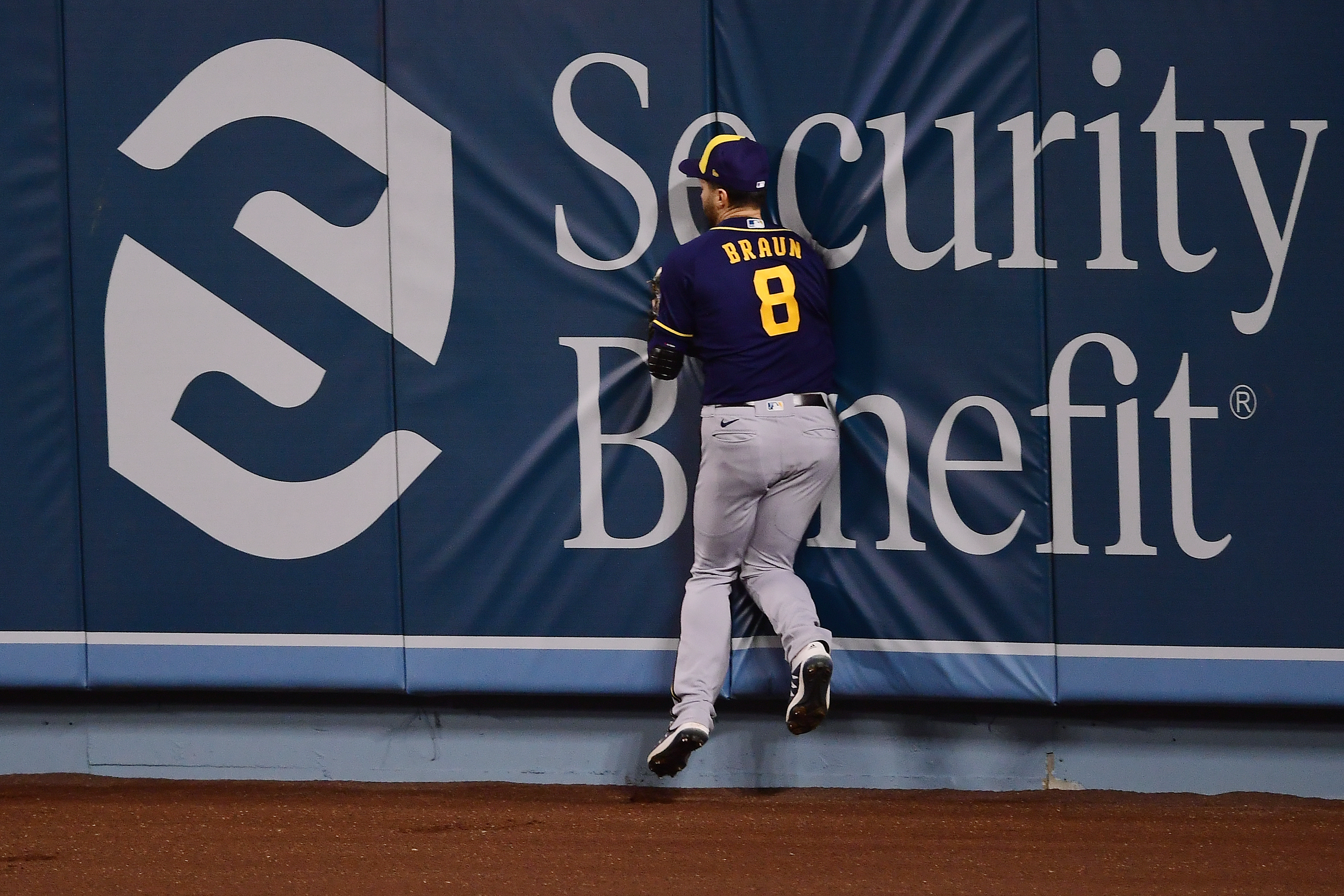 RELATED: Angels Pitcher Tyler Skaggs Tragic Death a Year Ago Changed MLB Policy in 2020
The mutual 2021 option of Braun's contract would have brought him $15 million. Opting out cost the Brewers $4 million. In 2020, his stats included a meager .233 batting average with eight home runs in 141 plate appearances.
"I've always enjoyed playing in bigger games and bigger moments," Braun said following a mid-September game this year. "It's something I've always taken a lot of pride in, but I'd say this is the first time all year that I feel like I've gotten to the point where I'm healthy and I've got my legs under me," as told in Madison.com.
In January Braun admitted that this could be his last year. By July, he said he'd like to continue into 2021. As a now-free agent, it'd most likely take an AL team looking for a DH to pick him up.  It's really rather sad. While his stats for 2020 were low, he did hit his 350th career home run in September.
"If this is the end for Braun, either in Milwaukee or in whole" CBS Sports reported, "then he'll finish with 46.7 Wins above Replacement, 352 home runs, and a 134 OPS+. He won the 2007 Rookie of the Year Award, the 2011 Most Valuable Player Award, and he made six All-Star Games."