The Milwaukee Bucks' Bench Mob Is Finally Playing Its Part
The defending NBA champion Milwaukee Bucks had an up-and-down first half of the season. The team dealt with injuries to key players, and head coach Mike Budenholzer had to manage more than a handful of different rotations.
One reason for the team's inconsistency has been its lack of production outside of the core starters. But with a trade deadline (and a few post-trade deadline) acquisitions, the bench has come alive.
It's no coincidence the Bucks have been a better team since the All-Star break. It's also no coincidence that Jordan Nwora, Jevon Carter, and Serge Ibaka have provided more production off the pine.
Those three, along with the rest of Milwaukee's bench, are going to have to continue to roll if the Bucks want to win back-to-back titles.
The Milwaukee Bucks have won six straight games
Milwaukee may have struggled until All-Star weekend, but a switch has flipped since.
After six consecutive wins, the Bucks have vaulted from fourth to second in the Eastern Conference standings. During that span, they beat the first-place Miami Heat, fourth-place Chicago Bulls (who were ahead of Milwaukee in the standings at the time), and the Phoenix Suns, who have the best record in the NBA.
The Bucks Big Three of Giannis Antetokounmpo, Khris Middleton, and Jrue Holiday have come alive during that span. Giannis is averaging 31.5 points and 13.5 rebounds; K-Mid is putting up 26.5 points a game; and Holiday 20.0.
But it hasn't been just the starters who have contributed to the team's best stretch of the season.
Milwaukee's bench has finally begun to chip in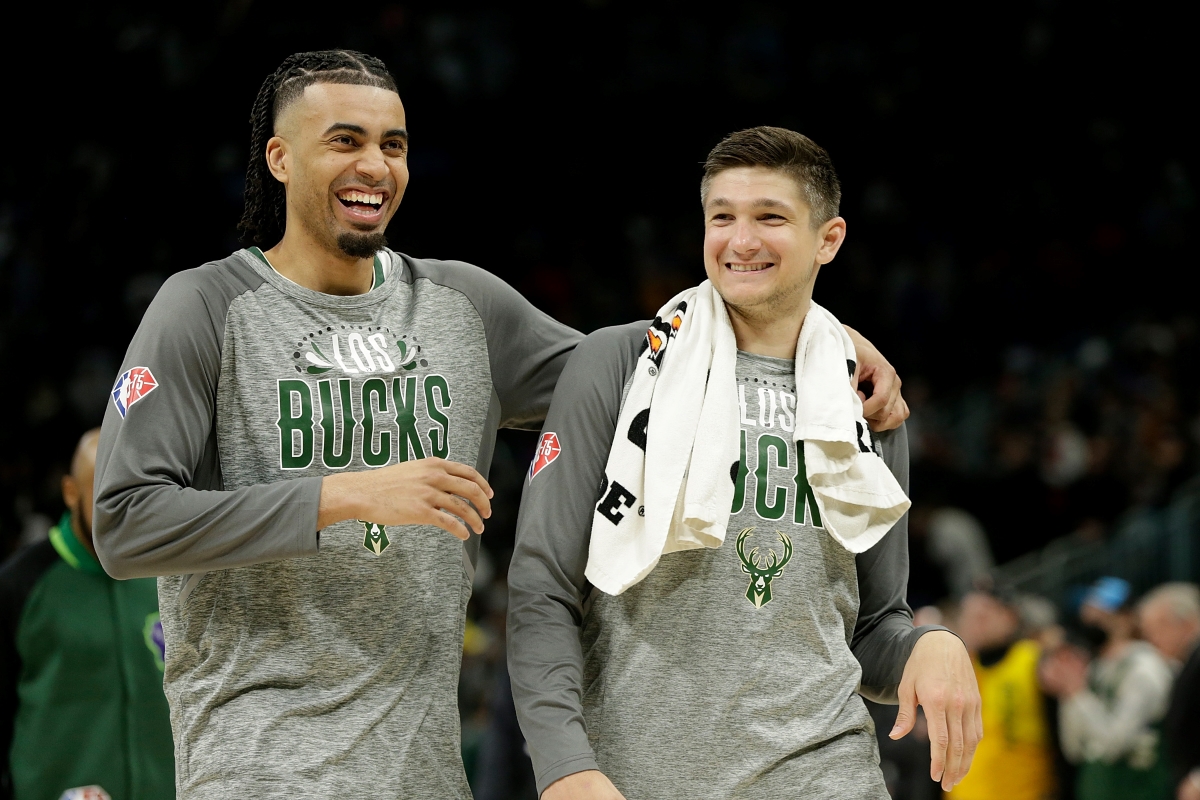 Nwora was a second-round pick in the 2020 NBA Draft. He played sparingly as a rookie but was forced into action early this season because of injuries. Still, even as Milwaukee has gotten healthier, he's remained part of Budenholzer's rotation.
The former Louisville star is averaging 7.9 points per game in nearly 20 minutes per night. The most significant difference between Nwora's rookie and sophomore seasons is his play on the defensive end, which has allowed him to stay on the floor consistently.
The Bucks traded for Ibaka on deadline day and added point guard Jevon Carter shortly after. Both have begun to get comfortable in Milwaukee and are developing into vital role players.
Nwora had a 12-point, five-rebound, five-assist performance in the win over Phoenix. Ibaka had 14 points and 14 rebounds that same afternoon.
Carter had 10 points in a win over the Charlotte Hornets and scored 12 to go along with four assists and two steals in a win over Oklahoma City.
Crucially for Carter, he's hitting 52.6% from deep on nearly three attempts per contest in seven games in the Cream City. High defensive effort and consistent shooting from three equal minutes in Bud's system, and all three are providing both right now.
Starting center Brook Lopez is beginning five-on-five action and could return soon, which could shove the league's best bargain, Bobby Portis, back to a bench role. Pat Connaughton is expected back for the playoffs as well — he served as the Bucks' sixth man before he got hurt.
At the moment, though, Nwora, Carter, and Ibaka have made a leap — a small one, but one big enough to help Milwaukee's stars work up a pre-playoff lather.
Giannis Antetokounmpo and Co. appear to be peaking at the right time
Holiday had two huge fourth quarters in those six games, including the game-winner against Miami. Antetokounmpo scored 82 points combined in the past two games.
Middleton seems to have finally found a rhythm after being hot and cold for most of the year. Jrue is back in his role as the third banana and one of the most underrated players in the league.
That trio appears to have officially flipped its playoff switch. And with the way Milwaukee's bench is coming on and the looming returns of Lopez and Connaughton, the Bucks should be heading toward the postseason and a push for consecutive championships with a deep rotation playing at full strength.
All statistics courtesy of NBA.com.
RELATED: The Milwaukee Bucks Need the Old Khris Middleton Back if They Hope to Win a Second Straight Championship