The Milwaukee Bucks Hype Train Has Been Derailed by Injuries, but There's One Player in Particular Giannis Antetokounmpo Is Begging to Rebound: 'Please Come Back'
The defending champion Milwaukee Bucks have gotten off to a … slow? terrible? awful? start. A usually dominant regular-season team is 3-4 through seven games and currently sits 11th in the Eastern Conference standings. There's little reason for panic at this point, though, as Milwaukee has a roster that looks like something on The Walking Dead. Reigning Finals MVP Giannis Antetokounmpo, however, misses one injured Buck more than anyone else.
For years, Brook Lopez has gone unnoticed as one of Milwaukee's most important players. Now more than ever, the team needs its starting center in the lineup to get back on track.
The Milwaukee Bucks could fill an infirmary with their injured players
Lopez isn't the only missing Buck. Antetokounmpo has played all seven games thus far, but the only other "regular starter" (Milwaukee has had so many injuries no one exactly knows what the actual starting lineup looks like) to play in every game is Grayson Allen.
Point guard Jrue Holiday and Lopez have missed the last three contests. Khris Middleton was a late scratch for the Bucks' game against the Utah Jazz (a 12-point loss) and is now in the league's health and safety protocols.
Sixth man and Milwaukee hero Bobby Portis has only played two games, both under a minutes restriction. Same for offseason acquisition Semi Ojeleye.
Last year's starting shooting guard, Donte DiVincenzo, hasn't played at all after an injury suffered in last year's postseason and doesn't appear close to a return.
The Bucks have had other issues early on, namely shooting and learning new defensive schemes on the fly. Fortunately for them, all those problems are fixable. And the injury bug can't bite forever.
But the team is missing Lopez perhaps more than anyone else.
Giannis Antetokounmpo is begging for his frontcourt partner to return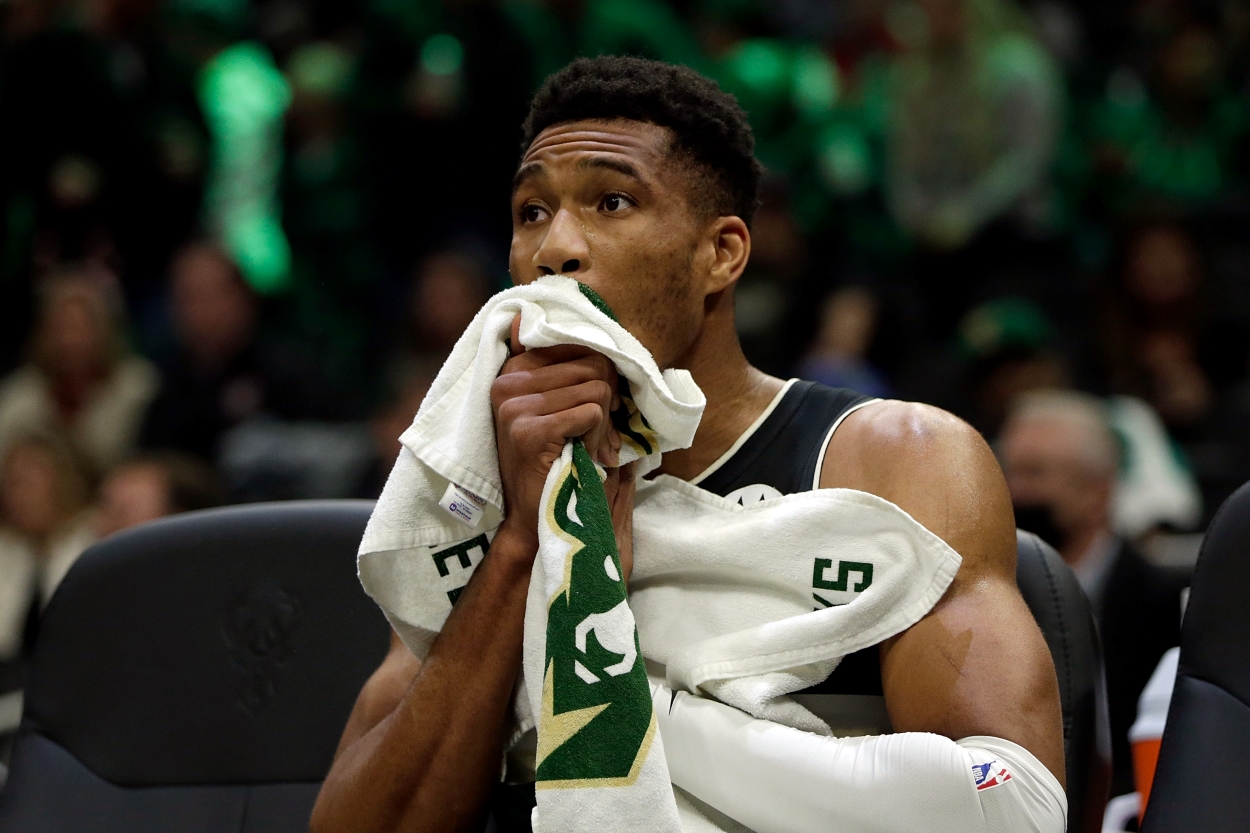 Milwaukee is 18th in the league in rebounding. Last year, the Bucks were second.
Despite having former Defensive Player of the Year Antetokounmpo for every game, the team is 24th in blocked shots. Last season, they were seventh.
The Bucks have been among the NBA's leaders in 3-point shooting since Mike Budenholzer has taken over as head coach. So far in 2021-22, they're seventh in 3-point attempts but 22nd in 3-point percentage.
Not known as a floor spacer prior to joining Milwaukee, Lopez has knocked down 34.3% of his attempts from deep since his first campaign under Bud. His shooting has been missed, but the 7-footer's ability to spread the floor and allow more open space for other shooters is also affecting the Bucks' offense.
And Giannis is begging for Lopez to come back as soon as possible, via CBSSports:
"I need Brook to get back. Brook, I don't know, maybe you are at home right now, Brook, please come back. We need you to rebound the ball, brother." 

Giannis Antetokoumpo asking Brook Lopez to rebound from his injury
Even newcomer Allen understands how vital the 14-year veteran is to what Milwaukee does, saying, "I know how good of a defender Jrue (Holiday) is, but as a guard though I kind of miss Brook's presence most. Especially with him usually holding down that back line underneath the basket, cleaning up any mistakes, a lot of the stuff in the pick-and-roll he can drop back and defend too. He takes a lot of pressure off us guards, so he's definitely missed."
There's no reason to worry yet, but the Bucks need to be healthy to win back-to-back championships
Everything in the preseason pointed toward Milwaukee having a legitimate shot at winning consecutive titles. Right now, the Bucks are struggling in multiple areas.
Lopez is key to what the team does on both ends of the floor. But outside of DiVincenzo, Milwaukee's walking wounded are expected to return fairly soon. And there's a benefit in forcing a host of role players into starting spots early in the year when wins and losses don't matter as much.
Players like Jordan Nwora, Justin Robinson, and Thanasis Antetokounmpo have all gotten legitimate run.
But eventually, the Bucks will need a healthy starting lineup if there's any hope at back-to-back championships.
All statistics courtesy of NBA.com.
RELATED: Giannis Antetokounmpo Just Gained a New NBA Admirer as Minnesota Timberwolves Guard Anthony Edwards Admits the Greek Freak Is Unguardable: 'S*** We Put Four People on Him and He'll Still Score the Ball'