The Milwaukee Bucks Got the NBA's Biggest Steal In Bobby Portis and His $5 Million Salary
After last year's NBA Championship run, Bobby Portis became a Milwaukee Bucks (and Wisconsin) legend. Giannis Antetkounmpo was the star and Khris Middleton and Jrue Holiday were the supporting cast, but Bobby found a way to outshine all of them.
He was like the fourth-best actor in a movie that won the Academy Award for best picture, but the one who still steals every scene he shows up in, even if he's swapping dialogue with Leo or Brad Pitt.
Big Bad Bobby was sure to cash in during free agency after his Sixth-Man-of-the-Year type run in Milwaukee. But somehow, the Bucks convinced Portis to stay on a significant discount to help the team try and run it back for another title.
But no one could have predicted what has turned out to be the free-agent steal of the 2021-22 season.
Bobby Portis was crucial to the Milwaukee Bucks' championship season
Portis signed with Milwaukee as a free agent prior to the 2020-21 campaign. For most of the year, he was the team's sixth man, which is a relatively odd role for a 6-foot-10 forward.
But he was as key to the Bucks as perennial award winners Jamal Crawford or Lou Williams had ever been to their teams.
Portis averaged more than 11 points and seven rebounds in 66 games, and despite his traditional stats dropping in the playoffs, he became the heart and soul of a championship-winning squad.
Bobby's energy and enthusiasm permeated throughout Fiserv Forum every time he took the floor. Any big three, key block, decisive pass — they all had Portis screaming, eyes bugging at the Milwaukee crowd, which responded in kind every time.
Wisconsin hadn't seen a basketball championship since 1971. BP helped bring one home and took fans along for the ride. He felt like a genuine Wisconsin citizen and earned the nickname The Mayor of Milwaukee.
(Seriously, look it up on Basketball Reference. Even Giannis never earned a nickname like that, and Bobby did it in one season).
But the mayor has been even more critical to the Bucks this year.
Portis's production and role with the Bucks for less than $5 million has proven to be the NBA's biggest steal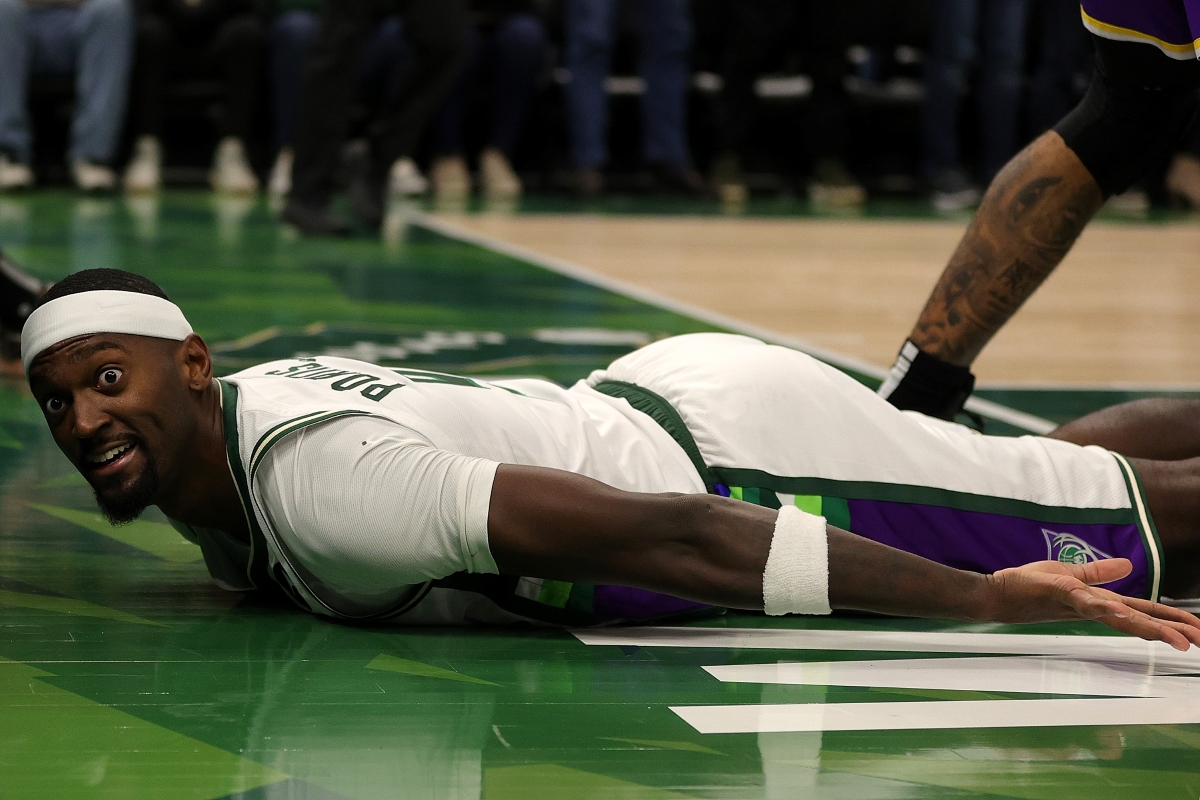 Milwaukee's starting center, Brook Lopez, injured his back after the season's first game. He eventually had surgery and has yet to return.
Lopez has been a key piece for the Bucks on both ends of the floor since he joined the organization in 2018. Giannis, Middleton, and Holiday have all missed games, but Brook's loss may be the one head coach Mike Budenholzer has felt the most.
Without Lopez, Portis has been forced into action in a bigger role than anyone — himself included — expected.
Bobby has started 49 games alongside Antetokounmpo in Milwaukee's frontcourt. He's played in a team-high 54 as one of the few Bucks constants.
He's averaging a career-high in points (15.7), rebounds (9.1), minutes (28.9), and starts. As a stretch big, he has shooting splits of 49/41/74. He ranks fourth on the defending champs in minutes, shot attempts, three-point attempts, and scoring.
He's also Milwaukee's leader in three-point percentage. He and Holiday are both hitting exactly 41.4% from deep heading into a March 4 matchup with the Chicago Bulls, but Portis has played in more games.
Before the year, the Arkansas product shocked everyone by taking a hometown discount to stay with the Bucks. Considering the statistical season and impact he had on a title-winning team, he could have gotten a decent bag.
Instead, he returned to Milwaukee on a two-year, $9 million deal that pays him $4.3 million this season. He has a player option for next year at $4.6 million.
Logically he would cash in on this season surely and sign a lucrative deal elsewhere before the 2022-23 campaign. But the relationship he's built with the Bucks franchise and the city (and state) clearly has a huge pull on Bobby.
Regardless, his level of production and importance to Milwaukee this year have made his contract the biggest steal of the 2021 offseason.
The big man will play an even more critical role in this year's title push
Portis earned every bit of his nickname last season, but he's going to need to live up to every bit of it now.
The Bucks are currently fourth in a top-heavy Eastern Conference. They're 3.5 games behind the first-place Miami Heat, whom Milwaukee beat on March 2 (with 15 points, seven rebounds, two steals, and two blocks from Bobby in nearly 32 minutes).
There's still no timetable for Lopez's return, so Portis will remain entrenched in the starting lineup alongside Giannis, and The Mayor of Milwaukee will have to continue to play the best basketball of his career if he wants to bring his adopted city another Larry O'Brien Trophy.
All statistics courtesy of Basketball Reference.
RELATED: The Milwaukee Bucks Need the Old Khris Middleton Back if They Hope to Win a Second Straight Championship