Milwaukee Bucks Point Guard Jrue Holiday Just Put the Basketball World on Notice by Claiming the Franchise Has Unearthed Another Hidden Gem: 'He's Like a Younger Khris (Middleton)'
Last year at this time, the question surrounding the Milwaukee Bucks and then-reigning MVP Giannis Anteotkounmpo was whether or not their generational big man had enough help. Khris Middleton was Milwaukee's second-best player — but was he good enough to be the second-best player on a championship team? And was there another player on the roster who could round out a Big Three?
Eventually, general manager Jon Horst went out and acquired Jrue Holiday from the New Orleans Pelicans, and things worked out swimmingly as Milwaukee's three best players led the team to its first championship in 50 years.
Now, however, it seems like the franchise has discovered another hidden gem in second-year forward Jordan Nwora who could help the Bucks established trio on their quest for back-to-back championships.
Jordan Nwora is in the midst of a breakout season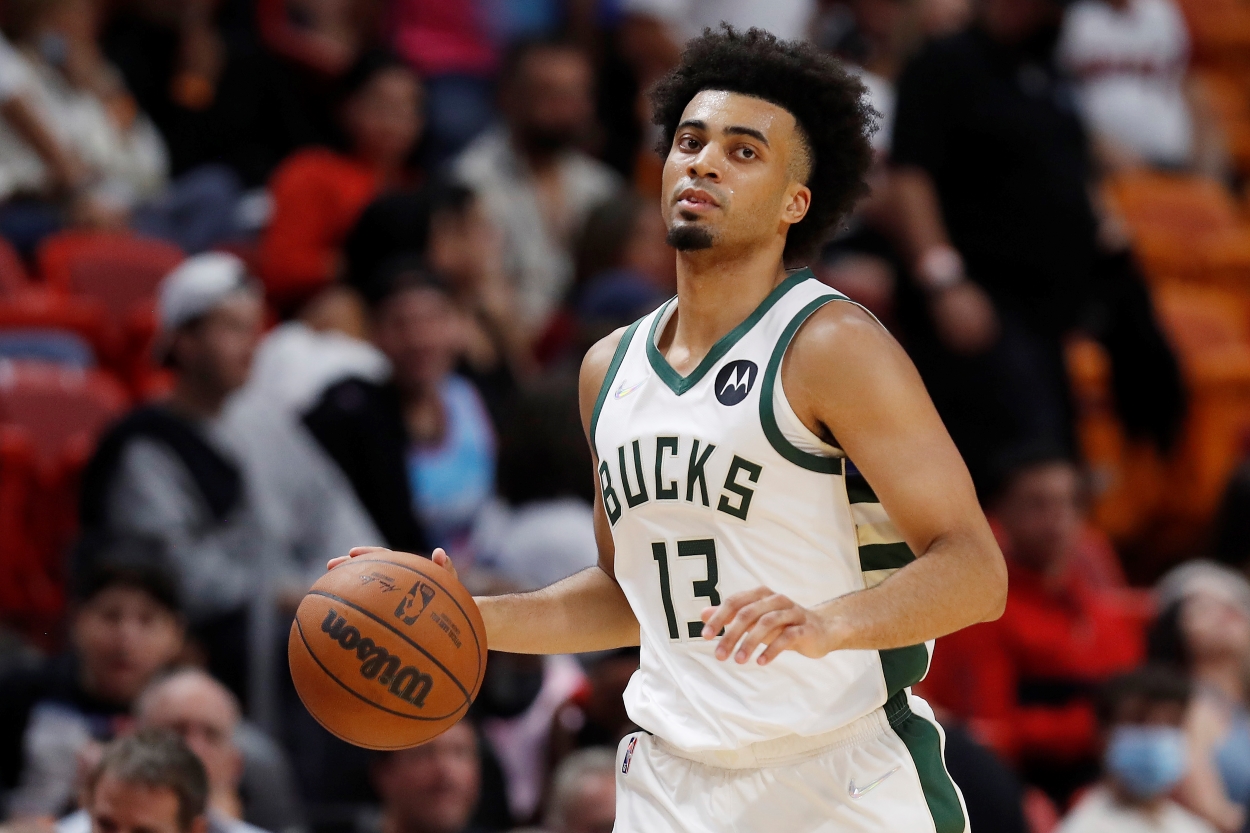 Nwora was a second-round pick of the Bucks, chosen at No. 45 overall in the 2020 NBA Draft. He was a productive player at Louisville who averaged 18.0 points and 7.7 rebounds with a 44.0/40.2/81.3 slash line his final season with the Cardinals.
But Nwora had the all-too-familiar knock of being an "older" player as he entered the draft at 22 years of age. There were also concerns surrounding his athleticism, which led to worries about his ability to create his own shot and defend.
The 6-foot-8 wing only played in 30 games his rookie season and averaged just 9.1 minutes.
Nwora has already flipped the script in his second year, though. He's averaging 23.4 minutes through Milwaukee's first five games and is scoring 10.2 points a night on 38.5% shooting from three.
His early contributions have not gone unnoticed, either.
Jrue Holiday compared Nwora to two-time all-star Khris Middleton
The second-year sharpshooter has gotten compliments from multiple Bucks teammates.
Said Antetokounmpo via The Milwaukee Bucks (h/t Behind the Buck Pass), "He's playing great. He's knocking down shots. … I'm happy he's in the rotation."
It was Holiday, however, that Nwora garnered the biggest compliments from:
"Jordan is my favorite player. He's going to be really good in this league. … He's like a younger Khris."

Jrue Holiday on Jordan Nwora
The comparisons to Middleton are certainly there. He and Nwora were both second-round picks who had slow starts to their careers as they adjusted to the NBA game. Statistically, they're on a similar path as well.
Nwora rookie year: 5.7 points, 2.0 rebounds, 45.9% shooting.
Middleton rookie year: 6.1 points, 1.9 rebounds, 44.0% shooting.
Nwora year two (through five games): 10.2 points, 5.2 rebounds, 1.6 assists, 38.5% shooting from three
Middleton year two: 12.1 points, 3.8 rebounds, 2.1 assists, 41.4% shooting from three
Nwora's route to legitimate playing time this season came on defense, and he's shown improvement on that end. The 23-year-old looks far more comfortable and has made multiple flash plays on the backside of rotations, like when he rose up and stuffed Kevin Durant at the rim in the season opener against the Brooklyn Nets.
Nwora gives the Milwaukee Bucks another scoring threat outside of its Big Three
The Bucks have an underrated group of rotation guards and wings. Pat Connaughton was a pivotal part of the team's title run last season, and Grayson Allen has started all five games at the shooting guard spot. Donte DiVincenzo will return from injury later this year, and Milwaukee also has Rodney Hood if needed — all in addition to Middleton.
Nwora gives the team a different look, though, as a 6-8, 225-pound wing. He fits the three-and-D archetype, and if he continues to play the way he has to start the year, he gives the Bucks a sort of "embarrassment of riches" on the perimeter.
As if the defending NBA champions and their entrenched Big Three needed any more help, it seems like Milwaukee has unearthed another hidden gem to contribute on the way to a possible repeat.
All statistics courtesy of Basketball Reference.
RELATED: Draymond Green, Khris Middleton, and the Second-Round NBA Draft Picks That Have Been Most Valuable to Winning Championships