Milwaukee Bucks' Loss at Houston Shows More NBA Playoffs Heartbreak Could Be Coming
The Milwaukee Bucks likely will not finish with the best record in the NBA this season. That's significant because they did so the last two years before struggling in the playoffs. For a team as good as the Bucks, should a late-season game be a barometer of much? Ordinarily no, but Thursday night's loss to the Houston Rockets had so many red flags flying it's a surprise FEMA wasn't contacted.
The Bucks lost to the Rockets 143-136, the most points Milwaukee has surrendered since losing to the Chicago Bulls 151-135 on April 14, 2008. So yes, it's been a while. Two-time reigning NBA Most Valuable Player Giannis Antetokounmpo barely played. He aggravated a sprained right ankle less than a minute into the game.
But if you rely so much on one player that you can't handle the NBA's worst team, it has to cause concern.
Milwaukee Bucks are a complicated team to figure out
So many of the standard metrics say the Milwaukee Bucks are a great team. They are in the NBA's top 10 in offensive and defensive efficiency and second in net rating. They average 116.2 points per 100 possessions offensively (fifth) and allow just 110.0 defensively (seventh), working out to a net of plus-6.2 points (second).
That's why Thursday was such a shocker. Even without Antetokounmpo, the Bucks should never get lit up for 143 points by a Houston team that ranks in the bottom five in offensive efficiency (27th overall at 106.7). That the Rockets are 25th in defensive rating (113.3) merely adds to the mystery.
On Wednesday, the NBA fined Rockets guard Kevin Porter Jr. $50,000, per ESPN, after he violated the league's health and safety protocols related to COVID-19 with a trip to a Miami strip club. On Thursday, he stripped down the Bucks to the tune of a career-high 50 points (one for every thousand he was fined in a coincidental twist). His 32 second-half points were more than his previous career high of 30. He also had 11 assists.
Porter, however, had help.
Christian Wood dropped 31 points on the Bucks, and Kelly Olynyk went for 24 points and 13 rebounds. Khris Middleton (33 points) and Bryn Forbes did what they could for Milwaukee at the offensive end, but Houston rang up 78 points in the second half to come back from an early 17-point deficit.
Scrutiny on the Bucks is immense
Milwaukee had the NBA's best record in 2018–19 and led the Toronto Raptors 2–0 in the Eastern Conference Finals before the roof caved in. Toronto won four straight games and went on to win the franchise's first championship. Last season, the Bucks never got things put back together when play resumed in late July after a four-month-long shutdown caused by the coronavirus pandemic.
They won just three of eight games in the bubble to close out the irregular regular season of 2019–20. Then the Miami Heat blasted them over just five games in the conference semifinals. This season, the Bucks are 38-24 with 10 games remaining on the virus-shortened schedule. That record is good for third in the Eastern Conference, which means the Bucks might not have home-court advantage beyond the first round.
Barring anything jarring over the last 10 games, the Bucks are likely locked in at No. 3. They trail the Philadelphia 76ers by three games for second place and are 3.5 games in front of the fourth-place New York Knicks (who have won 10 of their last 11). Milwaukee's closing schedule isn't terribly daunting, though it does host the East-leading Brooklyn Nets on May 2 and May 4.
The Bucks also play the Heat in the next-to-last game. Miami is in a battle with the Boston Celtics for the last guaranteed playoff spot outside of the play-in tournament.
Can the Milwaukee Bucks make it fit before the playoffs?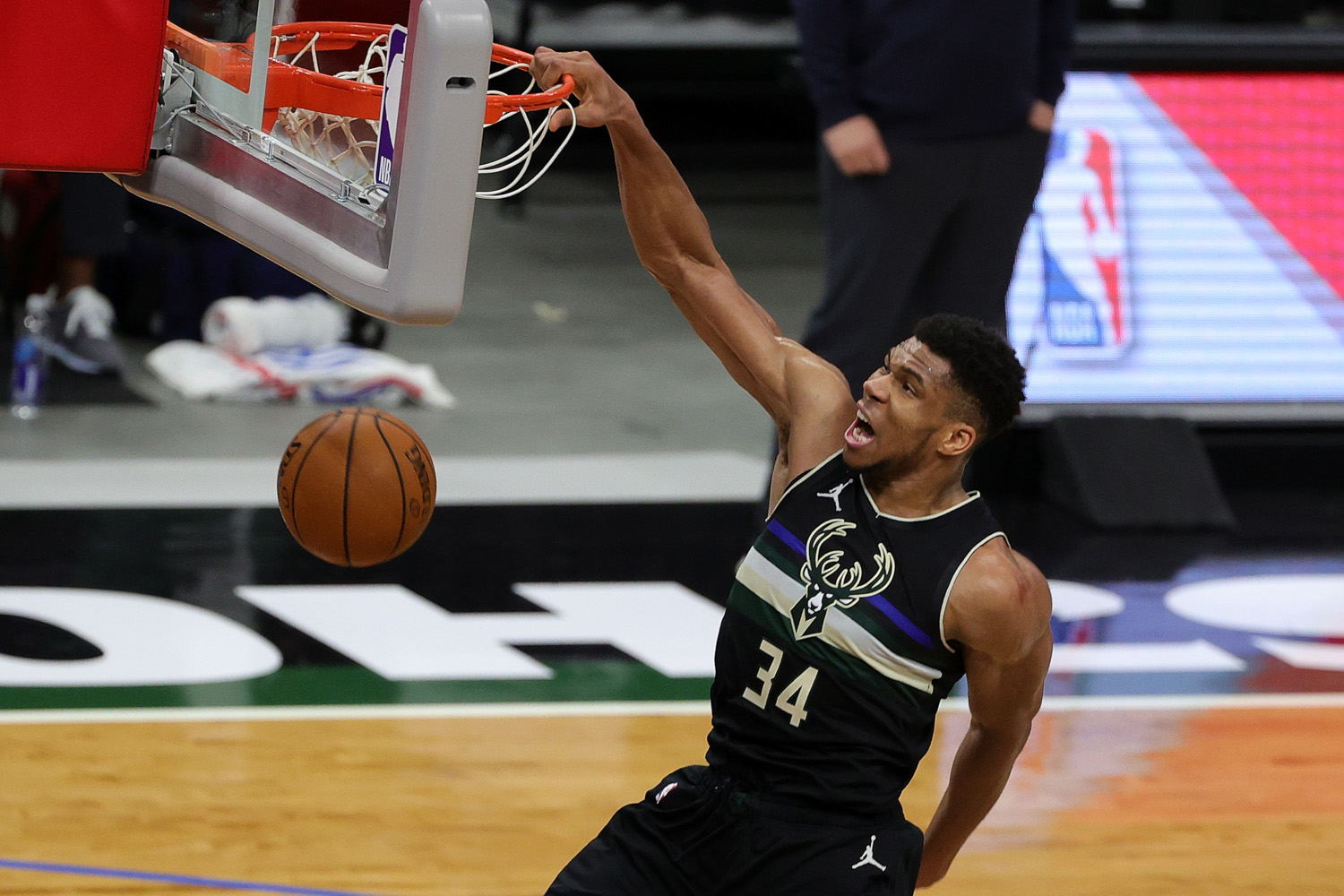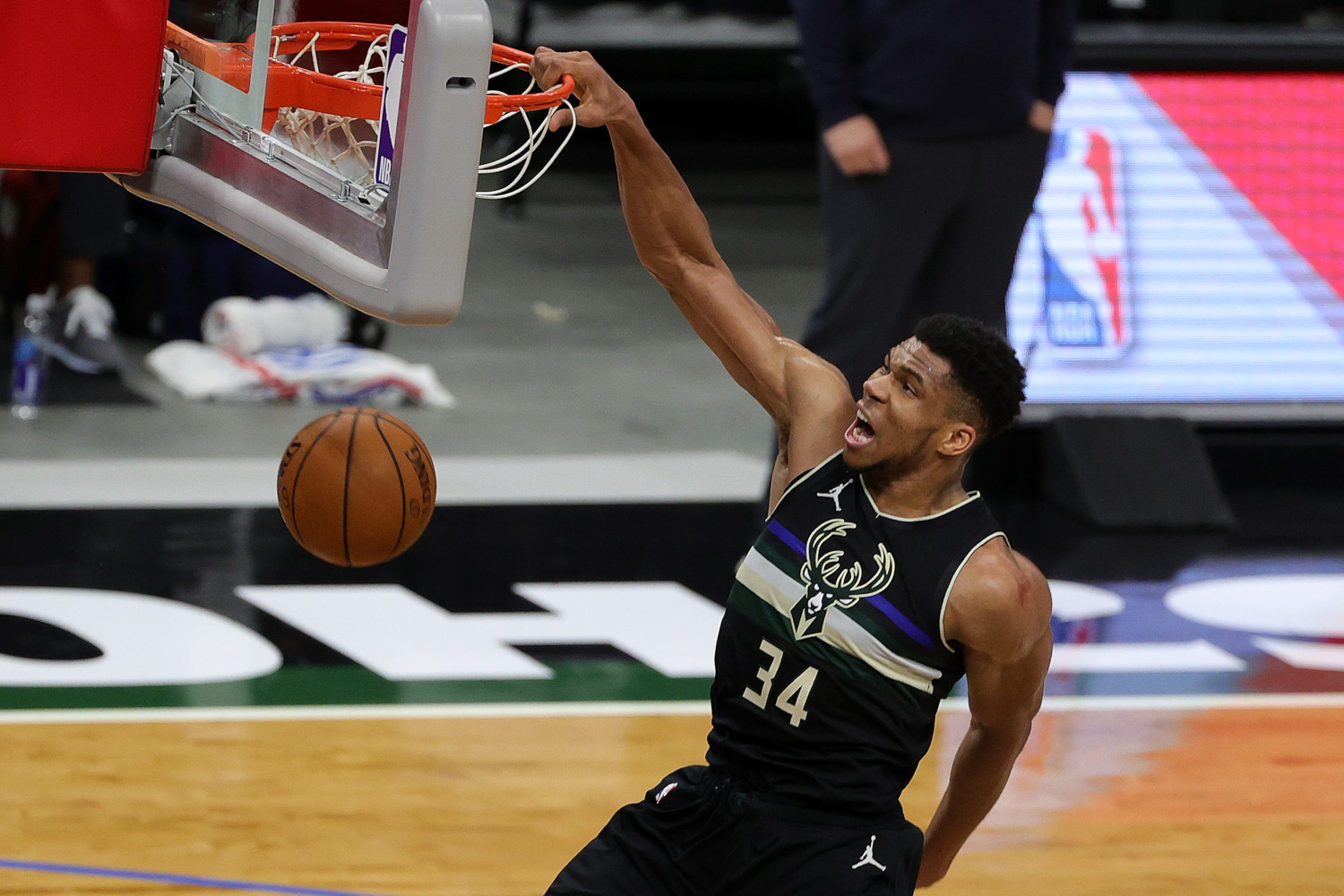 Antetokounmpo averages 28.0 points, 11.2 rebounds and 5.9 assists in just 33.0 minutes per game. Middleton averages a shade over 20 points per night. Newcomer Jrue Holiday is putting up 17.3 points per game while shooting better than he ever has in his long career (39.1 percent from 3-point range and 50.7 percent overall). Throw in Holiday's top-tier defense and this is a scary-good team … or it should be.
The Bucks also added a tough small-ball defensive presence when they got P.J. Tucker from the Rockets before the trade deadline. The brawny 35-year-old doesn't produce much in terms of numbers (3.0 points and 3.3 rebounds per game in 11 appearances with the Bucks), but he is 9-of-20 from deep since the trade and can guard bigs and wings.
Consistency has been the missing link in Milwaukee. The Bucks won eight straight games from March 4– 24, have a pair of five-game runs, and have won at least three in a row four other times. Conversely, they also own a five-game losing streak (Feb. 10–18) and two three-game skids.
To break through and challenge for the franchise's first NBA championship in 50 years, the Bucks will need a consistent effort. The Rockets dropping 140-plus in a game that is meaningless for them is a sign they aren't there yet.