The Milwaukee Bucks Are Nailing the Roster-Building Blueprint the Los Angeles Lakers Are Spectacularly Failing to Pull Off
The Los Angeles Lakers went into last offseason with the plan of rebuilding their roster. LA did just that, keeping only three players from the 2020-21 season. The defending champion Milwaukee Bucks had to make some roster adjustments of their own and appeared to follow a similar blueprint.
Both teams made a big splash or two and then filled in around the fringes. But while LA's signings haven't made an impact, the Bucks have received significant contributions from several of their acquisitions.
And it's paying off in the win column.
The Bucks and Lakers have had drastically different starts to the regular season
The Lakers are struggling to win games early in the year as they sit at 12-12 in the Western Conference. Milwaukee, meanwhile, has recovered from a plague of injuries to jump to third in the East.
An abdominal injury, a suspension, and a positive COVID test have kept LeBron James out of half of LA's games. Giannis Antetokounmpo, on the other hand, has missed only three games with injuries.
The disparity in games missed by both teams' MVPs certainly plays a role in their squads' success.
But it goes deeper than that.
The offseason decisions LA made to fill in its roster around the Big Three of LeBron, Anthony Davis, and Russell Westbrook haven't gone the way the team hoped.
On the other hand, Milwaukee has gotten important contributions from a few of the players they brought in during the summer. They might have also made one of the most significant under-the-radar moves in the league barely more than a week ago.
The success of the Bucks' signings has helped them win nine of their last 10 games. On the other hand, the Lakers are getting a minimal amount of production for a good chunk of the players they acquired.
The Milwaukee Bucks' roster moves have simply worked out better than those of the Los Angeles Lakers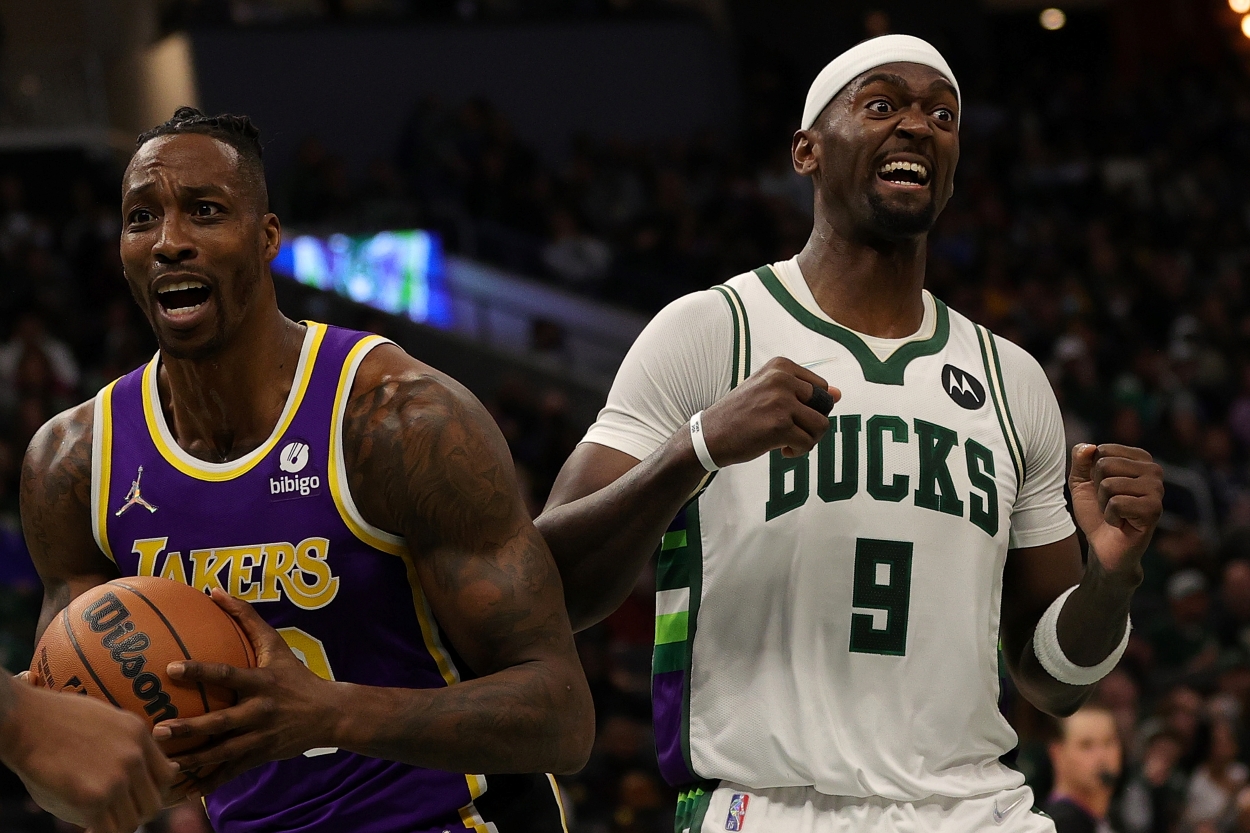 Last summer, the Bucks acquired guard Grayson Allen in a trade with the Memphis Grizzlies. They also re-signed Bobby Portis, a key cog on their 2021 championship team.
Milwaukee also brought back George Hill on a two-year, $8 million deal; signed Rodney Hood to a one-year, $2.2 million contract; and brought in Semi Ojeleye on a one-year, $1.8 million deal.
The Bucks recently added former All-Star DeMarcus Cousins on a non-guaranteed deal to go along with veteran guard and ex-Milwaukee starter Wes Matthews, who also just came in on a non-guaranteed contract.
The Lakers made the biggest splash of the offseason when they acquired Westbrook for Kyle Kuzma, Kentavious Caldwell-Pope, and Montrezl Harrell.
LA let Alex Caruso walk (who's now playing a crucial role on a 16-8 Chicago Bulls team) and signed Carmelo Anthony, Trevor Ariza, Wayne Ellington, Dwight Howard, DeAndre Jordan, and Rajon Rondo to veteran minimum deals.
The organization also added Kendrick Nunn on a one-year, $5 million deal and brought in Kent Bazemore and Malik Monk. Nunn and Ariza have yet to play this year.
In terms of production, Allen has been a revelation for the Bucks. The fourth-year guard has started 23 of Milwaukee's 24 games and is averaging 13.8 points on 42.6% shooting from three. Portis has continued his role with the franchise as a sixth man and occasional starter.
The former Arkansas big man is the team's third-leading scorer and is fifth in minutes. Hill is averaging 7.7 points and is sixth in minutes played. Even Boogie, who's played two games, has contributed with seven points and four rebounds in a win over Charlotte and 11 points and five rebounds in a win over Miami.
Anthony has been one of the NBA's biggest surprises in the early portion of the year, as he's scoring 14.3 points per game on 42.9% shooting from deep. Monk is averaging 10.3 points on 36.8% shooting from three. The rest of the veterans the Lakers brought in have been underwhelming, though, at least to this point.
Jordan and Howard are providing a total of 10 points and 11.3 rebounds per game. Rondo, Bazemore, and Ellington are combining for 14.5 points a night.
The Bucks have gotten production from their offseason acquisitions, while LA — who needs it more than Milwaukee with its injury situation — has not.
Even when LeBron returns, the Lakers need more help
Milwaukee seems to have gotten back on track as Khris Middleton and Jrue Holiday are once again healthy. Its depth pieces have also contributed where the Bucks need it.
Davis and Westbrook have been forced to carry most of the load with James out. LBJ is so good at making those around him better that the Lakers' role players should improve when he comes back. Still, a host of those veteran signings LA has made have yet to work out.
LeBron is 36 years old and has missed 12 out of 24 games this season. Eventually, his age and the number of minutes he's played during his career are going to catch up to him. Maybe that doesn't happen this year, but the signs seem to be pointing in that direction.
Fixing the Lakers' problem is simple. They decided to fill the roster with veteran experience, so those veterans need to step up and help LA's Big Three get back on the path to a championship.
All statistics courtesy of NBA.com.