The Milwaukee Bucks Need the Old Khris Middleton Back if They Hope to Win a Second Straight Championship
Khris Middleton was an underrated piece of last year's Milwaukee Bucks NBA Championship run. Khash came through with clutch buckets and big games when the team needed it most. When Giannis Antetokounmpo was injured, it was Khris who closed out the Atlanta Hawks, and it was Khris who kept Milwaukee in the series against Kevin Durant and the Brooklyn Nets.
But then again, Middleton has always been underrated. He's gone from a second-round pick to a throw-in in a trade to now three-time NBA All-Star.
However, the 30-year-old is in the midst of a down year compared to recent seasons. The Bucks will need the old K-Mid back if they have any hopes of repeating as champions.
The Milwaukee Bucks remain in the hunt for the East's top seed
The Bucks are sixth in the NBA in scoring, so it's not like Middleton's struggles have shut down the offense. Having a two-time MVP cures a lot of ills.
And Khris was named to his third All-Star team, but there's a real argument to be made that his spot should have gone to teammate Jrue Holiday. Holiday remains one of the best, if not the best, defensive guards in the NBA.
He's grabbing 1.5 steals per game and showed on the biggest stage in last year's Finals how much of a difference his play on that end of the floor can make. Jrue is averaging a career-high in field-goal percentage, three-point percentage, and effective field-goal percentage.
He also leads the Bucks in minutes as the only real point guard on the roster who's producing much of anything. George Hill is nominally Milwaukee's backup at that position but is currently injured and is having one of the worst shooting seasons of his career.
Still, Giannis and Co. went into the All-Star break at 36-24, good for fifth in the East. They're tied with the Philadelphia 76ers and Cleveland Cavaliers 2.5 games behind the Miami Heat and Chicago Bulls.
But getting a boost from Middleton down the stretch would bring Milwaukee to a different level.
Khris Middleton is having one of the most inefficient seasons of his career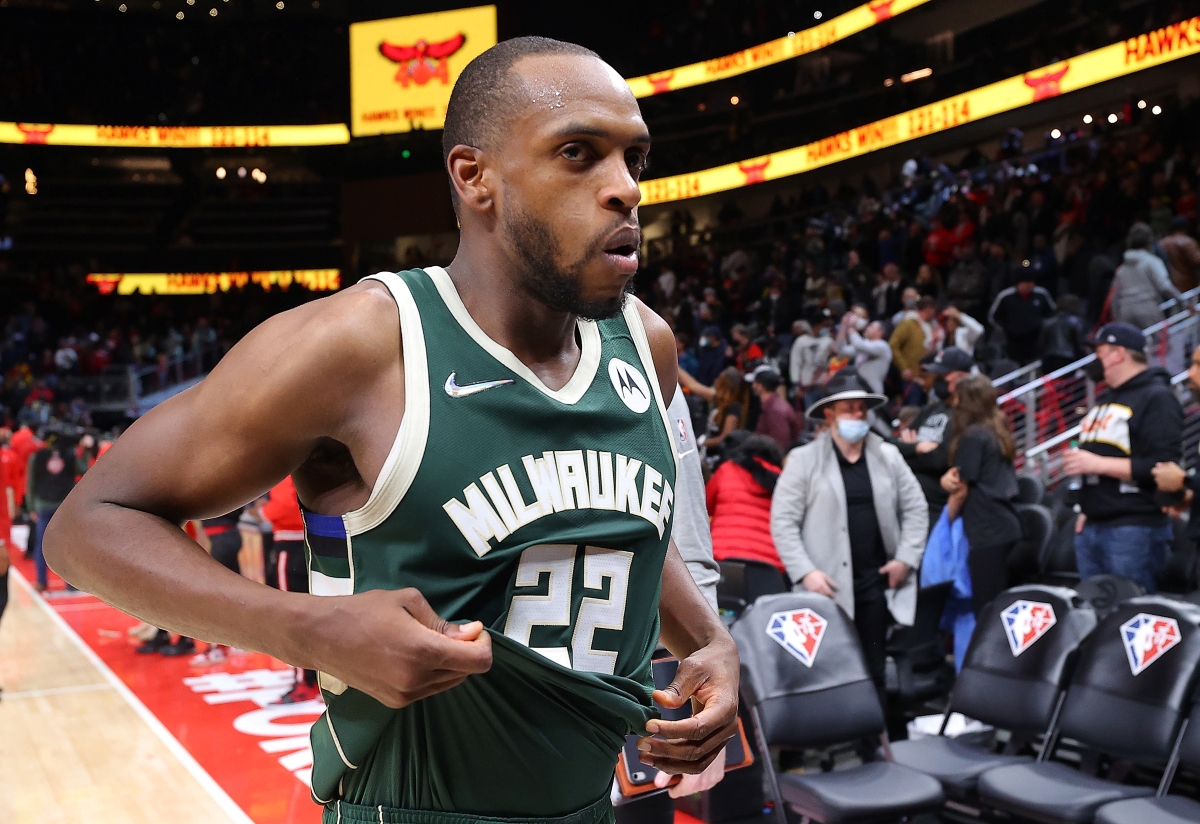 Removing Khris's rookie season with the Detroit Pistons when he played in 27 total games, he's a 45.9% shooter for his career. In eight seasons, he's averaging 39.2% on threes, 49.5% on twos, has an effective field-goal percentage of 52.8, and is an 88.0% free-throw shooter.
Through 48 games in 2021-22, though, Middleton is shooting a career-low 43.8% from the field and 35.6% from three (also a career-low with the exception of his rookie season when he took fewer than two per game).
His effective field-goal percentage is lower than it's been since 2015-16. Perhaps most worrisome, however, is the fact that he's turning the ball over a career-high 2.9 times per game.
Khash isn't having a bad season, but his inefficiency and turnover rate are problematic. Maybe that doesn't make a massive difference in the regular season, but when win-or-go-home playoff series begin, Milwaukee needs the Middleton of seasons past, not the one they're getting now.
The Bucks can't win back-to-back titles without Khris
Giannis deservedly gets most of the praise for leading the franchise to its first championship since Lew Alcindor did it in 1971.
But Milwaukee wouldn't have been in the Finals at all — and wouldn't have gotten past Durant and the Nets in the East semifinals — without Middleton.
Khris averaged 23.6 points, 7.6 rebounds, 5.1 assists, and 1.3 steals on 39.0% shooting from three in last year's postseason, but his clutch moments were khlutch.
Down 2-0 to Brooklyn, Middleton had a game-high 35 points in an 86-83 Bucks win. Down 3-2 with the season on the line, K-Mid had a career playoff-high 38 to send the series to a Game 7 and then hit the game-winner in overtime of said Game 7 to send Milwaukee to the Eastern Conference Finals.
He had a game-high 32 points in Game 6 against the Atlanta Hawks to send the Bucks to the Finals — including 16 straight points in the third quarter. He went on to average 24 points, 6.3 rebounds, 5.3 assists, and 1.5 steals against the Phoenix Suns.
Khris Middleton played a critical role in helping the Bucks win last year's NBA Championship. Milwaukee isn't going back-to-back if he can't round back into form in time this season.
All statistics courtesy of Basketball Reference.
RELATED: Giannis Antetokounmpo's Latest Offensive Evolution Is Hidden Inside His 50-Point Performance Against the Pacers, and It's Going to Be a Problem for the NBA