The Milwaukee Bucks are Reconstructing Their Bench and Loading up for a Second Consecutive NBA Title Run
The Milwaukee Bucks won their first championship in 50 years, coming back from a 2-0 deficit and winning four straight games to beat the Phoenix Suns in the 2021 NBA Finals.
The Finals MVP is still celebrating. The other two-thirds of Milwaukee's star trio just made history while winning a gold medal at the 2020 Tokyo Olympics.
But Giannis Anteotkounmpo, Jrue Holiday, and Khris Middleton shouldered too much of the Bucks' load during their title run. Milwaukee played essentially a seven-man rotation as the playoffs wore on.
General Manager Jon Horst has stayed busy in the early part of free agency, though, reconstructing the Bucks' bench as the franchise attempts to win back-to-back NBA titles.
Antetokounmpo, Middleton, and Holiday carried the Milwaukee Bucks over the finish line in their NBA title run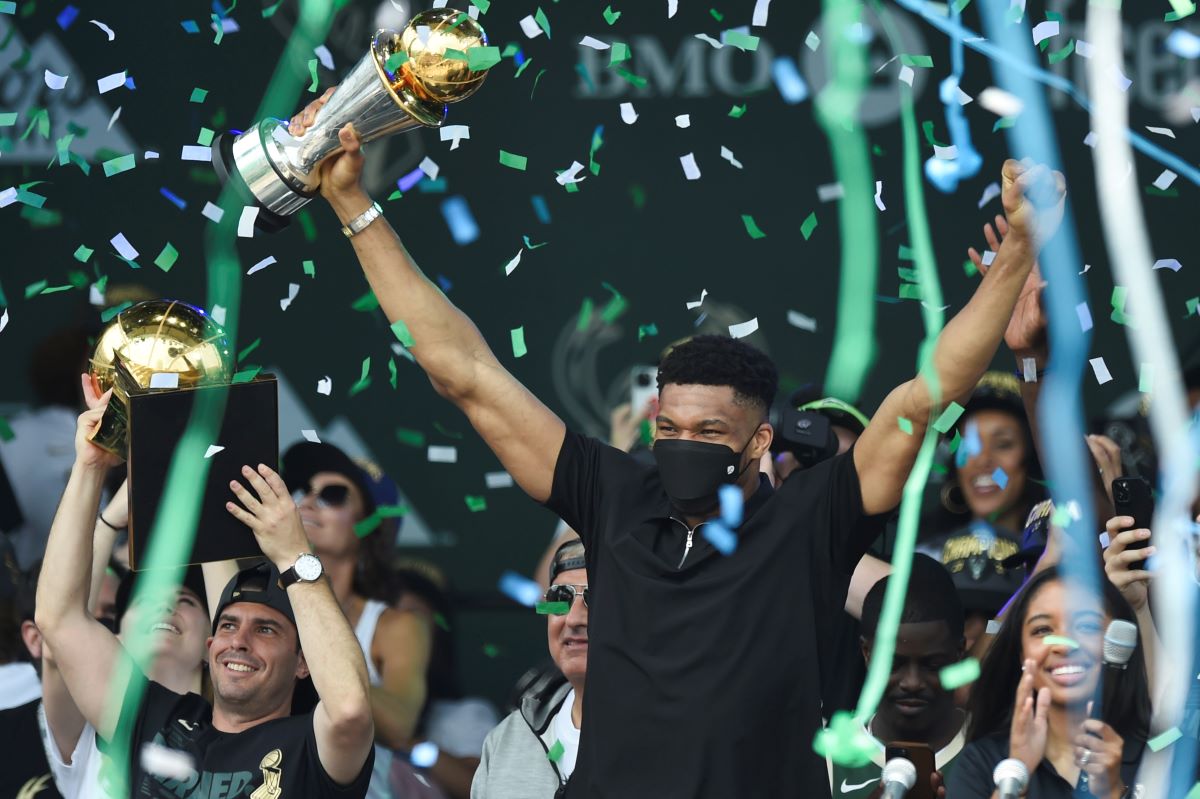 Antetokoumpo was named NBA Finals MVP after averaging 35.2 points, 13.2 rebounds, 5.0 assists, 1.8 steals, and 1.2 blocks in nearly 40 minutes per game. Middleton scored 24 points per game in more minutes (42.1) than Antetokounmpo. Holiday added 16.7 points, 9.3 assists, and 2.2 steals in 41.7 minutes a game.
Milwaukee's three best players scored 68% of the Bucks' points in the finals.
Pat Connaughton became the sixth man as the team got deeper into the playoffs. He averaged exactly 30 minutes per game off the bench against the Suns. Bobby Portis played 16 minutes per game as the only member of the Bucks' bench to see significant playing time in the finals. The two combined for 17.5 points per game in their 46 minutes.
Milwaukee is reconstructing its bench, adding more shooting and depth around Antetokounmpo
The Bucks re-signed Portis to a two-year, $9 million contract, according to Spotrac. George Hill is also returning to the Cream City after toiling away in obscurity for most of last season. Hill was part of the package Milwaukee sent to New Orleans to acquire Holiday, was re-routed to Oklahoma City, and eventually ended up in Philadelphia as part of the 76ers' playoff run. Hill shot about 39% from deep during his 2021 odyssey but led the NBA in three-point percentage with the Bucks in 2019-20. The 13-year veteran knows Milwaukee's system and most of its personnel.
Horst made a relatively significant trade as well, acquiring guard Grayson Allen from Memphis. Last year with the Grizzlies, Allen averaged career highs in minutes, points, rebounds, assists, and steals while shooting 39.1 percent from deep on 5.5 attempts per game, also a career-high.
The Bucks also added veteran guard Rodney Hood on a one-year deal. Hood played in 55 games last season between Toronto and Portland, one season removed from a torn Achilles. The Duke product has playoff experience at multiple stops with career splits of 42.2/36.7/83.9.
Milwaukee also took a flyer bringing in former Boston Celtics' forward Semi Ojeleye on a one-year deal.
The Bucks' rebuilt bench will be key if Milwaukee hopes to win a second consecutive NBA title
Donte DiVincenzo, Milwaukee's starting shooting guard last season, returns after injuring a tendon in his left foot during the Bucks' opening-round playoff series against the Miami Heat. He should slot right back in as the Bucks' starting two-guard in 2021-22.
That slides Connaughton into a more comfortable bench role. Hill can soak up minutes at either guard spot, and Portis will take the majority of the relief minutes up front.
That leaves Hood to fill in as a wing scorer in spot duty and Ojeleye as a break-glass-in-case-of-emergency 10th man who can provide athleticism, energy, and defensive versatility.
Horst assembled a roster that can go 10 deep if needed and is led by one of the best players in the world in Antetokounmpo. That group should be more than capable of making a run at a second consecutive NBA title.
All statistics courtesy of Basketball-Reference