Milwaukee Bucks Starting Lineup, Rotation After Latest Acquisitions
The defending-champion Milwaukee Bucks are looking to make it two in a row after winning the franchise's first NBA title since 1971. The core of Giannis Antetokounmpo, Khris Middleton, and Jrue Holiday is healthy and playing together consistently for the first time all season.
The Bucks are in a fight atop the Eastern Conference where only five games separate the first-place Miami Heat from the seventh-place Toronto Raptors.
Milwaukee is in a group 2.5 games back of the Heat along with the Philadelphia 76ers and Cleveland Cavaliers.
The Sixers made their well-documented stretch run addition, while the Cavs made a significant upgrade as well when they brought in Caris LeVert from Indiana. The Bucks, meanwhile, were included in one deadline day trade and have since signed two casualties of the James Harden-Ben Simmons deal.
Assuming Milwaukee's roster is set for its run at back-to-back championships, what does the starting lineup and roster look like?
The Milwaukee Bucks acquired Serge Ibaka, De'Andre Bembry, and now Jevon Carter
Veteran big man and former NBA champion Serge Ibaka came to The Cream City from the Los Angeles Clippers in a four-team trade on deadline day. But the Bucks shipped out Donte DiVincenzo in that deal and then lost Pat Connaughton to a broken hand the very next night.
That immediately put the team's backcourt depth into question, but general manager Jon Horst reacted accordingly.
Horst grabbed fifth-year wing De'Andre Bembry off the scrap heap — he was released to make room for Brooklyn's new arrivals in the Simmons deal. The former lottery pick is a versatile 6-foot-5 veteran who can do a little bit of everything and is shooting a career-high from three.
Milwaukee was in the running for Goran Dragic, the buyout market's prized asset, but Dragic chose to join the Nets. In order to make room for him, Brooklyn released Carter, who cleared waivers and signed with the Bucks.
Horst is hoping one team's trash is another team's treasure.
What will Milwaukee's starting lineup look like now?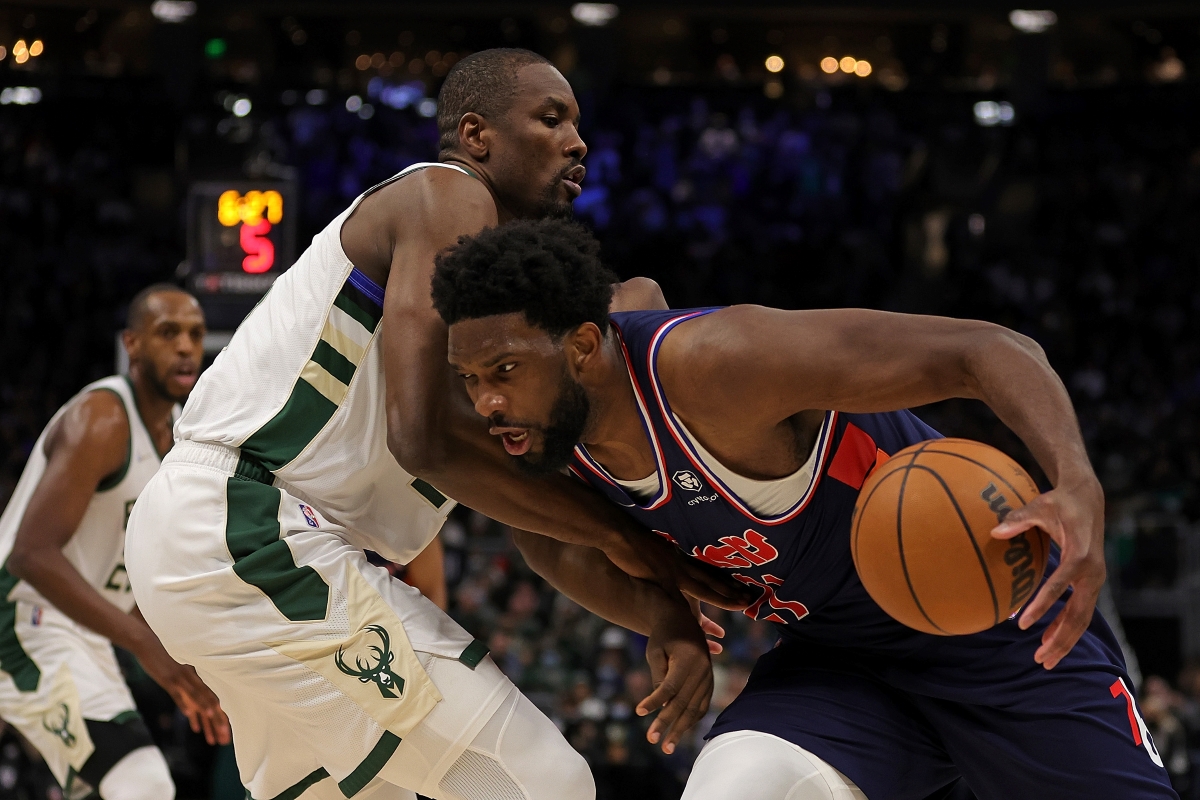 The Bucks have been without starting center Brook Lopez since the season's first game. Giannis and Bobby Portis have held down the fort admirably, but that's what necessitated the trade for Ibaka.
For now, Milwaukee's starting lineup should remain the same as it has for most of the season:
Jrue Holiday
Grayson Allen
Khris Middleton
Bobby Portis
Giannis Antetokounmpo
Signing Serge gives head coach Mike Budenholzer another option to fill in alongside Giannis if it becomes necessary, or if he so chooses.
But going back to the start of the calendar year, the lineup above has been Bud's highest-rated and most popular. Six of the following seven most oft-used lineups for the Bucks, though, have included Connaughton, DiVincenzo, or a combination of both. Without them, depth will be critical for Milwaukee over the next few months.
Which brings us to the Bucks' new rotation.
What will the rotation look like?
Small sample size alert — Ibaka has come in for Portis, along with Jordan Nwora for Allen, as the first two players off Milwaukee's bench in the two games since Serge arrived.
The depth chart for the Bucks has looked something like this:
Holiday, George Hill
Allen, Connaughton, DiVincenzo, Wes Matthews
Middleton, Nwora
Portis, Giannis Antetokounmpo, Thanasis Antetokounmpo
Giannis Antetokounmpo, Portis
Hill is injured and hasn't played well this season, even when healthy. DiVincenzo is gone for good, and Connaughton could be out until mid-March. That means Bembry and Carter will have to step in and play at least some meaningful minutes immediately.
Matthews is 35 years old. He's good in spurts but isn't going to play 30 minutes a night. Nwora has been underrated off the bench all season but is untested in big games. Ibaka will be crucial the rest of the way, even if Lopez does find his way back.
The Bucks go through Giannis, first and foremost. Middleton is now a three-time All-Star, and Holiday remains one of the most overlooked stars in the NBA. But after that, it's going to be hit-or-miss depending on matchups and who's hot.
Milwaukee has the star power and familiarity most teams need to win championships. But Horst's late-season, under-the-radar acquisitions will have a role to play at some point if the Bucks are going to go back-to-back.
All statistics according to NBA.com.
RELATED: The Milwaukee Bucks Need the Old Khris Middleton Back if They Hope to Win a Second Straight Championship